Visa is the 'healthiest' brand in Hong Kong, according to YouGov's first brand health rankings.
The list is dominated by financial services and payment brands – Visa, Octopus Card, Hang Seng Bank and HSBC – as well as retailers (luxury and mainstream)– Rolex, Uniqlo, Nike, Adidas and Mannings and travel - Four Seasons Hotels and Resorts.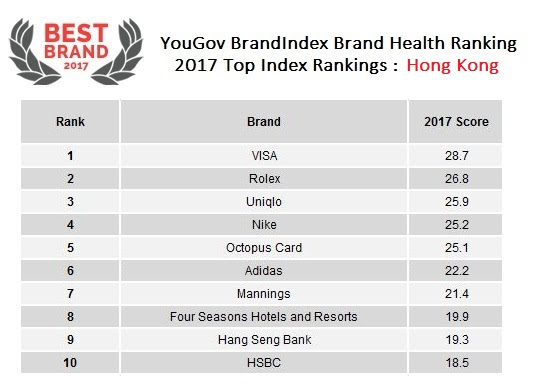 These brands were rated using YouGov BrandIndex's index score which is a measure of overall brand health that takes into account consumers' perceptions of a brand's quality, value, impression, satisfaction, reputation and whether they would recommend the brand to others.
YouGov said it's not surprising that payment brands like Visa and Octopus Card are high on the list because of the availability of touch payment in most retail outlets.
The inclusion of Nike and Adidas in the list shows sports apparel as a fashion movement in Hong Kong as everyday wear, said Ervin Ha, YouGov's head of data products of Asia Pacific.
"In recent years, apart from the strong momentum of sport apparel brands, exercise has also been creating opportunities for many other industries in Hong Kong," says Cindy Chan, head of Greater China at YouGov.
"You can often see the crowd in the annual marathon and other sport events in Hong Kong, the overseas marathon tour and the insurance premium discount upon achieving the walking target on your smartband, the brands could leverage the health trend for capitalising business opportunities but also creating positive impact on the brand health – where consumers feel that the brands really show care about their health and well-being when they are doing business."
The research company has also released a list of the brands with the most improved brand health over the past year. While the likes of Hong Kong Airlines, Standard Chartered Bank and HSBC continue to strengthen their brand health among Hong Kong consumers, other brands that although are still in negative territory like 3, China Eastern Airlines and China Airlines are showing signs of improvement.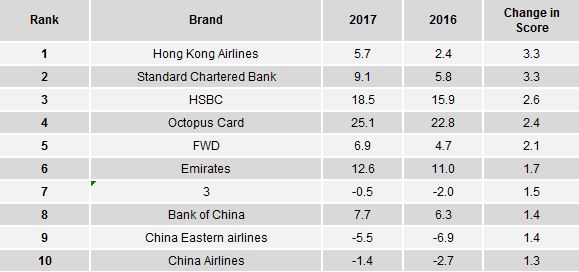 Globally, Alphabet's Google and YouTube brands take the top two spots, with Facebook 3rd and Samsung 4th.
Meanwhile, messaging service WhatsApp in 5th and Apple's iPhone in 6th spot, while online retail behemoth Amazon is 7th. The top ten is completed by brands with longer histories – Toyota, Adidas and Colgate.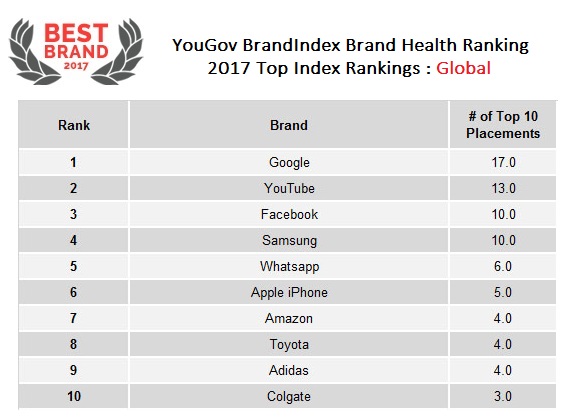 Ted Marzilli, CEO of YouGov data products, says tech brands dominate the global list and with good reason. "By their very nature the likes of Google, YouTube and Facebook are open and accessible in most places on earth to anyone with online access. The presence of Samsung and Apple iPhone demonstrate are a sign that our mobile devices have become the remote controls for our lives. All of the brands in the ranking are mainstream with broad utility at their core – and this is as true of the likes of Toyota and Colgate as it is for WhatsApp and Samsung."
(Photo courtesy: 123RF)