Online advertising is undeniably essential to the marketing mix, however, Hong Kong has the lowest viewability rate of online ads (50.7%) compared with the Asia average (58.9%) and the global benchmark (55.8%), while it has a higher fraud risk at 14%, according to a latest report by measurement and analytics company Integral Ad Science (IAS).
Based on data collected from billions of impressions analysed in the second half of 2017, Hong Kong's online environment was found to be less safe than other Southeast Asian markets researched by IAS with 5.7% of online ad impressions flagged for featuring alongside content that presented a risk to brand safety.
According to the report, brand risk across all buy types in SEA, Hong Kong and Taiwan is 3.5% which is below the global benchmark of 7.9% for H2 2017. Indonesia (9.1%) and Thailand (8.6%) have higher brand risks in the region while Singapore (2.5%) and Malaysia (2.2%) were the safest.
IAS' brand risk metrics characterise the safety of the environment in which ads appear. Impressions are flagged for appearing alongside content such as adult content, alcohol content, hate speech, illegal downloads, illegal drugs, offensive language and violence, which pose a risk to the brand's safety.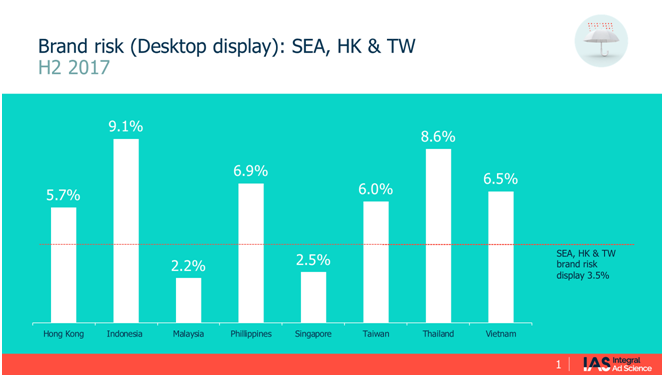 Another key concern for advertisers is fraud. In H2 2017, Hong Kong attracted high fraud activity (14%) for non-optimised (without the use of ad fraud prevention technology) campaigns because ad fraudsters follow the mature markets such as Singapore and Hong Kong, where the digital spends are high.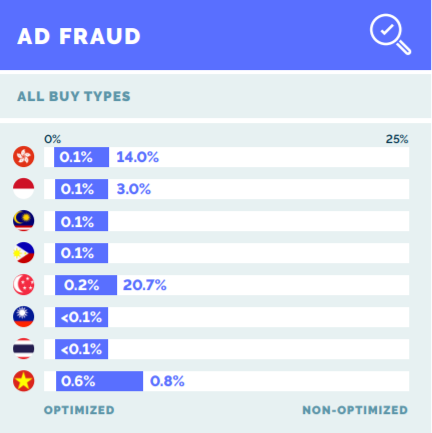 Over one-third of the risky impressions in SEA, Hong Kong and Taiwan fall within the offensive language and controversial news category. The offensive language and controversial news category for desktop display within publisher direct buys was 50.9% in H2 2017. This may be due to an influx of premium publisher coverage around offensive language and controversial news which is classified as a moderate risk.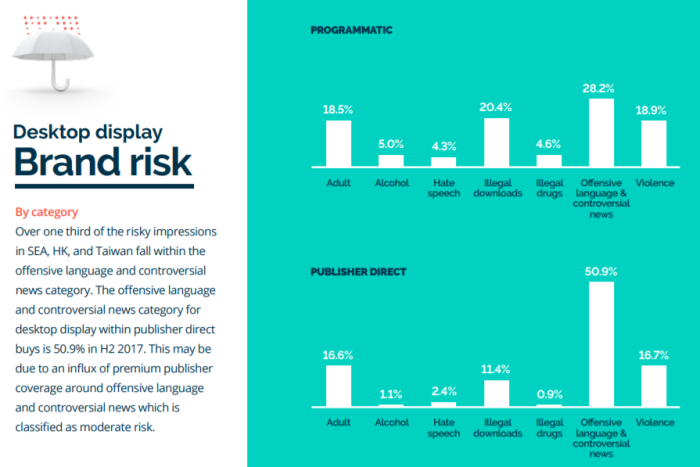 The viewability of online ads in SEA, Hong Kong and Taiwan was 58.9% which is above the global benchmark of 55.8% for H2 2017. In comparison, Hong Kong had the poorest rate of viewable ads at 50.7% performing well below both SEA and the global average. This indicates that industry efforts are still needed to improve overall viewability in the market.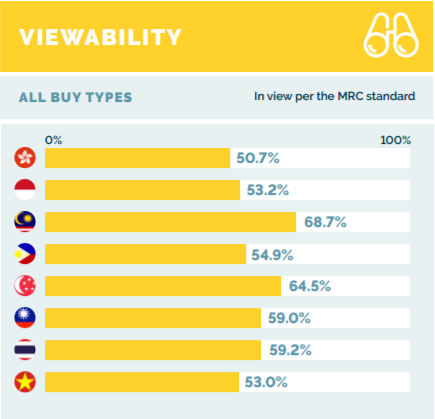 The report said a lack of control over the type of content their campaigns run alongside has left marketers feeling their brands are at significant risk. An ad placed within violent or unsavoury content can garner negative press and inflict reputational damage.
However, advertisers have reason to be optimistic. Advances in verification technology not only reveal the type of risk advertisers are dealing with, but also gives them greater solutions to address those concerns. This includes the ability to block ads from serving on undesirable web pages and access to granular impression-level reporting.
IAS' report covers media quality benchmarks across brand safety, ad fraud, and viewability on desktop platforms, global video, mobile web, and mobile in-app with data from Southeast Asia, including Indonesia, Malaysia, the Philippines, Singapore, Thailand and Vietnam as well as data from Hong Kong and Taiwan.
The SEA, Hong Kong and Taiwan Media Quality Report was based on nearly 500 billion global impressions from advertising campaigns that ran between 1 July and 31 December 2017.