A gender pay gap among communications and corporate affairs practitioners was noted across all Asia Pacific markets, with salary differences in Hong Kong being the widest, according to a latest report by Prospect and PublicAffairsAsia.
On average, male communications and corporate affairs practitioners across APAC earn US$156,000 annually, while their female counterparts lag behind at US$122,000.
In Hong Kong, this gap is wider, with males earning an average of US$163,000 and females earning US$103,000. This gap, while existent in Singapore, is narrower, with males earning an average of US$156,000 and females earning US$146,000.
Delving deeper into Hong Kong's stark gender pay difference, salary data was examined across age profiles, with an interesting trend emerging: Entry level recruits in Hong Kong aged 20-24 earn broadly the same, regardless of gender (US$30,000). However by the ages of 25-34, men start to out-earn women: earning an average of US$78,000 (male) to US$72,000 (female). As ages increase, the gender gap widens further still.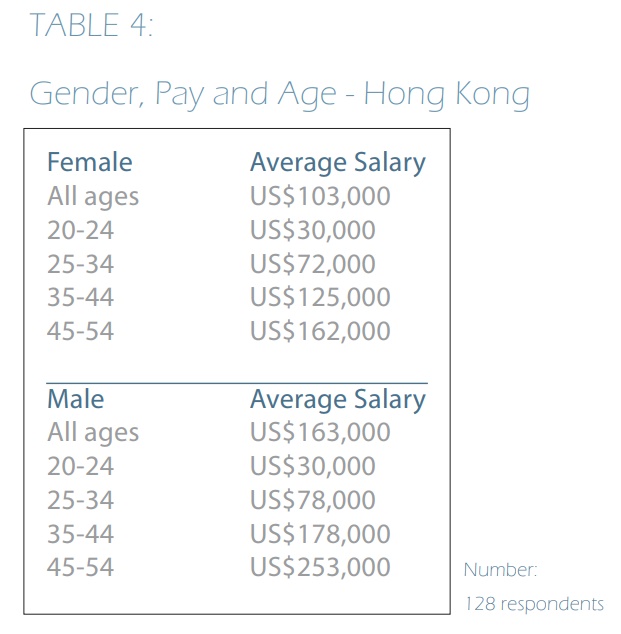 Emma Dale, managing director of Asia and co-founder of Prospect, says, "It is disappointing to see the disparity in pay between men and women, particularly at the senior level, where men in the 45-54 age group can earn up to US$90,000 more than their female counterparts."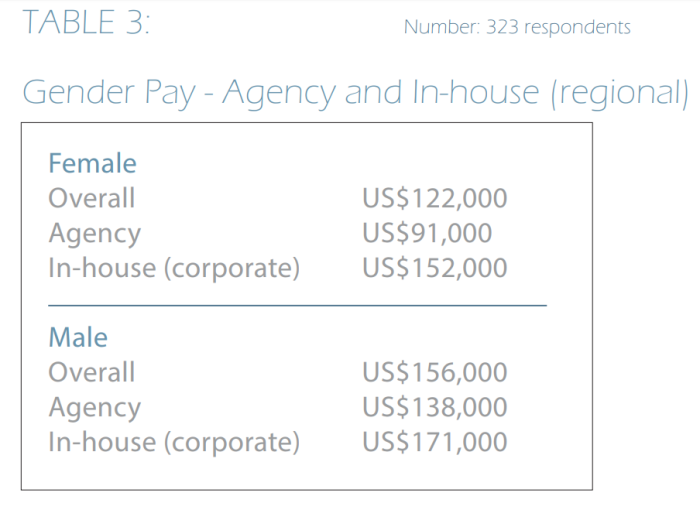 Local versus expatriate salary differences were also raised within the same survey. With expatriate packages all but phased out, survey results show that APAC expatriates earned US$156,000 and local employees earned US$123,000 on average across the region.
In Hong Kong, the gap appears to be wider, with expatriate workers earning an average of US$153,000 against local averages of US$89,000. This, in part, could be due to a significant number of senior management roles still being held by foreigners. Australia is the only market where expatriates earn on average less than locals.
The average 2017 bonus across APAC was US$36,000 (23% of base salary). In 2016 the average bonus was US$29,000.
Salaries were highest in Australia, at an average of US$193,000. Next was Singapore at US$150,000, Mainland China at US$138,000 and Hong Kong at US$125,000. In Hong Kong we note increased survey participation among junior and middle ranking staff, which may account for the slippage in the overall salary average in that specific location this year.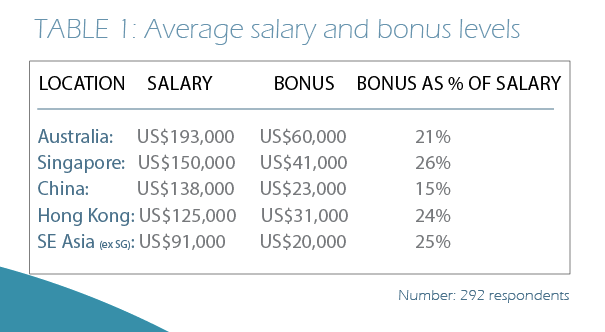 Adding to salary data drawn from an online annual salary survey completed by 403 industry respondents across APAC, Prospect and PublicAffairsAsia's 50-page 2018 State of the Industry Report also studies key trends, challenges and opportunities identified through interviews conducted with 67 APAC communications and corporate affairs practitioners in the last quarter of 2017.
Some of these challenges and trends outlined include the arrival of tech-enabled disruptive industries shaking up many marketplaces, with companies feeling increasingly vulnerable to external reputational shocks. Many companies are refocusing their communications function into content newsrooms, populating corporate branding and messaging across many channels.
Craig Hoy, executive director of PublicAffairsAsia, said, "The future for the profession in Asia looks positive. Digital has undoubtedly shaken the kaleidoscope, but many of the challenges are no greater than those confronted by previous generations. While the battle for talent remains fierce, there are signs that there is a growing pool of talent out there in the marketplace. Whether it will ever be enough to match the growing demand for effective communicators remains open to question."
See the full report here.