Less than four months since its launch, Hong Kong Free Press, the independent English-language news outlet, has initiated another round of crowdfunding with a view to investing more in original reporting and hiring a digital marketing expert to help monetise the growing traffic.
The crowdfunding campaign, which aims to raise $2 million in 30 days on FringeBacker, has garnered over $22,000 after one day of the fundraising drive.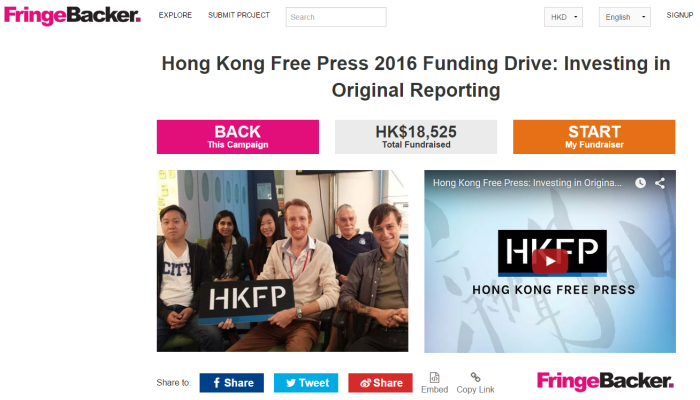 Since its launch in June, Hong Kong Free Press has produced more than 1,300 news and comment pieces; almost reached 1.5 million unique visitors and served five million web pages with a mixture of pick-ups, original stories and viral pieces, says an announcement on the fundraising site.
In order to take HKFP to the next level in 2016, the funds will be used to fulfill four main targets:
1. Invest in original reporting: The news outlet claims its resources and capacity are limited by the modest funds and would like to invest more in original reporting.
2. Sustain the team: HKFP has a small but productive team of four bilingual reporters, and almost all donation money goes directly towards sustaining its journalists.
3. Expand the operations with freelancers: Having perfected its work flow and systems with the assistance of volunteers, HKFP wants to find permanent solutions and reward those who contribute to its success. In January, the site is looking to hire a full-time news editor.
4. Hire a digital marketing expert: As the audience expands, HKFP states that it hopes to lessen reliance on crowd-funding and bring other funding channels online. It is seeking to a sales expert to help monetise the growing traffic.
Running on what it claims as a non-profit business, it states: "Any money we make goes directly back into the company. No-one can buy a slice of Hong Kong Free Press - we are owned by you - our donors."
The campaign will end on 16 November.