Hong Kong brands are starting to set up Sina Weibo topic pages, a free function which aggregates and organises user generated content containing a hash tag for time-sensitive campaigns in one page.
Examples of brands who have used this function include local names like Harbour City and Chow Tai Fook as well as German sportswear brand adidas.
[gallery link="file" ids="77026,77025,77024"]
Launched in June, the topic page is an enhanced function of the most basic page for hash tags which simply aggregated posts containing the hash tag.  The basic page has been around for the past two years.
To create a basic topic page, brands need to publish a Weibo post with the new hash tag.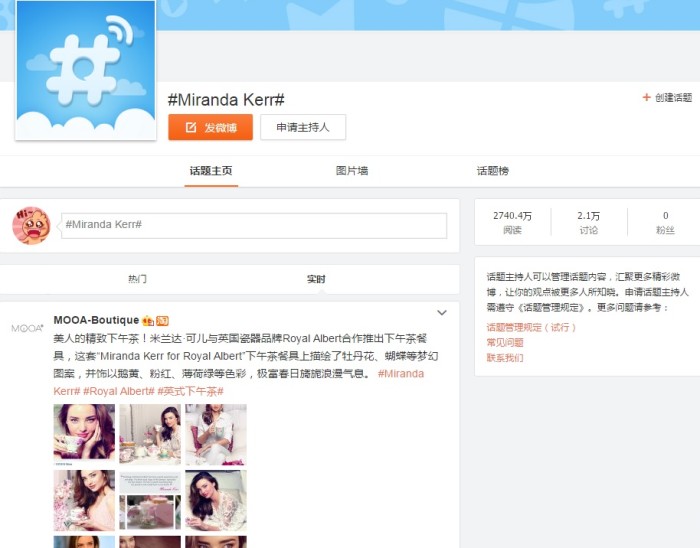 To become the host of a newly created topic page, brands must fill out an application form which needs to be approved by Sina.
Once the brand becomes the administrator of that topic page, it can set up a cover photo, background image, photo album containing all photos tagged with the hash tag, polls for interactions with users and write up an introduction to the campaign.
Posts published by the administrator are recommended and displayed at the top of the topic page, followed by posts published by verified Weibo users or users with an enormous following such as celebrities which may have been endorsed by the brand.  At the bottom are posts generated by regular users.
While the topic page displays the number of impressions and engagement, including the amount of photos posted with the hash tag or the number of people participating in polls, there is no option for users to become fans of topic pages.
"It's better to redirect users to the brand's Weibo account and help grow the brand's following," Salina Ghafur, head of marketing at Sina Hong Kong, said.
So what's in it for Weibo to run topic pages for which brands can become administrators?
Ghafur said, "It helps encourage brands to spend on ads and promotional Weibo posts to strengthen their messages during campaigns along with the free topic pages."