Hong Kong's Beer Run 2017 will not supply any alcoholic drinks, the organiser announced, following warnings and criticisms from the city's health authorities.
The competition, to be organised in November 4 at the Kai Tak cruise terminal, is on its second year. It originally asked participants to drink at least four cans of beer throughout the 1,600m race.
Officially launched on 31 July, the event has then received a quarry of complaints and criticisms over the potential health problems from drinking alcholic drinks while running.
Last Friday, Hong Kong's Department of Health along with three professional groups sent a letter to RunOurCity, asking the social enterprise not to encourage drinking during the event, as drinking alcohol while running would increase the risk of falling and heat stroke, or even risks of dehydration, which eventually may lead to accidents.
"With our priority to encourage and promote running culture, ROC (RunOurCity) is now carefully considering the viability to rearrange the mechanism of the event in discussion as follows: Runners will not be provided with alcoholic drinks during their run," the event organiser, RunOurCity, announced later that day.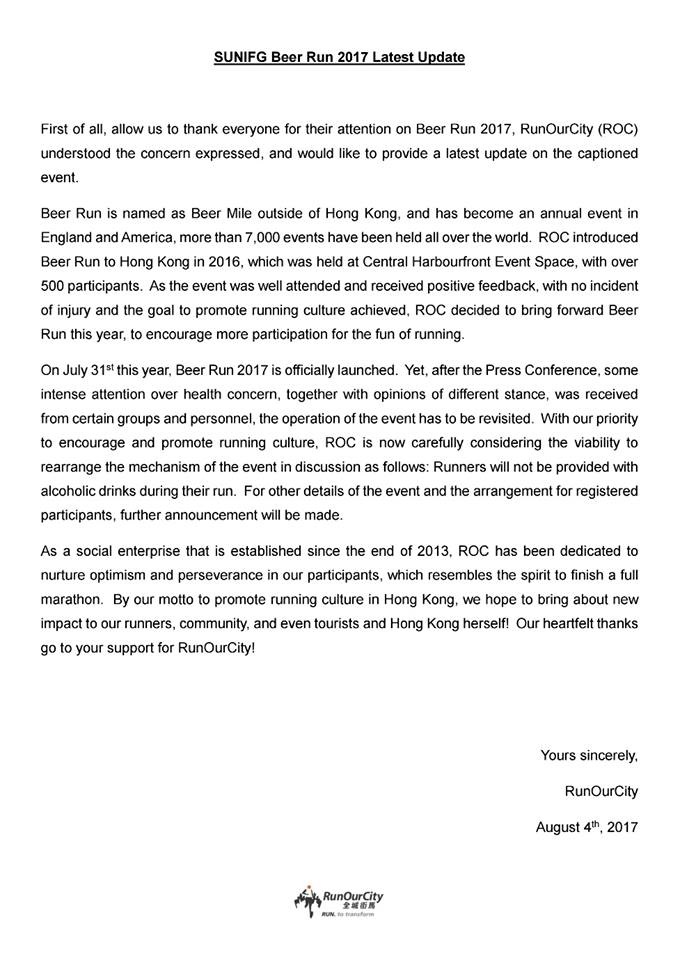 Upon its announcement not to supply alcoholic drinks in the event, few participants have left "angry" emotions on the Beer Run facebook page. One netizen comment: "What['s] the point of the beer race without beer?"
"Shouldn't you have expected criticism before you organise the event? If you are sincere about organising the event, but not holding it only for the gimmick, you should stand firm for it!" wrote another.