Hong Kong's ad spending rebounds this month, according to admanGo. Following the stable ad spend in Q1 and the rebound in Q2 with a 6% YOY growth, Q3 saw a 6% YOY rise in ad spend as well. A 10% YOY increase in ad spend was recorded in July, while the ad spend growth in August and September were 3% and 5% respectively.
In terms of media share, TV, radio and digital all enjoyed a YOY increase in ad spend in Q3, though print and outdoor faced a drop.
TV saw a significant increase in ad spend in Q3, from single-digit growth in Q1 (3%) and Q2 (8%) to the 16% YOY rise in Q3.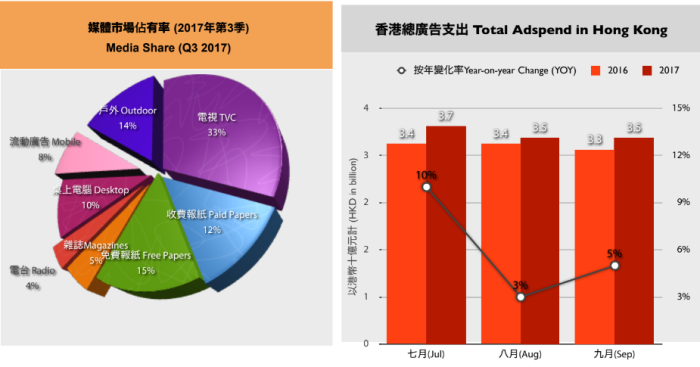 The ad spend in free TV is on a growing track since the beginning of 2017, and a remarkable 25% YOY rise in ad spend was recorded in Q3. The increase was boosted by newcomers of industry.
ViuTV marked a huge increase in ad spend in Q2 and Q3 when compared with last year, mainly from banking and investment services. Personal loan and financing was the top sub-category with PrimeCredit being the biggest advertiser.
TVB Jade accounted for 65% of the overall ad spend in free TV and saw an 11% YOY growth. Furthermore, TVB rebranded two free channels to TVB Finance Channel (formerly named J5) and TVB News Channel (formerly named iNews) in Q3. The 172% YOY adspend increase in Q3 for the TVB Finance Channel also notably drove the growth in free TV.
Trivago was the top spender on TVB Finance Channel and accounted for a quarter of the ad spend of the channel. The launch of Fantastic TV in Q2 also boosted the overall spend.
In addition to the newcomers in the free TV industry that led to the growth, several advertisers also significantly increased advertising budget for TV. Banking and investment services saw a 46% YOY growth in TV and personal loan and finance were the top spenders with a 47% YOY growth in TV spending.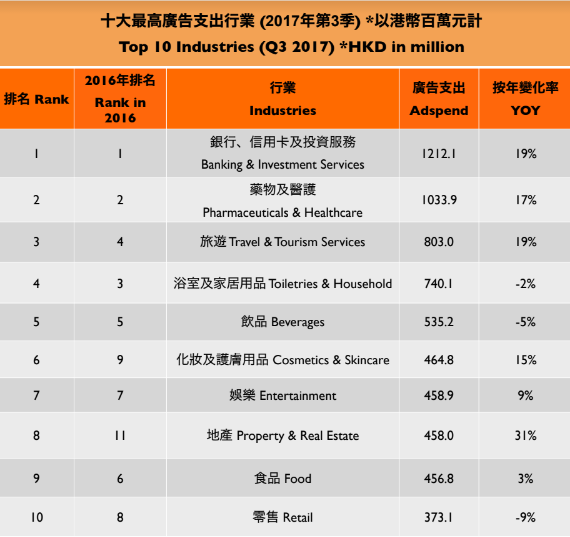 Promise Finance and WeLend shifted their ad budget to TV as the main advertising platform. 82% and 73% of their ad spend were allocated to TV respectively. Moreover, UA Finance nearly doubled its advertising budget in TV. There was also a significant growth in electronic payment services where HKT Tap & Go mobile app spent half of its advertising budget in TV.
Insurance marked a 126% YOY increase in TV. TVC was the key focus in the advertising campaign by the top advertiser Cigna Worldwide Insurance. The spend on TVCs has more than doubled when compared with the previous year.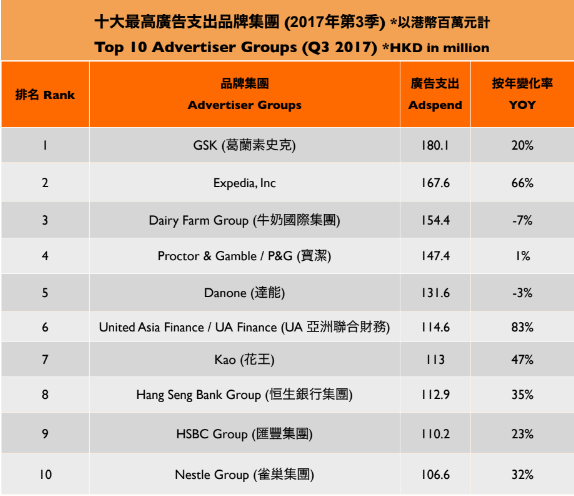 Big advertisers such as P&G also decided to switch advertising budget back to TV.
Though the overall ad spend by P&G in Q3 only slightly increased by 1% against last year, its ad spend on TV grew by 23%, while the spending on desktop and mobile dropped by 77% and 41% respectively.
Olay was the biggest advertiser under P&G and nearly 90% of the ad spend was allocated to TV. For example, the majority of the spending by "Total effects feather weight moisturizer with sunscreen" and "Regenerist micro-sculpting super cream" went to TV.
(Photo courtesy: 123RF)