Indie coffee shops continue to spring up in Hong Kong while big-name coffee shop chains are opening up more and more stores to mark their turf.
Holly Brown is a local small-to-medium enterprise that runs 12 stores in the city.
Raymond Tsui, owner and CEO at Holly Brown, said competition in the market for cafes in Hong Kong stems from high rent rather than because there are too many coffee shops in the market.
"Products like coffee, ice cream, gelato and yoghurt have been around for a long time.  A lot of these stores have high profit margins and are attractive from an operational point of view," Tsui said.
He believes whether space in the market will expand or shrink depends on the survival of coffee shops against the tide of rising rent.
Tsui said, "There is definitely still space in the market for more coffee shops.  The pie is getting bigger and people are appreciating better quality coffee. Starbucks and indie cafes did a great job by starting to educate the market.  But whether coffee shops can survive will depend on rental rates."
Importance of brand-building through marketing
How does Holly Brown use marketing to differentiate itself from indie and big-name competitors alike?
Branding tops the to-do list.
"Branding is something customers give us.  We focus on positioning the brand correctly – we want to seen as a brand for specialty coffee.  With chain stores, customers want consistency and to know what to expect.  We need to build that trust with customers," Tsui said.
"Marketing helps raise brand awareness.  Starbucks is a very successful example of this – they have opened lots of stores in Hong Kong and many people are holding cups bearing the Starbucks logo – these all count as marketing."
Digital marketing forms a major part of Holly Brown's marketing mix, which hired a dedicated person to manage its social media platforms.
The brand's in-house team and in some cases, agencies commissioned by it, create videos about latte art and interview staff about why they wanted to be baristas.  These videos are then uploaded onto YouTube and broadcast through in-store TV screens.
While TVCs are too expensive for the brand, at least once per quarter, it creates videos featuring brand ambassadors like Taiwanese actress Rainie Yang and places those videos as ads in cinemas.  They are also showcased on the brand's YouTube channel.
Tsui said, "The younger crowd is our target audience for social media campaigns although our customer base can range from 18 to 50 years old – white-collar workers during the week, and families and young people on the weekends."
Facebook and Instagram became a focus for the brand since the summer of 2013, about three years after the brand opened its first store in 2010.
Billboard ads are used to advertise new store openings and remind people of the brand.  Print ads are placed on an ad hoc basis.
To better appeal to young people, Holly Brown also participates in university and charity events as well as school fairs.
For long-term marketing purposes and to market itself beyond Hong Kong, in November, the brand published the bilingual book I want to be a barista, a project it embarked on in 2013.
This year, the brand will also create an online video series where video hosts search for specialty cafes around the world, from the US, the UK to Australia, Japan and South Korea.
"Broadcasting the videos online will help us reach a more global audience and is consistent with our vision of promoting specialty coffee to the entire world.  We don't just want it to be limited to local TV channels and domestic audiences," Tsui said.
"The book and online video series will help us build stability within the company.  Staff members who join us will know what our vision is.  Meanwhile, customers who are our fans will be more likely to subscribe to what we believe in and the brand will stick in their minds more."
Retail marketing strategy
Store locations near commercial business districts like Central have been strategically chosen to capture white-collar workers on their way to work or the lunch hour crowd.
Last year, the brand opened four stores in International Commerce Centre in West Kowloon, Langham Place in Mongkok, Tuen Mun and Tsuen Wan.
The latter three stores position themselves more as gelato stores than cafes.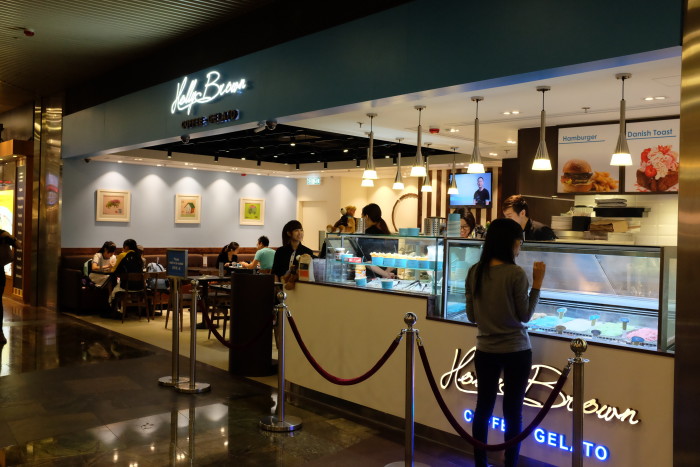 The brand has put in a tender for opening a store at the Hong Kong International Airport by partnering with SSP, which runs franchises of restaurant brands at airports around the world.
Another flagship store is set to open in Taipei this year, with second and third stores in Taiwan tentatively planned for later this year.
"Our first store in Taiwan will be a big store that has a raw, factory feel to it.  It will be like a cafe factory with roasting facilities to roast coffee beans for customers and serves coffee and food," Tsui said.
"The Taiwanese market is very mature and competitive with plenty of small cafes.  Locals are more sophisticated in their appreciation of coffee compared to Hong Kong, which is why we decided to offer a different kind of experience with a larger cafe."
Tsui is on the look out for the China market but is still studying options for business models.  Hong Kong remains Holly Brown's primary market.
"Hong Kong still has a long way to go in order to reach the maturity of Taiwan, or even the Australian market, where indie cafes existed long before Starbucks entered the market.  While Hongkongers adapt to new things very quickly, they are still veering towards Starbucks rather than specialty coffee shops," Tsui said.
"However, the growth in wine consumption bodes well for coffee too.  It shows Hong Kong consumers are willing to spend on the good things in life.  As more indie cafes spring up, the potential for growth in the specialty coffee market will be exponential."