HMV stages the soft opening of HMV's new mobile-friendly HMVIdeal concept store in Central today, with a grand opening slated for 9 September.
The concept store is a 1,200-square-foot retail space that encourages customers to engage on mobile devices every step of the way.
"We are still keeping the HMV brand.  Ideal is our concept store showing that we aren't just any retail or a CD store," Ivy Wong, chief executive officer of HMVIdeal in Hong Kong said.  "Mobile is our key medium."
Customers are given tablets with which they can scan barcodes on products to read up on product information, watch trailers and music videos, and browse third-party and in-store user comments and recommendations of similar products.
This removes the awkwardness of looking up a movie on your smartphone while standing at the rack, conscious of staring salespeople.
Tablets will also replace CD players in giving customers a taste of the products and electronic displays will also line the walls.
Shopping also takes the form of online-to-offline (O2O) through mobile.  Instead of carrying CDs around with you as you browse the store, the customer scans the products they want using their smartphone to save them in their virtual shopping cart.
The products can even be delivered to the customer's home the next day or checked out in-store after a quick trip to the coffee shop.
"You can touch the product but you don't need to carry it – I think that's really fun," Wong said.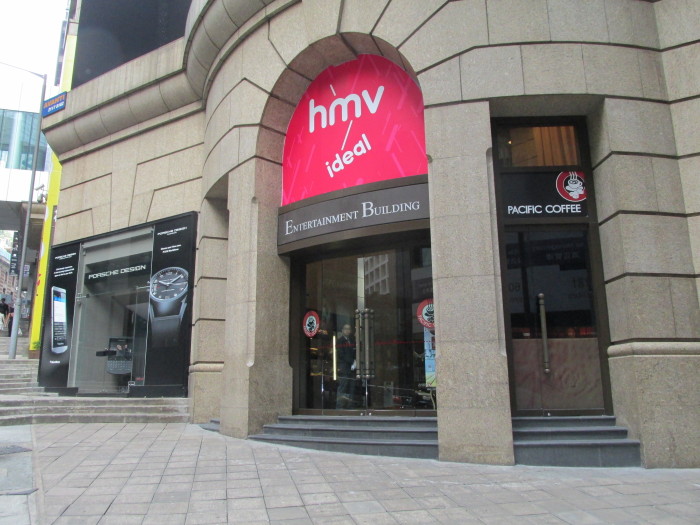 Using the Beacon, a wireless sensor powered by Bluetooth Low-Energy (BLE) technology, HMVIdeal can interact with customers on their smartphones, a system developed in-house.
"If you download our app and are visiting for a second time, it will welcome you back into the store.  When you browse a certain section, we will tell you what's special in that section," Wong said.
"If you spend a long time in the movies section, it can send you the three or four hottest products this month, or send you a message encouraging you to speak with our staff.  This is an intersection of location and personalisation."
Located on the 3/F and 4/F of Entertainment Building, the concept store is on the outskirts of Lan Kwai Fong.
So it comes as no surprise that it wants to play a part in the local music and entertainment scene.
The store features two outdoor podiums, with an in-door stage and audience area with a maximum capacity of 300 and an outdoor stage for live performances.  Two indie musicians have already been asked to give performances, with all the musical equipment provided by the brand.
The venue will also be available for celebrity events and press conferences for movie launches.
Currently the concept store will close at 11pm, but later on, Wong says the store will stay open until 1am.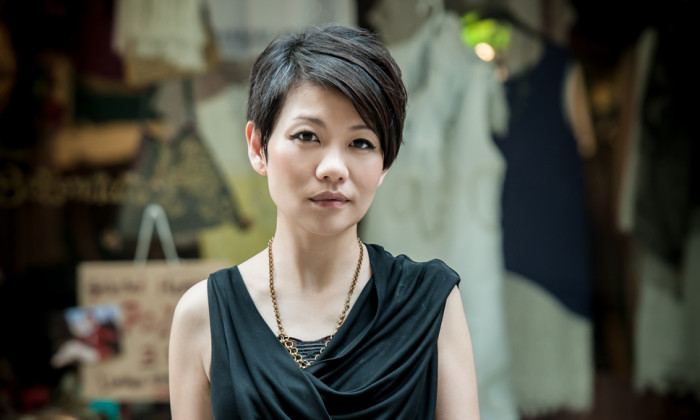 Ivy Wong, CEO of HMVIdeal, champions mobile as the connector between offline and online in a real O2O retail experience.
Given the high rent of retail spaces in Central, the store breaks with conventions by going for the "less is more" philosophy with an emphasis on engagement and experience.
For example, racks are not filled with products and not all products are displayed in-store because the brand wants to encourage customers to speak with its staff members, who are seen as experts in music, movies and entertainment.
"Our people share experiences rather than sell products. We present less products and let the consumers come and talk to us," Wong said.
This is the opposite strategy to cramming as many products into as little space as possible.
"Central is very expensive. People talk about how you must fit as much as you can based on the cost of a square foot," Wong joked.  "If a square foot costs HK$250, you have to put HK$1,000 worth of goods in there.  We aren't doing that at all."
Wong believes the concept store represents the real deal when it comes to offering an O2O retail experience.
"Many companies think they have a O2O retail experience if they offer a website, on the one hand, and a physical store on the other.   The two have to be connected through mobile devices - that's why we give them tablets to experience products through an app, a website and the physical store," she said.
"There is never a best time to launch new technology. The business of retail is very competitive so it's difficult to change the model of selling just by selling."
She points out that after HMV almost went bankrupt last year, and was bought by a Hong Konger, the new owner wanted to do something new to transform the local retail landscape.
The concept store took Wong's team nine months from planning to execution.