Hong Kong Disneyland has teamed up with Mindshare and TVB's myTV SUPER for programmatic advertising for TV for Hong Kong Disneyland Resort's Christmas campaign on TVB's online and OTT platforms.
For precise targeting, Hong Kong Disneyland Resort divided audience into a few different groups – families with kids, Disney lovers, young adults and so forth in a bid to serve different creative to different audience segments.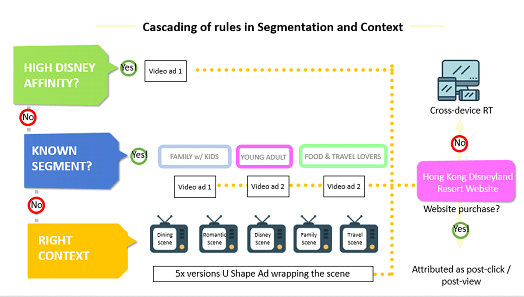 myTV SUPER created custom segments from viewing frequency, preference, recurrence of different audience. The platform also flagged different scenes in its live broadcast and VOD library, so that Mindshare could overlay messages that fit the scene or actors' scripts, to create witty and relevant calls-to-action that links back to the main-screen content.
Tailored ad content was triggered by myTV SUPER's and Hong Kong Disneyland's data. For instance, a romantic Christmas message would show up in a love drama scene, or a food indulgence message would show up during a dining scene so that the ad would be even more relevant to their targeting.
[gallery link="file" ids="208359,208358,208357"]
According to Mindshare, users who viewed or interacted with the OTT programmatic ad will fall into Hong Kong Disneyland Resort's overarching data-loop, where users are processed with a bigger set of omnichannel business rules. It added that it's the market-first omnichannel programmatic TVC, that extended to TV sets.
Non-converters will be retargeted with a sequential message across different channels and devices. The converted will enter another loop governed by another set of business rules, to be communicated with different up-sell or cross-sell messages.
Although this programmatic buying is more "experimental", Mindshare said this campaign has offered plenty of insights, particularly when it comes to how the targeting segments react to the commercial.
While Hong Kong Disneyland's online ticket sale is a crucial success factor, Mindshare supported the tracking and all viewers of different versions of creatives are tracked, meaning that online purchases driven from post-click and post-view can be attributed.
Kicked off on 5 December, the campaign so far has generated more than 3 million impressions and 22 programmes are featured with scene targeting.
"Our team sits at the center of data-sources, from client's, myTV SUPER's and all digital activities. This enables us to see a bigger picture and measure across channels, so digital activities are fully accountable," Raymond Leung, deputy leader, Mindshare said.
"Working hand-in-hand with agency provided us the best understanding to Hong Kong Disneyland's business requirements, and gave us clear direction on how myTV SUPER data and available formats can be used. Also with the team's technical know-how, we expanded tracking outside of myTV SUPER's ecosystem, and we are very pleased to help make a direct impact to the client's business", said Benjamin Li, head of online advertising sales of myTV SUPER.