"Dead office", a sterile working space where staff cannot wait to leave everyday, is how Jeremy Hocking (pictured), vice president of Herman Miller Asia Pacific, half-jokingly describes most offices in Hong Kong.
It probably resonates for many of you who spend most of your day in some sterile office cubicles.
In view of this, Living office, a new decor concept advocating home working environment in working space, is therefore introduced by Herman Miller via his new showroom at Taikoo Place opened this July.
The US-based office furniture manufacturer has handled the working space for some of the world's biggest cooperates including Amazon, Microsoft, Bank of America, Adobe.
In the company's global study on individual preferences and attributes, people who said they were motivated by connection and belonging cited preferences for a "personal oasis" at work that supports "self-identity and ownership."
They also expressed desire for work environments that "do not look or feel like an office, but seem more like home," that "flow between casual and formal," "reflect team space," and "enable and encourage interactions.
"People don't want their office to look like an office," said Hocking.
"They come to the office because it's a great place to collaborate. If you can make a space really appeal to people to come and work together, it helps your company to attract and to retain the best people."
It may be stating the obvious, but what the company calls "plaza", a comfortable common area for staff to gather, to interact, and to wind down, is nonetheless key to foster a more dynamic and high-performance team; and this is an important part most offices in Hong Kong fail to provide, he said.
[caption id="attachment_73714" align="alignnone" width="644"]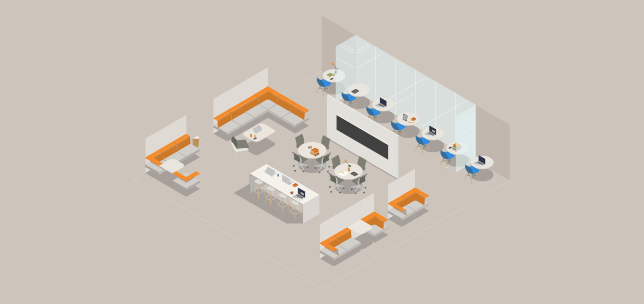 Plaza[/caption]
[gallery link="file" ids="73676,73674,73675"]
A series of inspiring office settings under a human-centered framework is introduced to invite more interaction and to accommodate multiple collaborators for different work styles.
Hive - a grouping of workstations and offers a setting for numerous people to harmoniously engage in individual and collaborative work.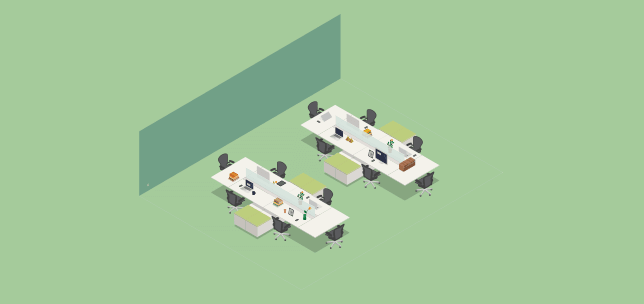 Jump space - work points that facilitate work for a distinct and discrete period of time between other activities.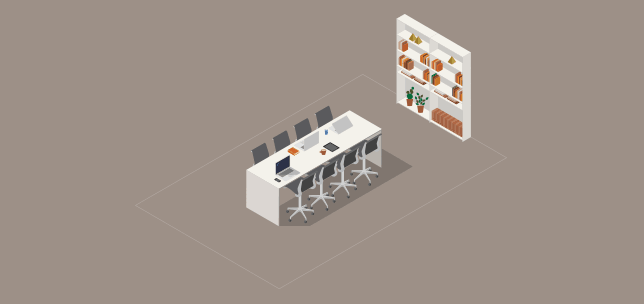 Clubhouse - a working neighborhood that generally belongs to a team assigned to a specific, long-term project.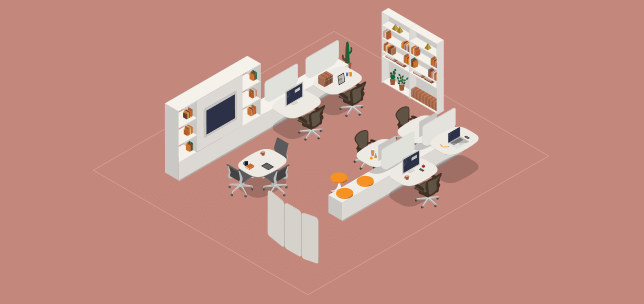 Cove - a compact space within proximity to individual work points or common areas that enables people to assemble and engage with each other for a short period of time.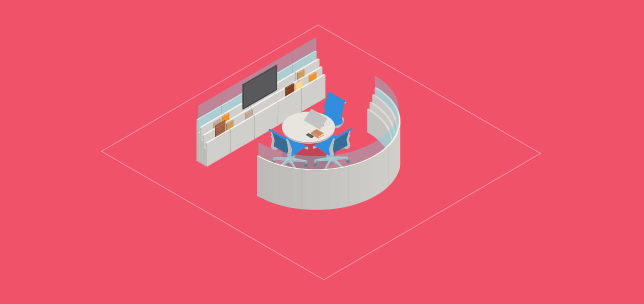 Landing - an open perching spot adjacent to Meeting Spaces or Forums.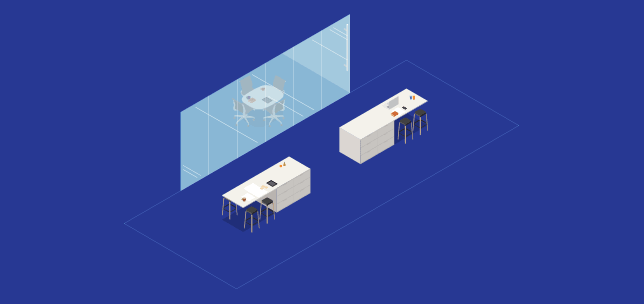 Forums - an open perching spot adjacent to Meeting Spaces or Forums.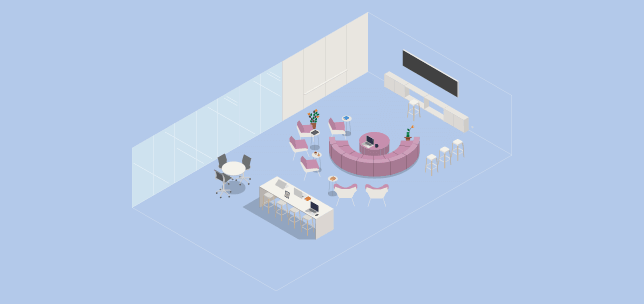 Meeting place -  to support information sharing, whether it's a single speaker at the head of the room, or a group of peers conversing among themselves.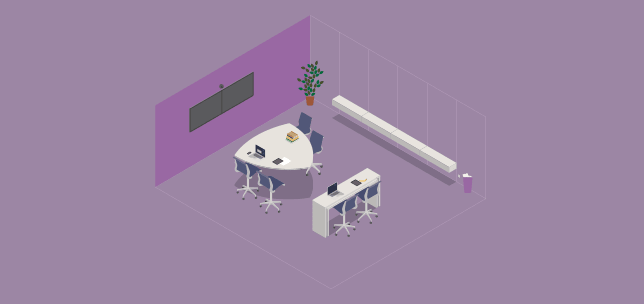 Workshop - for people to work together to generate new ideas and drive their work forward.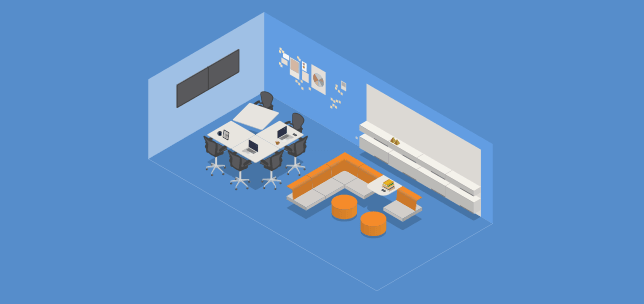 [gallery link="file" ids="73659,73660,73661"]
[gallery link="file" ids="73650,73649,73657"]
To make a balance, the company also comes up with private areas to cater to some quiet minds. This sound-proof semi sphere installation, for example, is created for private phone-calls or for breeding ideas.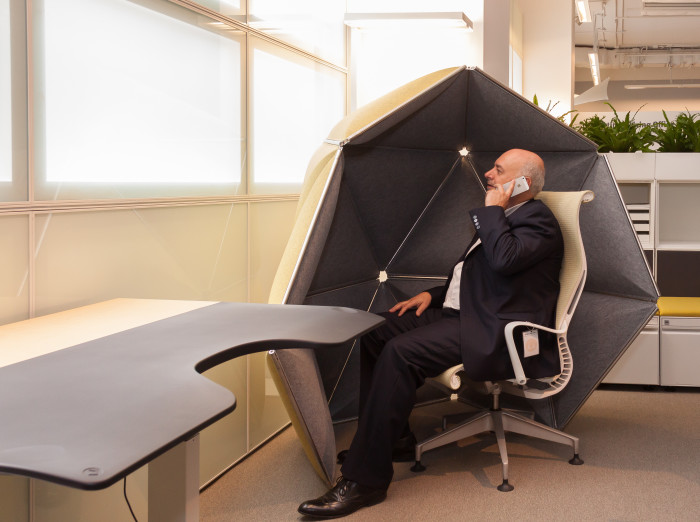 And the setting Haven - a small shelter where focused work can be done without distraction or a place to unwind.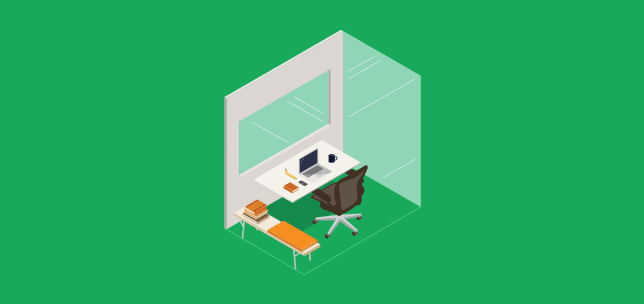 "When we can strike a balance between the hearts and minds of the workers, and the individual work and group work, office can be an engine of the company's prosperity, staff engagement and the company profit goal."
Hocking stresses a modern office should be able to reflect the values and the characters of the company via the settings and decorations.
"You have to first understand the character of your company, what types of works are being done, then to challenge people to put in new kinds of spaces that would help to build the level of engagement of the individuals."
With a dream to give people an option to think differently about their office, the company is now on a mission to open office workers in Hong Kong minds towards working environment. Brand consultancy StartJG, for instance, is one of its clients in Hong Kong.