Placing digital marketing as a top priority is not new for marketers. But with the space quickly becoming fragmented, knowing where to spend might put some of you in a pickle.
Well, according a report by E-consultancy and Adobe, more than half (56%) of client-side respondents indicated that they are going to increase their social media marketing investment in 2017. This might just be because of the emerging platforms ,as well as new marketing solutions, being offered by existing social platforms. The report states that in 2017, social media players will continue to attract your marketing dollars with  new ad formats.
Take a look at how marketers are splitting their digital budgets: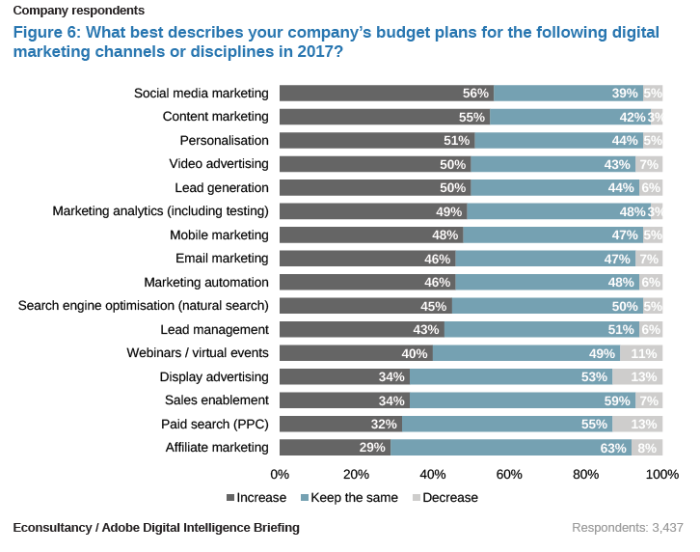 What's your priority?
In terms of priorities, content marketing comes in top, according to 29% of respondents in the study. This is followed by social media engagement at 28%.
According to the study, marketers are more focused on high-level priorities such as content marketing and social media engagement. But theres is a lack in emphasis on analysing data to surface valuable insights. This might suggest that marketers are more focused on acquisition than retention of customers.
It added that this defies most received marketing wisdom that it is more effective and cost-efficient to focus on retention rather than customer acquisition.
Death of 'digital-first'
About 46% of respondents in 2017 stated that digital permeated most of their activities, this was a 4% increase compared to 2016.
However, lesser companies are stating they are a "digital-first" organisation. This term's usage dropped from 14% in 2015 to 11% in 2017 as more organisations placing more focus on delivering connected and "digitally integrated" experiences for customers.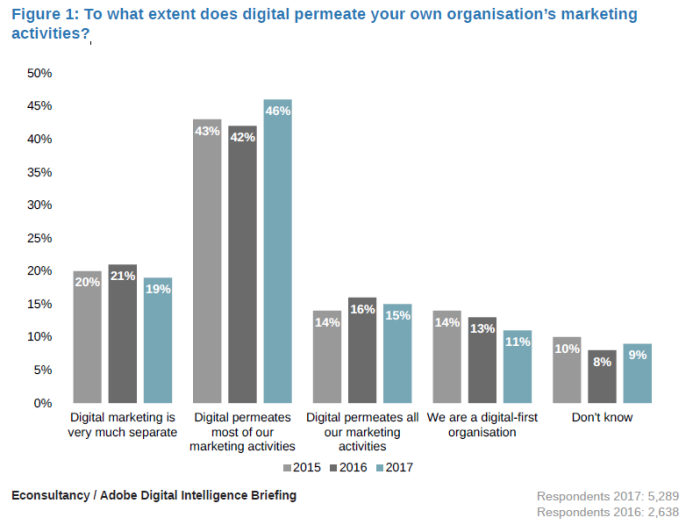 Defining this term internally across the organisation has also led many brands to realise they were further from achieving digital integration, than first initially thought.
Now, a number of organisations describing themselves as "mobile-first". The term has more than doubled in, from 13% in 2014 to 27% in 2016. The report states that this may be due to the notion that organising around mobile is a more tangible and definable goal for some companies, rather than a broader digital focus.
Technological innovation is on the rise
Rapid advances in technology in innovations such as artificial intelligence (AI) and the Internet of Things (IoT) space are also making brands realise that certain digital integrations are still not reachable. The report attributed this to either as a result of lack of available investment, business prioritisation or further data demands, on already stretched systems.
Optimising the customer journey across multiple touchpoints is something which will be "very important" for brands' digital marketing in the next few years. According to the report, this will be through creating seamless, consistent and valuable experiences for their audiences and having the teams in place to help achieve this.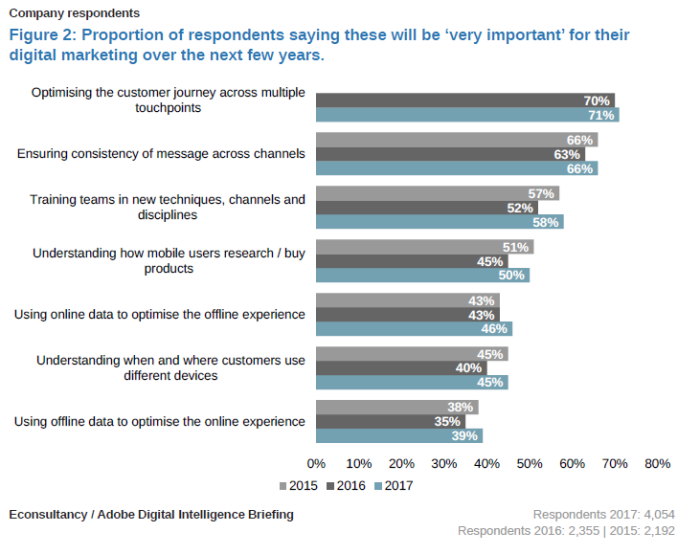 In the next five years, enhancing the customer experience as a point of differentiation is also a top priority for brands, this is followed by product and service innovation, customer service and ensuring consistency across virtual and physical worlds.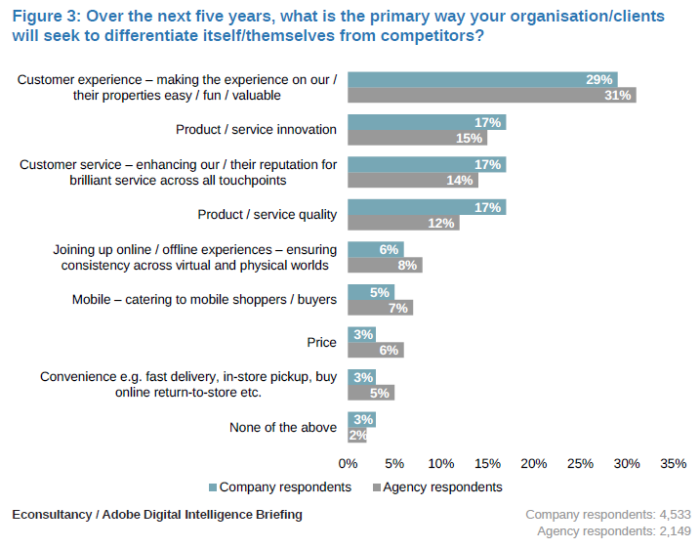 Econsultancy's 2017 Digital Trends report, published in association with Adobe, is based on a global survey of more than 14,000 digital marketing and e-commerce professionals across EMEA, North American and Asia Pacific markets.