Helsinki, Finland's capital, has just transformed its freezing weather in November from a turn-down to an compelling endurance test for tourists.
In a post on Reddit on Monday evening, one user shared the image of a welcome sign he saw outside Helsinki airport, which writes:
"Nobody in their right mind would come to Helsinki in November. Except you, you badass. Welcome."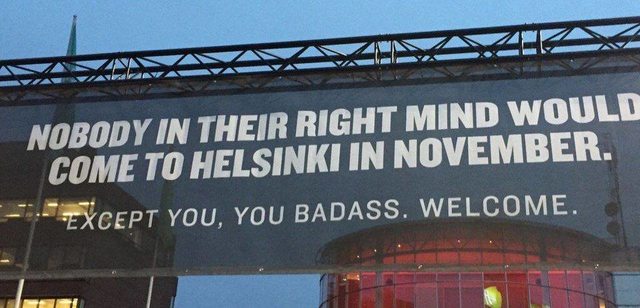 While it was chilly cold in the city at the moment, Helsinki decided to congratulate any tourist who had been brave enough to visit the snowy city.
"Makes you want to visit because posters like these give the impression of a city of warmth and humour," commented one of the netizens.
Visit Finland confirmed to indy100 that the banner was real, hanging towards the centre of the city. The banner was created by the the Slush tech conference held last week. "With only few hours of sunlight during November, and lots of muddy slush on the ground, Helsinki in November is weather-wise probably the worst possible place you can imagine. It's dark, wet and cold. It is quite difficult to promote our otherwise lovely capital," Marianne Vikkula, CEO at Slush told indy100.
"We at Slush have always been about originality and honesty, so we try to make the best out of the sh**y weather," he said.