Uniqlo had a very interesting July - the sex-in-fitting-room scandal that rocked its brand perception in China. After the video became viral on Chinese social media, brand perception for Uniqlo by Chinese consumers fell for multiple metrics from positive to negative.
It has been more than two months since the incident, but perception for the brand is still low and has not recovered to the positive.
According to YouGov BrandIndex Impression Metric in China, Uniqlo's Impression score in China fell from a positive 20.2 points to -25.9 points at its lowest, and the residual effect has not pushed the score back into the positive (-14.5 points on 17 September).
[caption id="attachment_111560" align="alignnone" width="550"]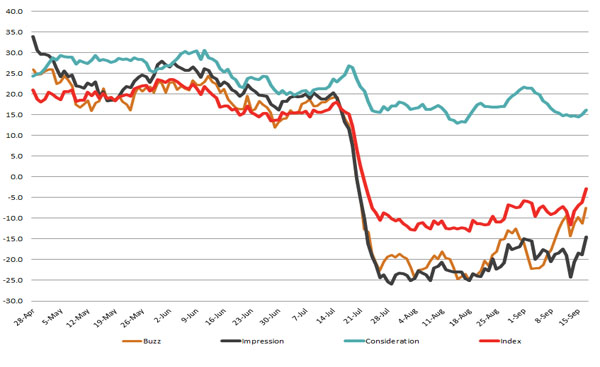 Uniqlo's brand perception in China[/caption]
Similarly, at Uniqlo's Buzz score, although it has recovered from a low of -24.9 points, the residual effects of this incident has kept the Buzz score in the negative (-7.6 points on 17 September). This shows that this incident has long legs on how consumers perceive the brand.
Based on a YouGov poll ran immediately after the scandal, half of all respondents reckon that the incident won't have any impact on their purchase consideration for Uniqlo.
But for the Purchase Consideration Metric, where the score took a dip (from 26.8 points before the incident) to a low of 13.4 points a month after the incident but still stayed in the positive unlike other metrics.
[caption id="attachment_111559" align="alignnone" width="550"]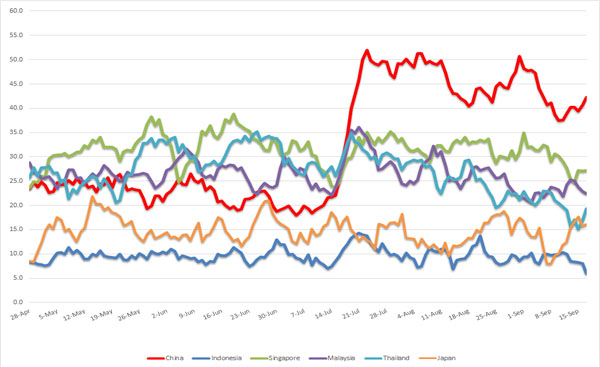 Uniqlo's brand perception across APAC (WOM)[/caption]
This shows that even though perception from the brand is still low, consumers are still willing to purchase from Uniqlo.
Interestingly enough, when look at the brand across the region (Japan, Malaysia, Thailand, Singapore, Indonesia, China), that was a spike in the Word of Mouth Metric after the scandal appeared in the news, it was not as prominent as in China, with the lowest prominence in Japan, followed by Indonesia.
Back in July, when some people wondered if it was all a marketing stunt, the Japanese clothing retailer immediately issued a statement denying the video was a publicity stunt.
YouGov's BrandIndex is the consumer perception research service of brands, taking 520 interviews every day from a representative population sample.
Respondents are drawn from an online panel of more than 30,000 individuals in China.