Guinness Anchor Berhad (GAB) has once again dedicated a day to celebrate responsible consumption at its brewery in Sungei Way.
This year's theme was 'A Moment of Truth' which saw GAB producing a series of videos to raise awareness on sensible drinking with the message of #DoItRight. The emphasis is on positive enjoyment and responsible consumption.
GAB's managing director, Hans Essaadi said the importance of educating consumers on responsible consumption is key to GAB's growth as an organisation.
"We want our employees and consumers to enjoy our brands and have good drinking experiences by drinking moderately and sensibly. We take the issue of responsible consumption very seriously. Our hope is that through our Drink Sensibly campaigns, we can aspire to create a culture of moderation and promote a sensible drinking lifestyle," he said.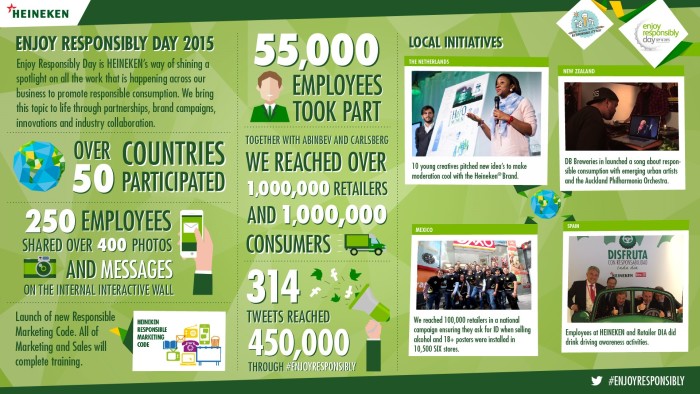 GAB also has their own flagship programme for encouraging responsible drinking, Drink Sensibly, which began in 2010. Since its inception, the initiative has engaged more than 140,000 consumers across Malaysia and trained all of its employees on responsible drinking and the importance of moderate consumption.
GAB also has a Drink Sensibly mobile application, the first of its kind in Malaysia and has been downloaded by more than 7,000 consumers and trained more than 11,000 frontline staff of outlets on sensible drinking and sensible serving via GAB Professional Solutions (GABPS). In the span of five years, GAB has also dedicated more than RM2 million to raise awareness, educate and engage stakeholders on sensible drinking.
Enjoy Responsibly Day is a Heineken global initiative and was activated in over 50 markets worldwide, from Mexico to Malaysia, Poland to Papua New Guinea, Rwanda to Russia.
Over 55,000 employees were engaged and over 2 million consumers were reached worldwide in a range of activities to demonstrate their commitment to reducing alcohol related harm and promoting moderation.