Google enters 2017 as the world's most valuable brand, knocking Apple off its perch for the first time in five years, according to the latest Brand Finance global 500 report.
Google's brand value rose by 24% to US$109.4bn during 2016 while Apple's declined from $145.9bn to $107.1bn.
The tech giant last occupied the position of the world's most valuable brand in 2011. The company remains largely unchallenged in its core search business, the mainstay of its advertising income. Ad revenues were up 20% in 2016 as budgets are increasingly directed online and Google finds more innovative ways to monetise users.
The report generally defines "brand value" as the amount of money it would take to hypothetically license a brand name.
The report said Apple has struggled to maintain its technological advantage, with new iterations of the iPhone delivering diminishing returns, while the Chinese market is now crowded with local competitors. "Apple has been living on borrowed time for several years by exploiting its accumulated brand equity. This underlines one of the many benefits of a strong brand, but Apple has finally taken it too far."
View the world's 10 most valuable brands below: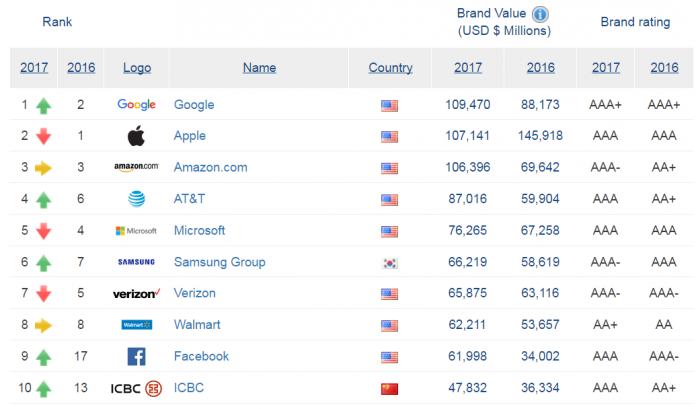 Out of the 500 brands analysed, Amazon was deemed third most valuable, at $106.4 bn. Snagging the No. 4 spot was AT&T at $87 bn, which was followed by No.5 Microsoft at $76.3 bn and No.6 Samsung at $66.2 bn. Verizon was No. 7 at $65.9 bn. Walmart, Facebook, and China's ICBC snagged the last three spots in the top ten, at $62.2 bn, $61.9 bn, and $47.8 bn, respectively.
Take a look at some highlights of the study:
China's bank brands are now worth more than those of the United States
ICBC is the world's most valuable banking brand
AT&T has overtaken Verizon to become the world's most valuable telecoms brand
Emirates is no longer the most valuable airline brand, having been overtaken by American, United & Delta
Coca-Cola, Pepsi, McDonalds, KFC & Subway all see brand values fall, undermined by healthy eating trends
Nokia's brand is back from the brink and back in the top 500, following takeover and rebrand of Alcatel and launch of the Nokia 6 phone
(Photo courtesy: 123RF)