With the latest Budget 2018 plans announced, Malaysia does seem to be on the right track towards becoming a fully-developed digital economy.
Datuk Yasmin Mahmood, CEO of MDEC, was reported by media houses saying the digital economy continues to be a main driver of growth for Malaysia, contributing approximately 18.2% of the country's GDP in 2017. It is expected to surpass the estimated target of 20% earlier than 2020. She also added that the RM100 million budget set aside as part of Budget 2018, to expand programmes such as eRezeki and eUsahawan, will ensure the digital economy continues to be inclusive for the well-being of Malaysians.
But despite the major push on SMEs and e-commerce sectors, it remains an uphill battle for local e-commerce marketplaces in its survival to compete with numerous competitors - which includes players such as Lazada, Zalora, iPrice, Myfave, Tesco, Qoo10, 11street and Go Shop - over the same share of online shoppers pie.
One such platform is GemFive which is currently rumoured to be closing down operations later this year. GemFive was launched in May 2015 for consumers to discover new brands. The platform was founded by the chairman of GuoLine eMarketing, Quek Kon Sean, who is also the youngest son of Malaysian tycoon and Hong Leong Group co-founder Tan Sri Quek Leng Chan. Hong Leong Group, which owned GuoLine eMarketing, was backing GemFive by pumping in an initial investment of under RM$5 million into the online shopping portal.
A quick check by A+M showed that all access to GemFive including its main website and mobile apps, as well as social media platforms such as Instagram, Facebook, and Twitter have been deleted. A+M also did a quick search on Google for GemFive's website, with the final results (as shown below) saying 'This page isn't working".
A+M has reached out to Quek Kon Sean and his team on the reason for the closure. Meanwhile, parent company Hong Leong Group did not comment at the time of writing.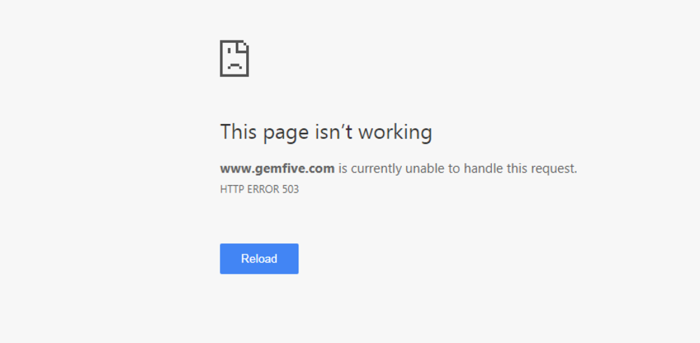 While it is not clear on what exactly drove GemFive to the ground, what is clear is the increasingly tough battle among the e-commerce players in Malaysia.
Rajeev Balasubrahmanyam, chief executive officer at Predator Digital, said e-commerce companies "can fail for all types of reasons, but one of the biggest issues is the double whammy of high customer acquisition costs and high churn". Unless this can be tackled, e-commerce will remain in general, dominated by the large retailers, namely Alibaba and Amazon.
Balasubrahmanyam said that a more feasible business model, is the subscription commerce model which lends itself to larger and more regular margins, with consumer experience being fuelled by data and personalisation technology.
"I foresee adoption of this channel by individual brands wanting to build their own direct to consumer relationships as part of their independence from multi channel retailers," he added.
"But despite all the above, one thing that could really help our local marketplaces is sufficient resources such as the money to invest, market and develop and time to grow the business. This especially in building up businesses, to potentially become leaders in long term," he added.
The top 1o e-commerce platforms in Malaysia, said Sue-Anne Lim, group chief data and strategy officer at Dentsu Aegis Network Malaysia, are largely, if not all, dominated by non-local players who have deep pockets. E-commerce success is determined by traffic volume that causes a rise in transactions, contrary to popular belief that e-commerce profits from transactions only.
This has led platform owners willing to forgo margins to provide the best price to consumers in exchange for traffic shares. But product offering remains lacking in variation and differentiation.
"The success really hinges on the business model and being able to raise enough capital to support that. It's not as straightforward as putting goods online and expecting them to fly off the page," she said. However, she added that e-commerce will eventually be a media platform with in-market ready-to-buy audiences, despite its challenges.
Driving traffic
The traffic coming to marketplaces, she added, can also generate an even greater income for players. Therefore, she said,
E-commerce players need to be far-sighted and able to capitalise on commercial moments immediately to remain competitive and successful.
She added that unlike other markets in Southeast Asia, Malaysia has all the right requirements in place - logistics infrastructure, affordable labour, cheap and strong connectivity, along with developed financial systems. The challenge, Lim said, is to convert brick-and-mortar sales to e-retail is very much a behavioural issue. These are behaviours that Malaysian marketers would have to change by creating more substantial value to online shopping.
"That's actually very good news for us because the toughest part is lack of infrastructure which isn't so for us," she added.
Meanwhile, Anurag Gupta, chief growth officer at Possible Worldwide Singapore, shares a similar sentiment that traffic forms one of the key fundamentals for any marketplace to survive, on top of other factors such as selection, experience and sellers.
"The more selection you have, bundled with great experiences such as - how easy it is to find something I want to buy, do I get the right information to help me make a decision and do I get it at the right price and right time - the better. If you get this right, you get more traffic which in turn gets more sellers and hence a better price for end consumers. You can't be good on just one, you have to be good on all of these," Gupta added.
Bank on experience
"Shopping is an experience, be it in the real world or on the Internet," Serm Teck Choon, president of MDA and Malaysia country head of CtrlShift, said. As a marketplace, Serm added that e-commerce companies need to provide your customers a seamless shopping journey, from browsing and searching for the products to putting them into shopping cart and making the payment via various payment options.
"Lazada and 11street have both proved that to be successful in the e-commerce space in Malaysia, you must have a very strong marketplace core engine with a very friendly user interface," he said. Serm added that moving forward, the competition among e-commerce players will also be extended to areas such as logistics and payment.
Read also:
Rakuten shutdown: End of e-commerce as we know it?