Fujifilm has launched a TV and print ad campaign for its latest X-T1 camera.
The campaign will aired on TV and be shown on screens in the lobbies of office buildings. Print ads featuring stills of the TVC have appeared in newspapers and magazines and out-of-home ads for bus billboards and MTR stations will be released next week.
"We wanted to highlight the camera's suitability for taking portraits of people and bringing out the color of landscapes. We are targeting amateur photographers who want to have an additional compact camera to supplement their DSLR camera," Fujifilm spokesperson said.
The ads were produced by creative agency Metta Communications. Creative director Matt Tse said the design concept behind the ads were inspired by 20th century Japanese writer Yasunari Kawabata's books.
Credits:
Executive Creative Director: Simon Fung
Creative Director: Matt Tse
Senior Art Director: Wicky Yau
Business Director: Ng Siu Hung
Account Manager: Candy Li
TV Producer: Reuben Cheng
Media agency: Ad-impact Metta
"This is the seventh ad campaign we have done for Fujifilm and it has always been about renowned Japanese photographers' schools of thoughts," he said.  "This time, we wanted to explore the worldview of the Japanese literati, such as Kawabata's ideas of beauty and death."
"That's why we dressed up the main character in a kimono, and created the feeling of a world from the past."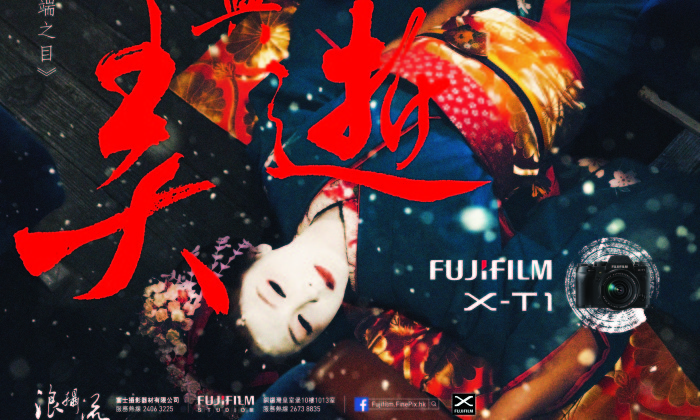 Although the idea of beauty dying once it is captured by the lens is rather abstract and poetic, Tse says this is part of his agency's attempt to generate more discussion among viewers.
"The client's budget may not be as high as other major camera brands, so we know that the brand needed to find an edgy place to enter the market.  Using abstract ideas and dark tones in the ad makes it more topical," he said.
"There's no need to introduce the specifications of the camera in the ads because that would be going overboard.  If people are interested in the product, they can look it up themselves.  But the ad has to have an element of mystery to it, something that you don't understand and that will capture people's attention."