In a blistering, widely-publicised report on Facebook titled, "Facebook is failing marketers", Nate Elliot, VP of Forrester criticises the network's effectiveness.
Writing an open letter to Facebook founder Mark Zuckerberg (pictured), Elliot said "while lots of marketers spend lots of money on Facebook today, relatively few find success."
Elliot said that Facebook focuses too little on driving genuine engagement between companies and their customers and its sales materials saying which promise this, in reality hardly lives up to it. The second gripe he had was that many executives said that Facebook's display ads were significantly less effective than the display ads they buy elsewhere online.
Simply put, he said, "Your company isn't good enough at the pure advertising business onto which you've shifted your focus."
According to the research done, one-third of all display impressions online are from Facebook,  but fewer than 15% of Facebook ads leverage social data to reach more relevant audiences.
The study's flaws?
The study itself has been questioned - with many pointing out its flaws.
Firstly, the report, which interviews business leaders from UK, US and Canada had a little shy of 400 marketers in its survey from "big companies".
Also under the question "How satisfied are you with each of the following companies as marketing partners?" Facebook lagged a mere 0.32 points behind search giant, Google, instead of being compared to other social networks.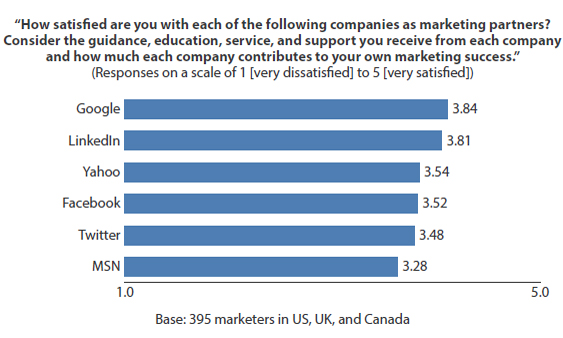 Ryan Lim, business director of Blugrapes thinks that while the  report is compelling, it might be stretching the truth a little far.
"When it comes to social media, it is a passive form of marketing as compared to search which is an active form. Social media is an influencer rather then a call to buy so it would not always have a direct impact on the ROI." Search and social media marketing cannot be compared to each other directly, he added.
"People go to Facebook not with the intent to buy but when they type in key words in search engines, such as Google, they are already aware of what they want and it's a matter of simply clicking to buy."
Bharad Ramesh, head of trading, Southeast Asia of Vivaki said that Facebook in the region is definitely still working as marketers continue to invest in it.
"If marketers are continuing to invest and the cash flow is intact then it must have an impact on their sales figures."
The only flaw he sees would be that the social media platform changes its advertising ever so often that marketers and agencies might not always be up to date and hence might not be utilizing the platform to its optimal. Also Ramesh added that he would like to see the social media giant ramp up in Asia.
Ramesh also added that while Facebook is at the bottom of the pile of the questions "How satisfied are you with the business value your company has achieved by using each of the following marketing channels?" It is important to note that Facebook is just as important as drivers such as word of mouth in the digital sphere.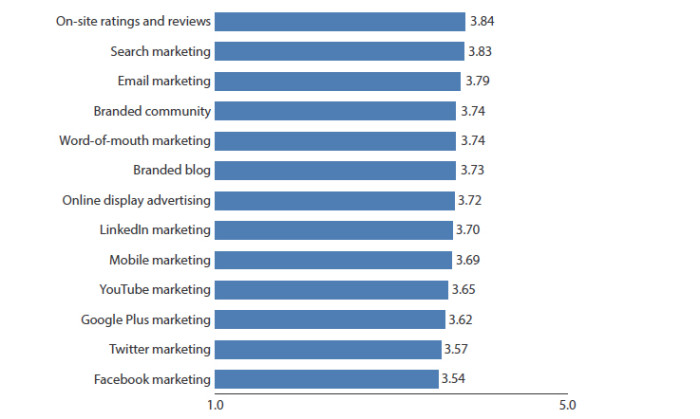 Facebook's response
In response to the report, Facebook in an email to Business Insider said:
"While we agree that the promise of social media is still in process, the conclusions in this report are at times illogical and at others irresponsible. The reality is that Facebook advertising works. That's why we have more than a million active advertisers including all of the Ad Age 100. And, countless studies have demonstrated the significant return on investment marketers see from Facebook. Our promise is to continue to deliver positive results for marketers."