Formula One has revealed a new logo (pictured left) as the first step in its rebranding. According to Reuters, the new design reportedly symbolises the look of a Formula One car with a "modern-retro feel", replacing the previous logo introduced 30 years ago by former Formula One commercial supremo Bernie Ecclestone.
Sean Bratches, Formula One's MD, said the new logo shows the broader transformation occurring in the sport, as its owner, US media conglomerate Liberty Media, attempts to widen the sport's appeal and "lead it into a digital future".
Formula One's director of marketing Ellie Norman, said in an interview with Reuters that the new logo originated from fan feedback and would be "easier to work with" on mobile and digital platforms.
After an amazing season – a new #F1 era awaits

Our greatest races are ahead of us
#Unleash2018 pic.twitter.com/1g0KSjeVhj

— Formula 1 (@F1) November 26, 2017
Formula One also unveiled its mission statement with five key behaviours - revel in the racing; make the spectacle more spectacular; break down borders; taste the oil and feel the blood boil.
According to Norman, the message gathered from extensive fan research conducted by Liberty Media was that Formula One had lost excitement and became "too [sanitised] and inaccessible". As such, Liberty Media began thinking about how it can continue to bring fans closer to the sport and give them what they want. She added that the new logo allows Liberty Media to introduce Formula One into territories where new audiences are.
While the management at Formula One is positive about the new logo, fans however, do not share the same sentiment. Fans on Twitter commented that there was no need to change a perfectly fine logo and that the new design seemed simple and rushed.
It's the fact that the new logo feels simple, rushed in. The old one had more to it. And we've had that logo for 23 years

— Ofitus_21 #JB17 (@Ofitus21) November 26, 2017
Hey @F1 if you wanna change a perfectly fine logo so badly why not use this one? Took me half an hour & I even threw in some freebies since you clearly had no budget for a better design #sorrynotsorry #F1 #AbuDhabiGP pic.twitter.com/Pukpx5iOrp

— Martijn Spiering (@MartijnSpiering) November 26, 2017
I think you're overestimating your creative abilities.

— Philip Walker (@PhilipW73) November 26, 2017
What the hell was that! That new @F1 logo and the treatment of it is awful! This would of been a better treatment... #F1 #AbiDhabiGP #F1logo #brand #design #SkyF1 #AskCrofty @SkySportsF1 @wtf1official pic.twitter.com/ETCvXsXgIo

— Dave Edwards (@DaveEdwards97) November 26, 2017
Those on Facebook have also voiced their displeasure, with some instructing Formula One to change the logo and said if it is not broken, do not fix it.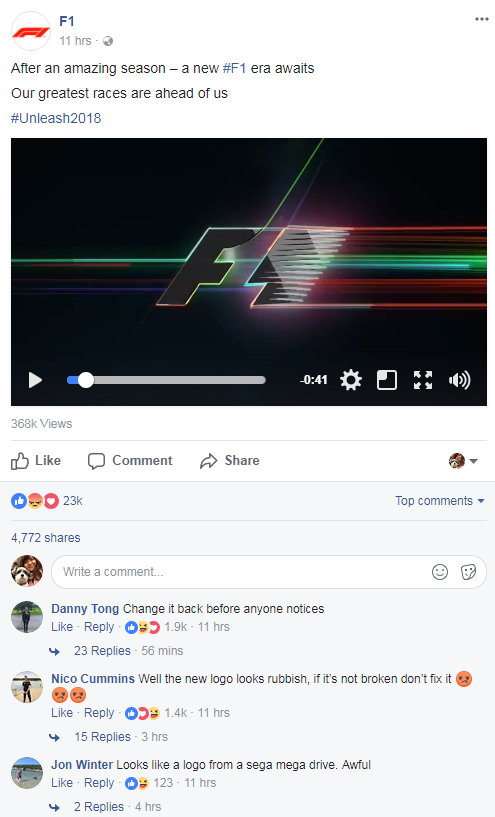 Meanwhile, Andrew Crombie, brand consultant and former CEO at Fitch, Southeast and North Asia, said the new logo is simple, clean and overall quite effective. "I can see that it is trying to depict two lanes of a race track, so it is communicating more than just a name," Crombie said. He added that the new logo feels more like a "gamer version" of Formula One, which is probably their objective to attract the younger audiences, especially in new markets such as the US.
However, Crombie said he is unsure if moving away from a long term and strong design equity was the right decision. "The old logo, however unrefined as a piece of design, had very high recognition and positive associations from a huge existing fan base," he said. Crombie added:
My sense is that it would have been better for them to refine the existing concept rather than completely reinvent it.
But like all logo replacements, Crombie said the impact of the new logo on Formula One's branding depends on how much money is invested behind awareness and relevance against its core audience. According to him, existing fans are more interested in what is being done to improve the sport rather than the branding, while new fans will not know the difference. "I think it's a temporary issue that will blow over in two to three seasons," Crombie added.
Also weighing in on the topic is Jonathan Bonsey, creative and managing director of The Bonsey Design Partnership, who said the new mark is "challenging". "It is so squashed flat that it barely registers as an F and a One. It no longer has lettering of any kind to aid comprehension," Bonsey said. He added:
The previous mark was a classic petrol-head symbol of global racing. It was simple, easy to read and with enough go-faster stripes.
"Although the lettering was badly distorted and skewed like early Macintosh graphics 1.0, it worked. In black and red, it worked on all backgrounds and screen sizes," Bonsey said. He noted that bright red is a challenging colour for broadcast TV because it leaks and goes fuzzy around the edges. "This is hardly appropriate for a mark designed to represent precision and pace," he added.
Adding on to the discussion is former BrandAsian CEO Joseph Baladi, who said that companies evolve and sometimes change their logos all the time. What makes the change successful is the reason behind it.
"Maintaining relevance is probably the central and probably singular driving force that should, in theory, motivate a review," Baladi said. However, companies change their logos for the wrong reasons, such as the new CEO disliking the old logo or a dip in sales figures.
"In this case, Formula One is saying that the new logo will help 'build up e-sports'. That may be the case but if it is the only reason, besides the fact that the new CEO dislikes the old logo, then it is not a sufficient reason to risk killing an existing visual that has loads of equity," Baladi said. He added:
Opportunity cost is the key consideration in the absence of relevance.
The unveiling of the new logo comes as Formula One called for a global media planning and buying pitch recently. What do you think of the new logo? Share your thoughts with us!
Read also:
Singapore F1 Grand Prix not just a vanity project, attest marketers
Marketers, think beyond the Grand Prix race weekend