The role of a chief growth officer or CGO is expected to be on an upward trend in 2017, particularly among fast-moving consumer goods (FMCG) companies that have seen business stagnate in recent years. That's according to the latest Q1 2017 R3VIEW report.
One of the world's most prolific advertisers, Coca-Cola is a good example on the latest FMCG company to appoint a CGO, following the footsteps of Mondelēz, Colgate-Palmolive and Coty. The beverage giant was caught nixing the role of CMO after its current CMO, Marcos de Quinto, retired. This change comes among a larger shake-up, and seeks to merge "customer and commercial leadership as well as strategy" into a new role, the CGO.
The dramatic changes to the consumer journey, coupled with the challenges of digital and the struggle to prove ROI have left many wondering just how much marketing translates into business results, said the report.
As such, many experts have speculated that the rise of the GCO is the death knell for the CMO. The R3 report also said,
While the CMO isn't going to disappear overnight, they will have to become the champion of digital transformation or risk losing their place at the C-suite table
That is also why digital transformation remains a hot topic among many marketers.
On the matter, former Pizza Hut APAC CMO, Pankaj Batra said marketing titles need to evolve but to thrive in a dynamic and challenging environment, CMOs will need to display agility. They will also need to continue to be the voice of the consumer and learn to constantly evolve their communications strategy to the dynamics of a digitally connected consumer.
"Marketers need to think and act like journalists – creating brand content and at times amplifying consumer generated content, all while owning the entire customer experience and lead cross-function teams to provide a better and easier brand experience," he added.
Earlier this year, senior marketers from Coca-Cola, Hershey's, Unilever, HSBC, Converse, GSK and several others who attended a CMO Roundtable event by R3 discussed on the challenges posed by digital, and how CMOs could champion the transformation within their own organisations.
On that, four key themes had emerged by the end of the day: curing the "legacy disease," leveraging internal and external resources, increasing your integration IQ and hiring the right talent.
In a statement to Marketing, R3's co-founder and principal Greg Paull said that while AI is not yet contributing to the death of the CMO role, AI and DAM is leading to a lot of marketing roles will be more automated in the future.
AI Race's Heating Up
Speaking about upcoming and hot new technologies, artificial Intelligence (AI) is one that marketers are trying to crack. AI is expected to grow by leaps and bounds in 2017. On top of that, the race is heating up with tech giants and brands alike competing to make acquisitions in the space, said R3 in the report.
According to CB Insights, over 200 private companies using AI algorithms have been acquired since 2012, with 30 deals alone taking place in Q1 of this year. Unsurprisingly, Google, Apple and Facebook lead the pack in AI company acquisitions, while brands like Ford and GE are just entering the fray.
This quarter also saw one of the largest M&A deals: Ford's acquisition of Argo AI for US$1 billion.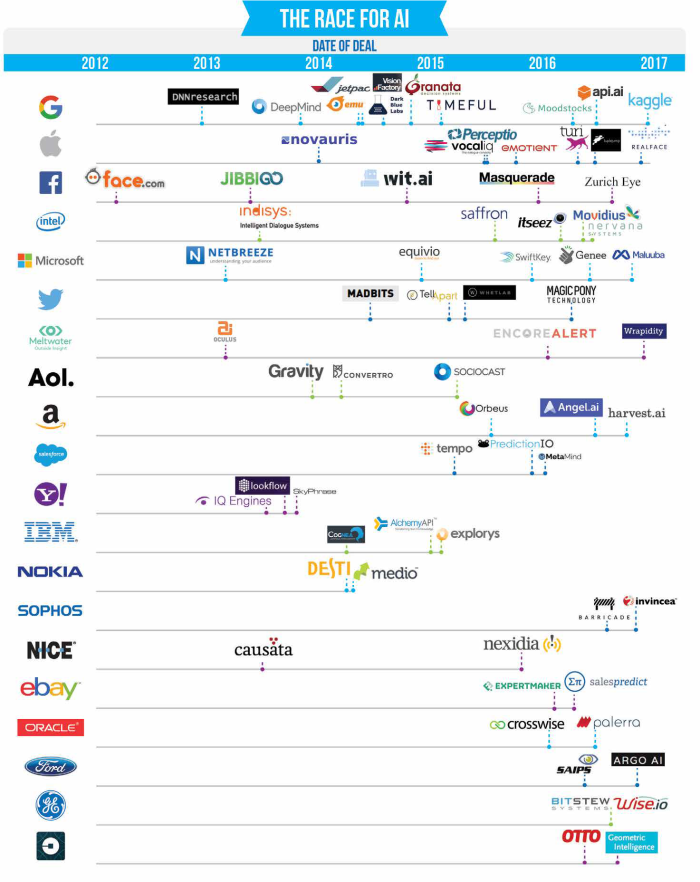 In the AI era, tech giants such as Google, Apple, Intel and Amazon have rushed to acquire and invest in AI startups. Research from CB Insights showed over 40 acquisitions in the AI space in 2016 alone, a 470% surge from 2012.
Agency holding companies, on the other hand, have been slower to embrace AI.
In 2016, R3 M&A league research revealed that none of the agency holding companies made any major investment in AI companies. This is due in part to heated competition in AI investment and the high valuation of the startups. However, this does not underplay the potential implication AI has for marketing.
Paull also added that agencies have been slow to embrace AI because "most agencies still rely on a labor based model for their revenue, and no longer on a media commission. The more people, the more they can bill."
From Google using Natural Language Processing to improve search results, to Under Armor developing a new fitness app with IBM Watson, agencies and brands have already started testing the waters.
That said, there are still obstacles when it comes to AI such as the required skills, a more defined business case and a clearer direction on what AI can be used upon.