The number of consumers in the Philippines who are willing to pay more for sustainable products and services continue to rise, according to a new study by global performance management company, Nielsen. The 2015 Nielsen Global Corporate Sustainability Report shows the inclination among Filipinos to buy socially responsible brands is among the strongest globally.
Close to nine in 10 (86%) Filipino consumers say they are willing to pay extra for products and services that come from companies who are committed to positive social and environmental impact, a four point increase from last year (see chart 1).
"Sustainability is a worldwide concern and this is especially true for consumers in a growing population such as the Philippines to be continually aware of environmental and societal issues," says Stuart Jamieson, managing director of Nielsen in the Philippines. "More exposed to the stress in the environment and its effect to the community, consumers are trying to be responsible citizens and they expect the same from corporations."
To gain better insight into the factors that influence consumer sentiment and purchase behavior, Nielsen polled 30,000 consumers in 60 countries across the globe. Consumers were asked how much influence factors such as the environment, packaging, price, marketing, and organic or health and wellness claims had on their consumer-goods purchase decisions.
"When it comes to purchasing, they are doing their homework. They are checking labels before buying, they are looking at web sites for information on business and manufacturing practices, and they are paying closer attention to public opinion on specific brands in the news or on social media," observes Jamieson.
Committing to sustainability might just pay off for consumer brands. According to the report, sales of consumer goods from brands with a demonstrated commitment to sustainability have grown more than 4% globally in the past year, while those without grew less than 1%.
"There's a strong link between doing good deeds and doing well with consumers. Integrating sustainability into their business models and objectives helps society and at the same time, raises goodwill towards their brands," comments Jamieson. "Companies with strong reputations outperform others when it comes to attracting top talent, investors, community partners, and importantly, consumers."
Health and Wellness
The top sustainability factor that influences purchasing of Filipino consumers is health and wellness (see chart 2).
Products made with fresh, natural, and/or organic ingredients also appeal strongly with Filipino consumers.  Nearly three quarters of survey respondents in the Philippines (74%) say that this factor has very heavy influence in the purchase decision.
Brand Trust
Trust in a brand or company is a major influencer in the purchase decision of 77% of respondents.
"There's still room to elevate trust even for consumer-goods brands that have established a high level of trust with consumers.  For these brands, this presents an opportunity to evaluate where best to introduce sustainable products into the market to drive growth," says Jamieson. "On the other hand, large global consumer-goods brands that overlook sustainability increase reputational and business risk.  Ignoring the sustainability imperative makes then vulnerable to competitors of all sizes who will seize the opportunity to build trust with the predominantly young, socially- conscious consumers who are looking for products that align with their values."
The Environment
A company's commitment to the environment has the power to sway product purchase of around two thirds of consumers surveyed in the Philippines (64%). Commitment to either social value or the consumer's community are also important (each influencing 62% and 60% of respondents, respectively). At the same time, 60% of consumers claim that environmentally friendly packaging also heavily influences their purchase decision.
Retail data backs up the importance of these influencers. In 2014, 65% of total sales of consumer goods measured globally were generated by brands whose marketing conveyed commitment to social and/or environmental value.
"Commitment to social and environmental responsibility is surpassing some of the more traditional influences for many consumers," says Jamieson. "Consumer-goods brands that fail to consider this run the risk of falling behind."
TV Ads
Forty-three percent of respondents in the Philippines find TV ads highlighting a company's commitment to positive social and/or environmental impact influential in their purchase decision.
"Marketing good deeds is just as important as offering a sustainable product and is key to attracting and retaining consumers. Brands that actively integrate  sustainability commitment must amplify and socialize their message using multiple sources and distribution channels  such as third-party validation (news coverage), annual reports, affiliation with a respected non-profit or civic organization, employee volunteerism, advertising, or reporting actual work in the community on a web site," recommends  Jamieson. "While marketing good deeds is encouraged and expected by consumers, authenticity and credibility are essential.  The emphasis must be placed on demonstrating good deeds rather than self-serving promotion. "
Chart 1: Willing To Pay Extra For Products and Services That Come From Companies Who Are Committed To Positive Social And Environmental Impact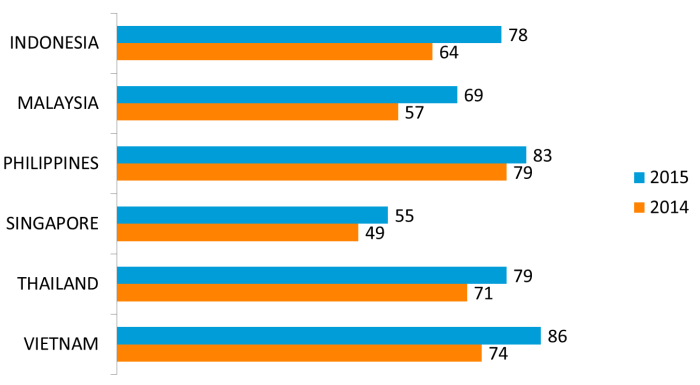 Source: Nielsen Global Corporate Sustainability Report, 2015
Chart 2: Top Sustainability Purchasing Drivers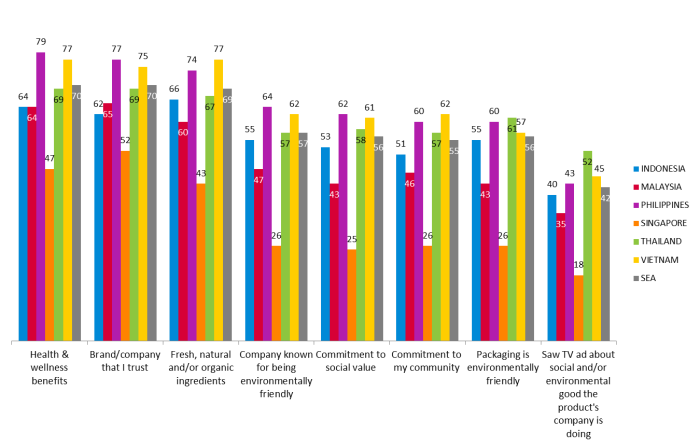 Source: Nielsen Global Corporate Sustainability Report, 2015