Football is often stereotyped to be a man's sport. However, brands should start targeting females, with the FIFA World Cups being "landmark opportunities" for football to extend its reach to new and growing audiences, said Nielsen in a recent report.
According to Nielsen's World Football Report 2018, 31% of females are interested in football. Also, 70% of women find the men's World Cup "very appealing", while 58% share the same sentiment for the 2019 FIFA Women's World Cup. The report, which surveyed 18 markets across Asia, the Middle East, Europe and the Americas, added that football has been been ranked the most popular sport worldwide, with 43% of consumers saying they are "interested" or "very interested" in it.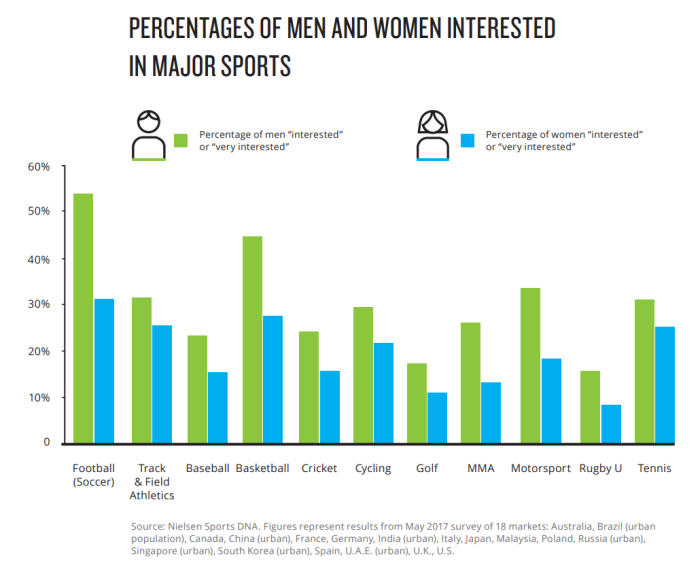 United Arab Emirates came out on top, with 80% of its population interested in football, while Malaysia was ranked 12th, with 65% of its population showing interest in the sport. Meanwhile, Singapore ranked 20th, with 49% of the population being interested in football.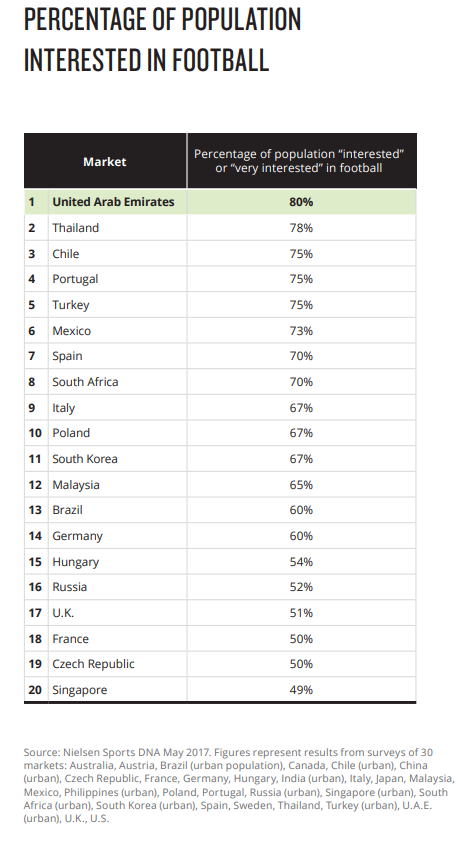 In a statement to A+M, Jon-Paul Best, head of watch, Nielsen Malaysia said football viewing among women in Malaysia is very much driven by Malay females, which account for 86% of female viewers. Female football followers tend to fall into two main groups, the first being those who are more likely to be career-orientated, stylish and want to stand out from the crowd. The other group of females are those who are slightly more practical and traditional in their outlook and are more price conscious.
"As such, those brands who can address these concerns in their World Cup related marketing are probably more likely to generate affinity with female Malaysian football fans," Best said.
Brands are not the only ones that benefit from the FIFA World Cups. According to the report, World Cup broadcasters should develop good mobile viewing options in order to capture younger viewers, with 25% of 11 to 20 year-olds more likely to watch the tournament on mobile or tablet. This is compared to 19% of 21 to 34 year-olds and 15% of 35 to 49 year-olds with the same viewing habits. Also, plans to watch the FIFA World Cup via tournament are also much more evident in more recently developed markets such as China (35%), India (28%) and Malaysia (22%).
Other ways for companies to target consumers also include football-related video games, gaming brand football sponsorships and virtual reality or augmented reality games. Video games, especially EA Sports' FIFA title, have become one of the primary media touch-points between football and fans. Nielsen's report stated that 51% of individuals interested in playing computer or video games are also interested in football, while 34% of those interested in e-sports are also concerned about football. According to Nielsen, the "strong crossover" between those interested in football and gaming is perhaps to be expected, since the sport is followed by mainly young men.
"Digital media has blown open the idea of what sports content is, who produces it, who controls it and who benefits from it," the report said, adding that there are a huge variety of new creators publishing more compelling and diverse football content. As such, football content is facing more competition than ever before. To continue to thrive, football has to work with the new content creators and learn the new platforms' rules, the Nielsen report read.
[gallery link="file" ids="227179,227177,227160,227161,227162,227163,227164"]
Overall World Cup sponsorship value sees growth
The overall value of World Cup sponsorship has grown "strongly" despite experiencing a rise and dip over the last two decades. The FIFA 2015-2018 cycle revenues are expected to be twice more than the 1999-2002 cycle revenues.
FIFA struggled to bring on board sponsors for the 2015-2018 World Cup cycle, generating only US1,450 million in sponsorship revenue as compared to US$1,629 million during the 2011-2014 cycle. However, a new crop of sponsors including Wanda Group and dairy company Mengniu from China helped FIFA weather the storm, Nielsen said. Majority of World Cup sponsors are from Asia, Europe and North America. Asian sponsors are growing in prominence, accounting for 39% of the deals at this year's World Cup.
Read also: FIFA struggles to find sponsors and partners despite impending World Cup
FIFA's Chinese deals can be seen as the country's organisations jumping in on the national effort to develop the game and improve its bid to host the World Cup. In the lead up to the 2022 World Cup in Qatar, FIFA can probably look forward to support from Middle Eastern brands seeking to capitalise on the region's first World Cup.
(Photo courtesy: 123RF)