According to a report by social analytics company Digimind, 52.2% of earned media for fashion brands in Asia Pacific were on Instagram​, making the platform a goldmine of consumer insights and user generated content.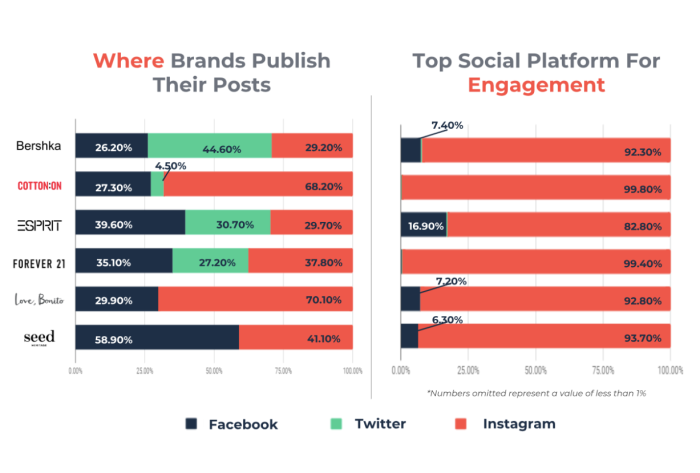 Despite all brands having distinct social strategies for owned media, engagement for owned posts were consistently highest on Instagram. The ​top performing branded posts earned between 13 -18% engagement rate on Instagram (against a regional weekly average of 9.1%)​. In comparison,​ top performing branded posts on Facebook earned between 1.2% - 2.2% engagement rate (against a regional weekly average of 0.3%).
According to Digimind, as brand loyalty hinges on social media engagement, marketers must use these insights on consumer behaviour and trends to streamline brand engagement, and develop content strategies. The study added that:
74% of consumers are turning to social media networks to inform their purchase decisions.
This means that retailers must establish a strong and engaging social media presence to cultivate meaningful relationships and nurture brand recall and loyalty.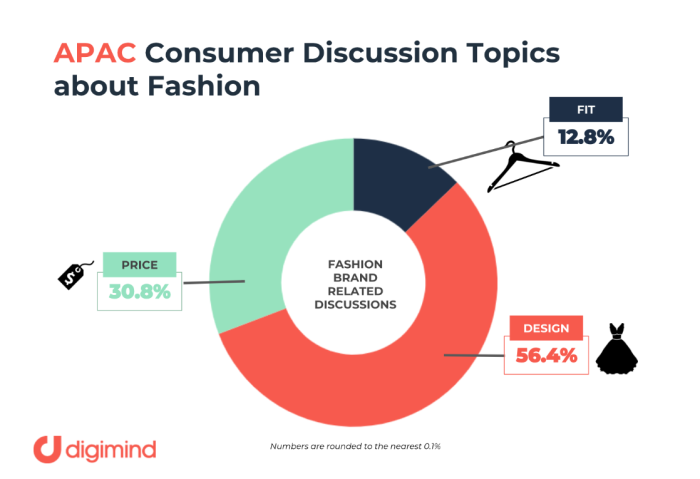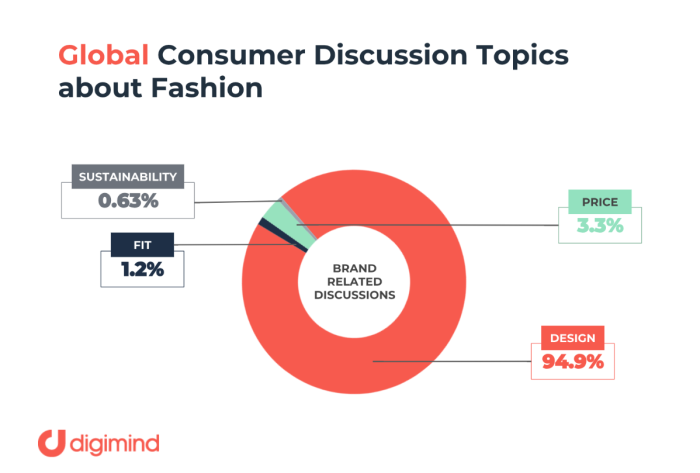 The study also revealed that the bulk of online discussions about fashion brands revolved around the shareability of aesthetically appealing clothes. This comes as no surprise with fashion, as people want to be trendy, express themselves as individuals, and look good at the same time.
However, the difference between global and Asia Pacific consumers is that regional consumers want to be fashionable at an affordable price, as can be seen from how vocal they were about prices.
"As fashion trends are constantly evolving, brands must keep their ears to the ground to capitalise on latest fads, and understand motivations behind consumers' buying behavior," Stephen Dale, Digimind APAC general manager, said. "Social intelligence can help fast fashion brands create strong brand differentiation and brand preference simply by understanding what customers want, and developing targeted product and marketing strategies to resonate with them."
Analysing public interactions on social media with leading fashion brands such as Topshop, Zara, Mango, Uniqlo, H&M, Cotton On, Forever 21, Bershka and more, the report identified what drives consumers' purchase intent and buying behaviour, and how to use these insights to drive sales.
(Photo courtesy: 123RF)