FactWire, a new independent investigative news agency, is set to launch after hitting its fundraising target of HK$3 million on crowdfunding site FringeBacker yesterday.
The 60-day campaign was set up on FringeBacker on 30 June, and reached its initial goal of HK$3 million in donations by more than 2400 people nine days before the funding was due to end.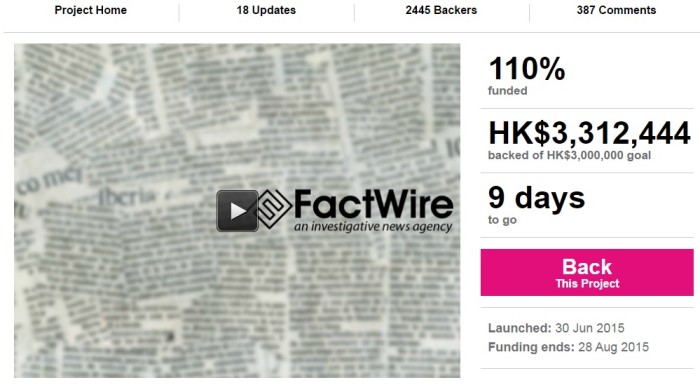 Initiated by local veteran journalist Ng Hiu-tung (吳曉東), who previously worked at Cable News and TVB news, FactWire is designed to be a news agency specialising in investigative journalism that is "truly independent, not swayed by investors, and with no reliance on advertisers".
All reports FactWire releases will be bilingual.
On a FringeBacker press release, Ng describes FactWire as a "public participation start-up which will be a public service instead of a commercial enterprise.
"We are doing this because the community deserves it. We do not seek patronage from investors because FactWire should not be swayed by business whims and preferences, and will never rely on advertisers."
The fundraising will end on 28 August with an online poll in which supporters can vote for their preferred Chinese name for the news agency.