This Sunday, 4 September, Facebook users in Hong Kong aged 18 and above will see a message on their news feed, to remind them that it is polling day for the 2016 Legislative Council Election. This also serves to encourage them to share with their friends that they have already cast their vote.
This is the first time Facebook is rolling out 'megaphone' in Hong Kong. This initiative to remind Facebook users to vote has to date been rolled out successfully at elections across nearly 50 countries and territories. In the Asia Pacific, Facebook has activated the function at key election season in Taiwan, Korea, Japan, Philippines and Australia, for the year to date.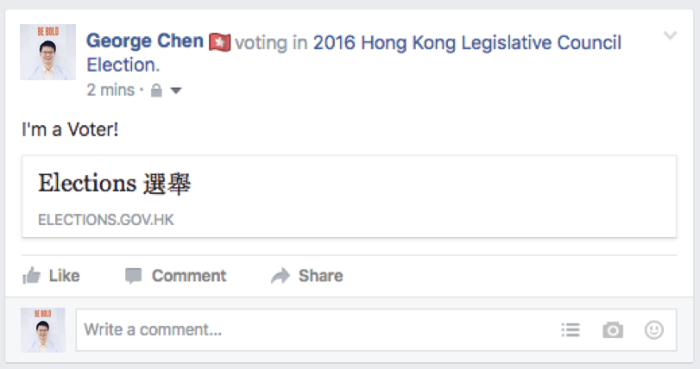 George Chen, head of policy for Hong Kong and Taiwan at Facebook said: "Introducing the 'megaphone' function on polling day of the Hong Kong Legislative Council Election can spur users into exercising their civic responsibility by casting their vote."
Earlier in August, the social media platform released engagement insights for the official Facebook pages of candidates running for Hong Kong's 2016 Legislative Council Election, which were based solely on publicly available information on their official Facebook pages.
Based on statistics compiled for the upcoming Legislative Council electoral candidates, more than 90% of those in the "Geographical Constituencies & District Council (2nd)" category have already set up an official Facebook page, versus 44% for the "functional constituency" category.