Millennial Media's latest SMART Report has put the spotlight on the entertainment vertical.
The vertical was found to be the fourth largest in APAC in terms of advertiser spend in second quarter of 2013 and saw growth of over 224% year-over-year.
Entertainment advertisers are traditionally the top ten mobile spenders globally.  Entertainment brands most often leveraged mobile to drive app download, watch video, and fuel social media actions.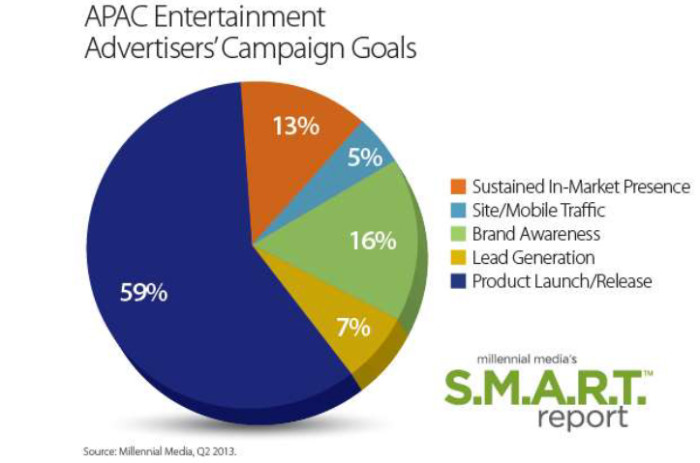 Product launches and releases accounted for 59% of the campaign goals for entertainment advertisers. Movie studios often leveraged mobile with the goal of promoting the release of new movie or show, with features to entice consumers to watch.
Video gaming was a sub-vertical which ran mobile registration campaigns in order to encourage gaming enthusiasts to subscribe to their games, while concerts and events tried to drive foot traffic and attendance around an event.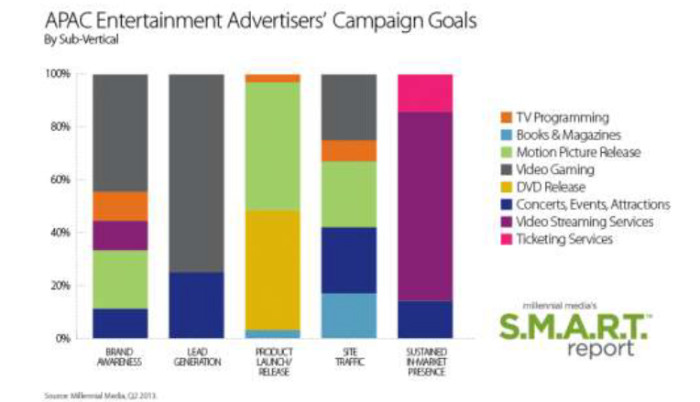 Meanwhile videos, social media, and interactive actions over-indexed for entertainment advertisers and were often delivered as part of a rich media campaign.
In this quarter, social media actions were used three times more on Millennial Media's platform as motion picture release campaigns used it to help generate buzz and excitement around the movie's premiere date.
Video was one of the leading post-click actions and was utilised at 173% the rate. Movie studios ran launch campaigns to announce the release of a new movie with interactive features to engage consumers to watch.
In this quarter, motion picture releases drove 47% of all the entertainment and the movie promos with video campaigns that included "Learn More" or "Share" buttons at the end, leading consumers to visit the movie site or share the video on social media platforms.
Meanwhile, streaming services represented 21% of the entertainment campaigns on Millennial Media's platform. These advertisers leveraged mobile to encourage consumers to sign up for their services by downloading their apps.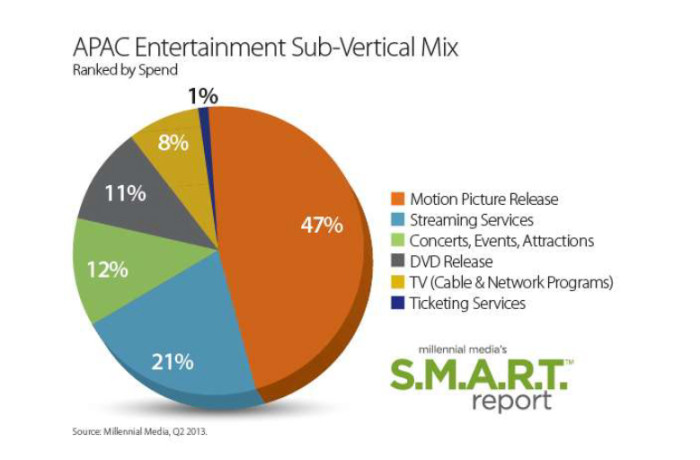 The report findings are purely based on actual campaigns and platform data from Millennial Media in Q2 2013 and Q1 2012. Markets include Singapore, Malaysia, Indonesia, Thailand, Philippines, Vietnam, India, Hong Kong, Taiwan, China, Japan, South Korea and Australia.