The next time you sit in front of your television, try sitting through the whole show without reaching for your smartphone or tablet at least once. If you find yourself getting restless and start to reach for your mobile phone, it's probably a sign that multi-screening has become a way of life for you.
A Microsoft survey[1] done in 2013 showed that multi-screening behavior is already well-embedded into the lifestyles of working professionals in the Asia-Pacific region, with over 79% of survey respondents owning more than 3 devices. Interestingly, 41% of respondents also carry around a laptop and tablet, with different functions and expectations for each of their device.
For brands, it may seem like the easiest way to reach consumers across multiple screens is to put a campaign on as many devices as possible. However, flooding your messages on as many devices as possible may not be the wisest decision when it comes to driving marketing ROI with shrinking budgets. How can we then, as brands, leverage multimoment advertising to connect with consumers in the moments that matter to them most, on the device that is most appropriate for the message we wish to send?
Delving into the Evolving Consumer Relationships with Devices
While our devices are doing more and becoming more cross-functional, we found that consumers still have very explicit relationships with each device and a clear expectation of what they wish to see from brands on each screen. And these consumer-device relationships are also constantly evolving over time.
Our Meet The Screens2 research conducted a couple of years ago found that the Console is a highly social device with majority (60%) of consumers surveyed associating it with a sense of friendliness as they immerse themselves in another world through beautiful graphics, compelling games, social interaction and streaming video. The Tablet is ideal for providing engaging experiences on-the-go, while the Mobile Phone is a personal device with a deep level of intimacy, commitment and trust.
While the Console and Tablet stayed true to these roles in today's context, the Mobile Phone has since moved on to become more of a personal assistant – a helper that provides personalized suggestions to the consumer beyond the information they want to communicate and search for. Therefore, understanding these evolving consumer-device relationships while leveraging the strengths and unique features of these devices can go a long way in enabling advertising experiences that is additive to the consumer experiences instead of disrupting them.
Understanding Multi-Screening Consumer Behavior
Armed with a better understanding of consumer-device relationships, it's also good for us to dive into the consumer motivations behind the use of their screens. Our Cross-Screen Engagement Study3 identified four distinct purposes and patterns by which Singapore consumers move between screens:
Sequential Multi-Screening – The most common behavior for Singaporeans (76%), this multi-screening pattern is the sequential movement between screens, driven by the need for the optimal or productive use of screens for that particular task. Consumers start an activity on one screen and continue it on another, making sequential journeys which are distinctly based upon having a goal in mind such as working, shopping and completing tasks.
Social Spider-Webbing – The second most common multi-screening behavior (74%) is driven by the desire to connect with like-minded communities and adding to the conversation.
Investigative Spider-Webbing – The third most common multi-screening behavior (73%), driven by the desire for information and enriching existing content with something supplementary.
Content Grazing – The least common behavior (68%) where consumers consume different content on two or more devices concurrently, looking for a form of distraction or entertainment or trying to get multiple things done at once.
Engaging Consumers through Multimoment Advertising
With these insights, brands can consider new ways to connect with consumers in the moments that matter the most, on the device that is most appropriate for a specific message, and in a manner that synchronizes the experience across devices – a practice which we affectionately term multimoment advertising.
Let me illustrate this with an example. Microsoft and O2 Telefonica Germany launched a pilot campaign last year to promote O2's "Blue Tariff" program for customers roaming internationally. The campaign featured a series of ads that unfolded in a sequential storyline, speaking to consumers with unique messages at different moments throughout the day. The first two banner ads on MSN and Xbox delivered brief information on O2's new tariff to consumers, while a third ad on Skype in the evening shows the skateboarder being joined by a friend, reminding consumers about the power of shared experiences with their loved ones. And finally, the last ad served through an immersive platform such as Xbox, encouraged consumers to explore the offer further by driving them through to the promotions section of the website.
Figure 1: O2 Telefonica Germany's Blue Tariff Campaign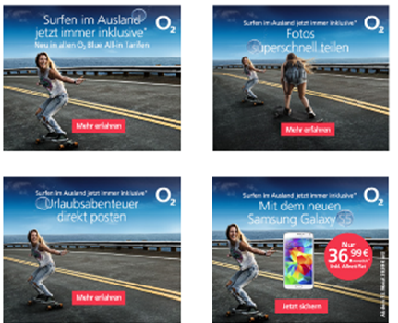 Following the campaign, it was found that the sequential storyline and exposure to the campaign across multiple screens at unique moments increased brand consideration and brand favourability among users. Brand perceptions enjoyed positive uplifts for those exposed to the campaign, and agreement with the key campaign statement "O2 has great tariffs for travelling to other countries" saw an increase of 6% when users are exposed to the ads on two or more platforms.
Additionally, users which were exposed to all ads in sequence were 72% more likely to conduct brand related keyword searches or visit the O2 website compared to those who were not exposed. Engagement impact on the O2 website was also considerably higher among those exposed to the campaign, with time spent on the O2 website increasing by 67% and the number of page views per visitor increasing by 37%.
With positive brand impact delivered through multimoment advertising, perhaps brands should take in these insights and think about how they can engage consumers in the moments that matter, on the right device and the right message, in order to capture consumer share-of-mind effectively in an increasingly multi-distracted world.
[1] Microsoft 2014. http://news.microsoft.com/apac/2014/08/28/surfacepro3arrives/
2 Microsoft Advertising, IPSOS and BBDO Worldwide, 2011. Meet The Screens. http://advertising.microsoft.com/en/cl/630/meet-the-screens-us-whitepaper-multi-screen-user-research
3 Microsoft Advertising, Flamingo Research and Ipsos OTX, 2013. Cross Screen Engagement Study. http://advertising.microsoft.com/en/cl/1932/cross-screen-research-report

The writer is Thom Arkestaal, Senior Research and Insights Manager, Emerging Markets, Microsoft Advertising