According to a study by Brandwatch, since September 2015 the volume of tweets containing a brand name and an emoji has grown by 49%. This is because brands are now much more likely to use emojis when communicating with their audience and consumers are more likely to use emojis when engaging with brands.
The study analysed a statistically accurate 10% sample of Twitter within a two-year time period from 1 September 2015 to 30 September 2017. It found that on average 250 million emojis are posted online each month. The month with the highest volume of emoji use was in July 2016, seeing 293 million. This was partly due to the UK's European Referendum. In fact, in the months during and following the referendum, negative emoji use grew by 3%.
The study added that today, while emojis are perceived by many consumers as just a novel way to communicate, we still underestimate the value of them.
"In less than 10 years the volume and variety of emojis have skyrocketed. Today, 95% humans online have used emojis, making it the internet's most popular language. It's clear from this analysis that the volume of emojis will only continue to grow and increase in importance – we've seen the variety of emoji grow, and with the total number of emojis expanding to almost 3,000. As such, more and more emojis will start to replace everyday words and phrases," the study added.
The study added that brands, organisations, governments, and others can uncover genuine insights in monitoring emojis on a macro scale. Whether it's assessing brand health against the industry average, or emotion by location. Brands, in particular, are set to garner the most value from emoji analysis as it provides a real-time look at how their brand, products, and services are perceived online compared to their competitors. Here are some of the most used emojis.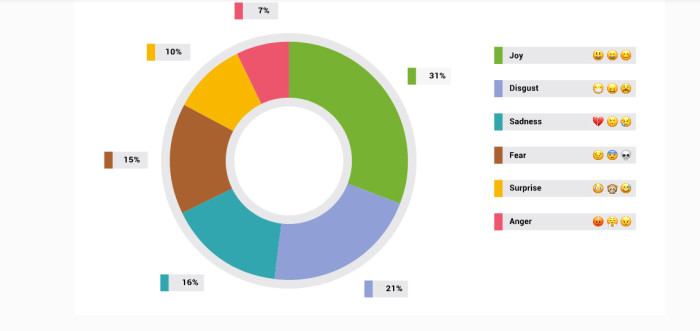 Meanwhile, here are the top 20 brands sorted by the amount of tweets that included the brand name and a positive emoji (as a percentage of their total conversation):
[gallery ids="208183,208184"]
Brandwatch added that these brands also performed well because they didn't suffer from any major issues or crises during the analysis period.
Meanwhile here are the top 20 most positive (and negative) industries:
[gallery ids="208185,208187"]
According to the study Hotels lead the way due to reward schemes, positive customer experiences, and great customer service. Meanwhile, consumer banks come in last, due to a huge volume of consumer complaints and airlines also perform badly due to missed connections, lost luggage, poor booking experience, and canceled flights.
The study also made four prediction:
Emojis will cement its position as the only language that allows us to communicate with anyone globally
The type of emojis available online will continue to diversify (e.g. Animojis and Bitmojis)
Because of this, emojis will start to replace text as the key provider of context in future conversations
Brands, organizations, and governments will analyze the use of emojis on a macro scale in real-time.