A report by the Dow Jones newswire claimed Google was set to acquire Apple for US$9 billion, and that the deal was pre-arranged with Steve Jobs in his will.
"In a surprise move to everyone who is alive, Google said it's going to buy Apple for $9 billion," the false story began.
It described a "surprise" move that was struck between Google CEO Larry Page and the late Steve Jobs before the Apple co-founder's passing that ignited the deal.
In a bizarre quote, Google employees are stated to have said "yay" when they found out they were moving to "Apple's fancy headquarters".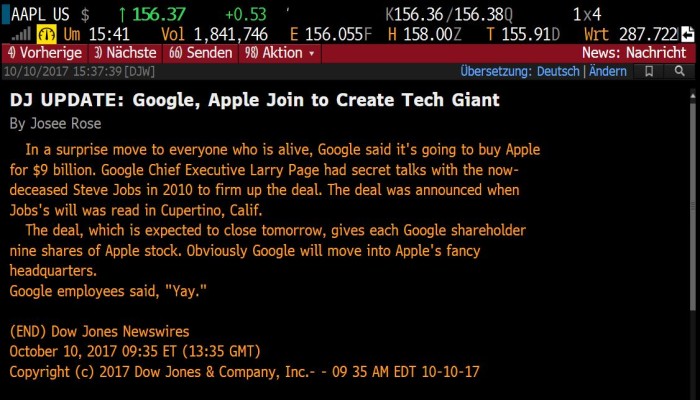 Despite the fact that the stories were obviously fake, Apple stock quickly jumped by US$2 to around the US$158 level.
The fake stories have now been removed by Dow Jones, after running for only 2 minutes - but nothing escapes the attention of the internet.
"Please disregard the headlines that ran on Dow Jones Newswires between 9:34 a.m. ET and 9:36 a.m. ET. Due to a technical error, the headlines were published. All of those headlines are being removed from the wires. We apologize for the error."