Dentsu Aegis Network is launching dentsu X globally. dentsu X is an integrated agency network which combines its communication, media planning, content creation, technology, data and behavioural insights. Following the launch, the group's current media specialist - Dentsu media, will be rebranded to dentsu X, and carry a new brand proposition of "Experience Beyond Exposure".
The new proposition, "Experience Beyond Exposure", relays the brand's strong belief in the power of experience over exposure. Inspired by the idea that personalised and relevant experiences are key for brands to attract, acquire, convert and retain customers, dentsu X is designed to help brands create integrated and personalised marketing solutions to cut through the noise in the media market and meet rapidly changing consumer demands, said Dentsu Aegis Network in a statement.
Banking on the agency's global presence in 13 Asian markets over 18 years, as well as a strong presence in Canada and Russia, dentsu X will roll out in some key markets in Europe, Middle East and Africa (EMEA) within this year.
Bringing Dentsu media's longstanding success in delivering one-stop integrated solutions in the East, dentsu X will combine high quality creative and strategic capabilities with insight experts possessing cultural and behavioural knowledge. This helps brands come together with people and identify key values and motivations through the use of data.
Takaki Hibino, global brand president of dentsu X, who will continue to lead his successful team within the new dentsu X brand globally, said: "When Dentsu media was first launched in 1999, the use of the word 'media' had a very limited meaning. For close to two decades, Dentsu media alongside its sister creative agencies has expanded to offer much more to our clients than that original definition could describe."
He added that this is why the company evolved its identity to reflect the potential of the brand. 'X' was selected to represent the importance of delivering unique experiences.
"By integrating data, technology, creativity and distribution in the dentsu X offering, we can develop these experiences for clients that are truly focused on digital solutions," Hibino added.
Nick Waters, CEO of Dentsu Aegis Network Asia Pacific, said: "Dentsu media is unique as a scaled homegrown Asian agency network. Integrating with the rest of the Dentsu Aegis Network portfolio of agencies has propelled its growth so that it currently leads the R3's new business tables ."
"This change of branding serves to better reflect the agency's capabilities and further enhance its position as the leading Asian agency network," Waters added.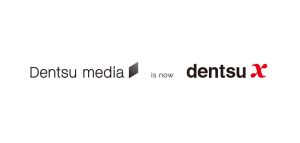 In accordance with the global rebrand, Dentsu media Malaysia will now be known as dentsu X Malaysia, and its sub-brands of media cubic and media palette will be rebranded to dX cubic and dX palette respectively.
Yap Chee Weng, CEO of dentsu X Malaysia, who has been the agency's head since its establishment in Kuala Lumpur five years ago, affirms that the timely rebrand is indeed necessary to accurately reflect the agency's evolution and growth through the years.
"Dentsu media has been Malaysia's fastest growing media agency, recording about 300% of growth in billings over the last three years, based on RECMA's data. This achievement can be attributed to our agility in navigating and adapting to the ever-changing business landscape," Yap said.
At present, Yap said, the Malaysian economy revolves around consumer demand. Clients increasingly ask for integrated and addressable marketing plans, so agencies "must be innovative in order to stay relevant and effective in this constantly shifting paradigm of marketing".
"In this respect, the launch of dentsu X today marks our entry in the next phase of our brand history. While our business domain remains in media, we intend to design and implement a much wider scope of marketing and communication solutions," he said.
He added, "Embracing the fact that experience triumps over exposure, coupled with our mobile-first approach, we are already working on several projects that will harness the power of big data to enable customer profiling and personalisation, leading to higher customer conversion rate. We are also exploring new technology that leverages a consumer's experience and emotion to uncover fresh insights into how we develop creative and media strategies."
Meanwhile, CEO of dentsu X Singapore and chief digital officer of Asia Pacific, James Hawkins added that the demand for an integrated approach continues to grow exponentially, and it has seen real success both in Singapore and across the region for creative media solutions that are informed by data.
"To cement our position as the network focused on experiences rather than simple exposure metrics is an exciting prospect, and one we believe will continue to deliver success for our clients in the digital economy," he added.
In Hong Kong, the new network will be led by Kichiro Kisa, president of dentsu X Hong Kong.