Daryl Aiden Yow, a local photographer, has finally broken his silence after being accused of passing works of other photographers as his own. Smack in the middle of a PR storm, Yow apologised for the recent events and for claiming that stock images and other people's work were his own.
He added that having marketed himself as a photographer, he fell short of what was expected of him "and disappointed" those who believed in him. He also admitted that it was wrong for him to have used false captions that "misled [his] followers and those who viewed [his] images".
Moreover, Yow said he did not initially intend to release a statement because he could not "accurately express" how apologetic he felt. He said: " I didn't intend to release any statement regarding recent events, largely because I did not know how I could accurately express how sorry I am. But seeing how people are now making baseless and false allegations against those close to me—simply by mere association- I have decided to confront the facts instead of leaving them subject to speculation. I did not want to let any more people down."
"The outrage regarding how I have conducted myself is justified and I accept full responsibility for my actions and all consequences that arise from those actions," he said.
On his collaborations, he said, "The end-products of my collaborations with my friends remained honest and fair. Whatever my shortcomings were, I did not bring them to my collaborations. That would not have been fair to those who collaborated with me, and they would not have allowed such practices to be carried out in any event. These people are hard-working professionals and I was hurt to see people make baseless allegations or insinuations against them or question their integrity. They should not be hounded for my errors."
Yow is known to have worked with brands such as Sony, OPPO and Uniqlo. Read his full post here.
Brands have fun with the #DarylAidenChallenge
While Yow might have apologised, online, an internet challenge posed by netizens called the #DarylAidenChallenge has been making its rounds. Brands seem to be having a field day with the saga and the challenge. The challenge mocks Yow and his Instagram posts – many of which saw Yow super-imposing himself into desirable travel locations via photo editing software, ranging from scenic travel locations to even café storefronts.
Here are some of our favourite mock-ups done by local businesses.
F&N Seasons
First up on the list is F&N Seasons, which took the same stock image, used by Yow, of a winding pathway into several cherry blossom trees in full bloom – while also leaving the Shutter Stock watermark. The brand also super-imposed its lemon tea product into the picture, with the witty caption "Aiden't know how Seasons got here." The post mocks a shout out post Yow had done to promote a Royal Thai Embassy event.
Shopee Singapore
Another company which super-imposed itself into an image used by Yow was mobile e-commerce platform Shopee, which took the chance to promote its #ShopeeShoppingSquad challenge. Shopee's post used the picture of a location tagged by Yow to be in Mykonos, Greece, super-imposing one of its mascots into a picture. In a separate post, the same cherry blossoms image used by F&N was also used featuring another one of its mascots.
Ezbuy Singapore
Similarly, ezbuy used the same cherry blossoms image, super-imposing a silhouette of a person into the image and asking "Why photoshop yourself travelling the world when you can do it with our Global Marketplace"? This was accompanied with a link to its website so users can start shopping online.
MINDEF
An unexpected organisation to take a swipe at the recent saga is none other than Singapore's Ministry of Defence (MINDEF), which took a more subtle route. Posting a picture of its Exercise Forging Sabre 2017 featuring a beautiful sunset in Phoenix, Arizona, MINDEF paid tribute to the Singapore Airforce, ending with a barbed remark. Read it here:
99.co
To convince people to visit a real location instead of relying on photo-editing, property site 99.co featured one of its properties on Instagram – with the addition of a silhouette of a person. The company's post also came accompanied with hashtags such as #fraudtographer and #wenobluffyou , which takes further swipes at Yow.
Klook
Travel site Klook also weighed in on the challenge by comparing two similar images, one which Yow had edited and reposted on his Instagram feed. It asked netizens to "spot the difference", referencing the saga by acknowledging the recent "creative" photography "floating around".
klaud9
Taking it one step further and using Yow's actual image was photograph and stock image community klaud9, which reposted Yow's Instagram post of him posing in a desert. Addressing Yow, klaud9 invited Yow to join its photography community, and took a chance to promote its company.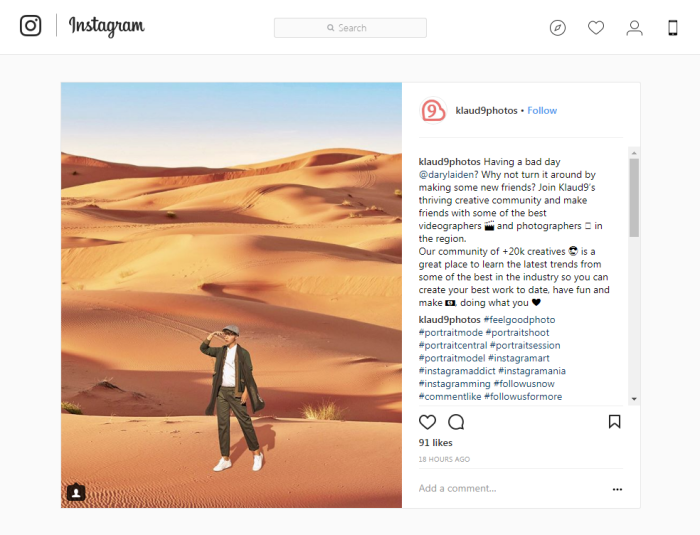 The challenge was also attempted by several influencers and celebrities, who have also entered the space to give their thoughts.
Left Profile
First up is artiste management company Left Profile, founded by famed Singapore celebrity Michelle Chong. In the picture, Chong is seen posing in her Leticia Bongnino character next to the Leaning Tower of Pisa in Italy, which was obviously a super-imposed image of Chong. The photo was accompanied with a cheeky caption asking users to teach Leticia Photoshop.
Xiaxue
Next is popular blogger Wendy Cheng (Xiaxue), who also gave her own take on the challenge by photoshopping herself into the same image of Mykonos.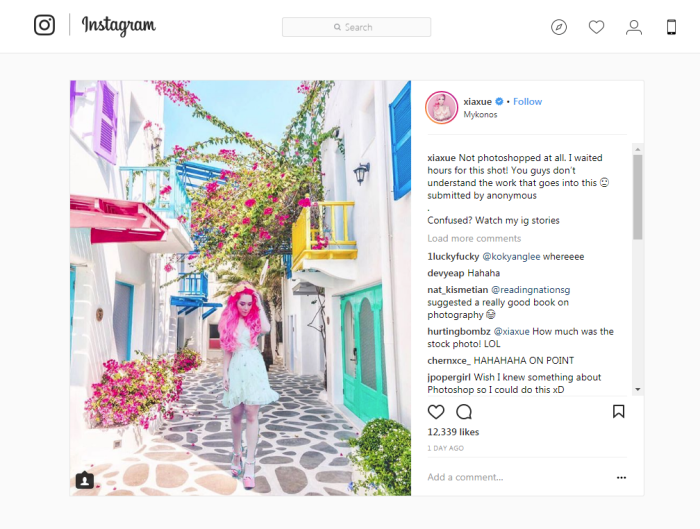 Of course, we cannot forget Scoot, which was one of the first movers to throw shade at Yow, while taking a chance to promote its flights to Athens, Greece.
Just yesterday, the cheeky airline superimposed a cut-out silhouette with a caption "insert self here (for real)" on an image tagged to be taken in Mykonos. The post also touted Scoot flights to Athens which start at SG$219, and the airline's first anniversary sale since it launched its flight to Athens.