TBWA\Group Malaysia's chief creative officer, Sa'ad Hussein shares with us his proudest moment and the one person he looks up to.
Aside from holding his creative role, Hussein has the relatively rare experience of previously leading agencies as well, having held the role of managing director for Sil Ad Malaysia, and later Creative Juice\Sil. Here's the man behind the work:
How'd you stumble into this industry?
During my university days I was always tasked to create the varsity event logos, brochures and T-shirt designs. A friend of mine, who owned a small agency, liked my designs and offered me freelance projects. I gave up my Economics degree (don't worry, I did graduate with a Bachelor's degree) and pursued my newfound love.
 How do you get inspired when you aren't?
I just get away – for a drive, bus ride, to the gym – and not think of work. Ideas will come when you're not thinking about it. Besides, it's good to go out and observe life and the little stories that unfold before your very eyes.
 What's the most frustrating thing about being a creative?
To stay creative. And it's getting tougher; nowadays everybody thinks they are creative and assumes ideas are easy to come by.
 Proudest moment in your career?
When my mum finally understood what I've been doing for the last 20 years. One day she held up a news clipping of an interview I did in the local newspaper. She looked at me proudly and said, "You must be a very creative person."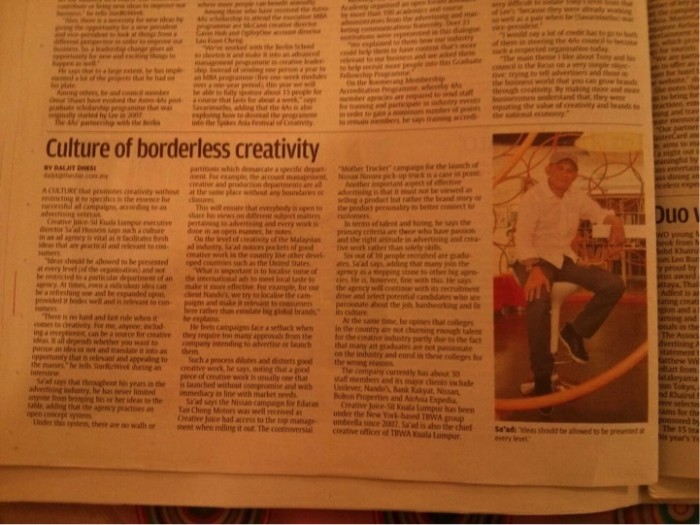 A mistake in your career you won't forget?
It was literally a typo mistake on a headline of a full-page ad. And worse, there were no pictures; just the headline. It was early in my career. I didn't lose my job and we didn't lose the client; but my copywriter and I had to pay for the replacement ad.
 Mentor you look up to most?
I was really lucky to have worked briefly with Looi Boon Beng who once helmed BBDO. He was one of the successful local ECDs in Singapore (during the Neil French era) creating iconic work and winning a lot of awards. Besides his creative influence, I was inspired by his business acumen as exemplified by the successes of Spencer and Monsoon, which were eventually sold off to BBDO and Lowe, respectively.
Advertising's not an easy business. What's the meanest thing you've heard someone say to anyone in the industry?
"I do not want her on my account. She's fat and ugly."
What about the harshest thing anyone has said to you in your career?
"You're sure you went to university?"
And the harshest thing you yourself have said to anyone at work? (And do you regret it?)
I don't usually react and say nasty things. Sometimes my silence can be harsh to many.
What's the dream brand you'd like to work on and why?
I don't believe in dream brands. But I love to work on challenger brands and make them dream brands for others.
Weirdest thing you've ever done in your career?
Travelling from Singapore to Kuala Lumpur every week for the last 15 years. I'm in Singapore for most weekends to be with my family. Actually, it sounds more crazy than weird.
What makes the difference between an average creative and a mind-blowing one?
One compromises, the other doesn't.
If you weren't a creative what would you be?
I would have been an architect or an IT guy. I don't think I can be a strict 9-5 kind of guy.
How you wind down on the weekends? 
I will hit the courts and have a game of squash on Saturday mornings. I need my weekly adrenaline and sweat sessions to clear away the toxins and stress. Since I'm away for most of the week, I do spend quality time with my wife and kids. That's even more therapeutic.