JWT's Tay Guan Hin first joined the agency in 2005 and has been at the agency since.
He takes credit for being the first Southeast Asian creative inducted into JWT's Worldwide Creative Council. He is currently regional executive creative director, South East Asia and global ECD for JWT Singapore.
More about Tay here:
How'd you stumble into this industry?
As a student in ACPS, I was called into the principal's office many times because I drew comic characters all over my textbooks. An English teacher realized my potential and encouraged my parents to pursue a career in art in a time where most students were aiming to be engineers, lawyers or doctors.
With my parents' blessing, I was able to gain confidence and further understanding the world of commercial art. Straight after military training. I enrolled in the Art Center College of Design in Pasadena to study advertising, which prepared me for this industry.
Pictured with my parents: Dr. Tay Chong Hai and Dr. Gaw Yang Yeo with my brother, Dr. Tay Guan Yu.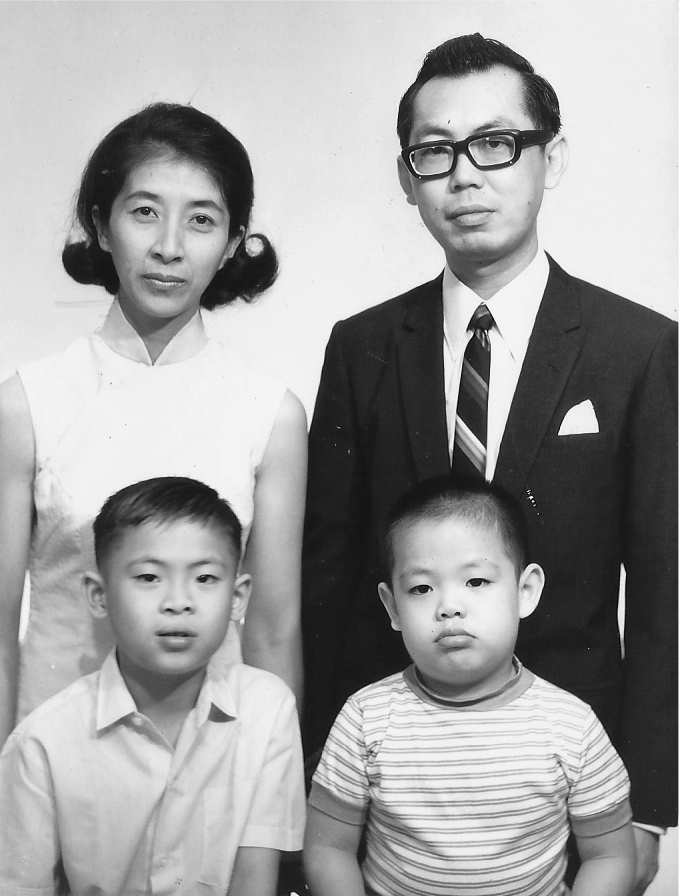 Harshest thing anyone has said to you?
Starting out in my career, a client once said to me: "This ad is sh#@, my three year old could've done a better job!"
However, years of working in this industry have taught me to be more assertive or thick-skinned and now I try to respond to negativity in a positive way.
Meanest thing you've heard someone say to anyone on the job?
During a brainstorming session, a creative director (name withheld) in-charge told everyone in the room that there were no bad ideas. He asked everyone to pin his or her concepts on the wall. Moments later, he started tearing down each piece shouting at how terrible they were. This personal lesson has taught me to respect any ideas and see the good in them before criticising.
Meanest thing you've personally said to anyone? And do you regret it?
About five years ago, a young creative asked me about her portfolio, I was brutally honest. I told her to stop looking for a creative job because she couldn't think conceptually, even though her executions were nice. I even said: "You can't polish a turd!" Today, she is a very successful art director in a global agency.
Boy, was I wrong. Perseverance and passion can take you places!
Proudest moment in your career?
While studying at the art center, I took part in the first Los Angeles Creative Competition. Coming from Singapore, I was not really used to American culture; it's a very competitive institution and everybody worked individually.
During the award's ceremony, I witnessed most of my classmates picking up Golds, Silvers and Bronzes. The night was almost over when they announced the Best of Show. When they called my name, I couldn't believe my ears! Not only did I receive a small trophy, I received US$1000 in cash, which was a lot of money for a student in those days.
A mistake in your career you won't forget?
During my keynote speech for a creative regional conference, the power point-embedded movies failed to function at the most crucial moment. I then lost my composure and momentum.
After that during the Q&A session with a guest speaker on stage, I asked illogical questions since I was equally frustrated when his movie files also couldn't play. From that day on, I'll always remember to save the movie files in another folder for my next presentation. So even if the software fails, the files are easily accessible.
How do you get inspired when you aren't?
Inspiration comes from your own life experiences, so I try and expose myself to as many different types of encounters.
Whether it's watching robots battling out in a restaurant in Tokyo or a relaxing two hour boat ride with my two sons, Ryan and Oliver, each experience helps me draw inspiration when I need it the most. Reading up personal blogs or friend's posts/shares in Facebook also inspires me to see a different point of view.
What makes the difference between an average creative and a mind-blowing one?
Talent is nothing without hunger. The hunger to succeed at whatever the cost is probably the most important virtue a creative needs to have. Hunger drives passion. Passionate people have an insatiable appetite for success that overcomes any talent disability.
Their hunger to learn without being defensive when criticized makes a huge difference when they are being taught. Being open minded to absorb different points of view help to see things in a fresh way.  I really love it when they take the initiative to go beyond the expected creative solution.
Most frustrating thing about being a creative?
I love simplicity. I am frustrated when layers of complexity overwhelm a simple idea.
A dream brand you would like to work on and why?
A dream brand is the worst brand to work on, because the expectations are so high or great work has already been done. The best opportunities are either forgotten or insignificant brands where others do not see them as "dream brands". These low profile briefs don't get the same kind of pressure so the chance to develop great work (under the radar) is much higher.
How you wind down on the weekends?
Fishing with my three year old daughter Megan Sarah Tay.
-