Cosmo Hotel has taken its eco-friendly initiatives into new territory.
The four-star hotel, located in Causeway Bay and owned by Dorsett Hospitality International, will launch a mobile-friendly green webpage to promote its latest green rooms next week.
Consistent with the principles of SEO marketing, the page will be embedded with keywords to increase its search-ability on Google.
Digital marketing forms the crux of the hotel's marketing mix for the green floor because more and more people are booking hotels using mobile.
Charlotte Fung, director of marketing at Cosmo Hotel, said the travel industry is expecting at least half of direct online bookings to be made by mobile devices by 2017, according to a Daily Travel News survey.
In general, the hotel has allocated 70% of its marketing efforts to online marketing.
The green floor consists of rooms on the hotel's top floor featuring natural skincare and haircare products, aromatherapy essential oils, organic teabags and a leafy houseplant, targeting health-conscious hotel guests.
While that may not seem like much, Fung begs to differ.
"The essential oils are made of natural ingredients that are beneficial for our skin, health and overall wellbeing. The organic tea is organically farmed without using any synthetic fertilisers while natural skincare & haircare products are better for the environment because they do not contain synthetic chemicals," Fung said.
"We might have only 142 rooms in our hotel but the daily consumption of toiletries by our in-house guests per day can be quite substantial.  If we eventually switched to providing only all-natural toiletries, I believe this will definitely bring forth a greener environment. This is only a small effort from a single hotel; can you imagine if over 70,000 hotel rooms in Hong Kong had the same thing?"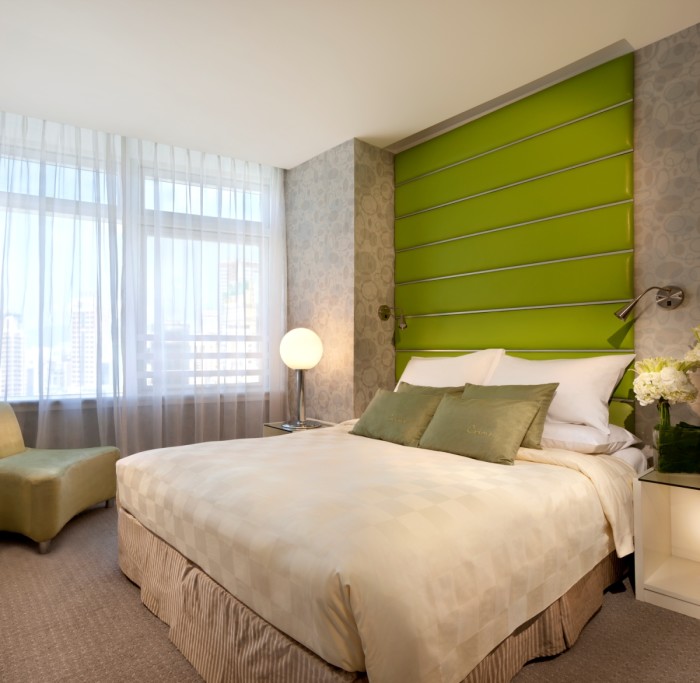 True to the digital-heavy marketing campaign, guests wanting to book a green room must do so through the hotel's website, with no additional fee on top of regular room rates to book the rooms.
Once the green page is live, the hotel will do an eDM blast where it will track click rates to the page and actual bookings.  The eDM will be sent to past hotel guests, overseas and online travel agents, tour organisers in Hong Kong, corporate clients, and Hong Kong Tourism Board and its outposts around the world.
EarthCheck is another partner which will help distribute news about the green rooms to their global network of partners and database.
Supplementing the green page will be online display banners and SEM marketing to encourage visitors to make return visitors to the green page and to boost the number of direct bookings.
For example, a display banner will be placed on travel news website Global Health & Travel to promote the green rooms for a month.
Display banners are often seen as less engaging than online activation campaigns.
Fung said, "The effectiveness of a banner very much depends on the nature of the promotion and whether or not your message relevant to the people visiting the website."
"We chose to advertise on that particular website because their subscribers and readers are well-informed people who are keen to learn about alternative options to healthier lifestyle in every aspect of their lives, including when they are on holiday."
She adds that the hotel would rather go with a targeted channel focused on a small group of readers with greater interest in the green rooms rather than targeting a mass audience.
Social media marketing on Weibo and TripAdvisor
With mainland China as one of the hotel's feeder markets, it plans to promote the green floor through a Weibo contest.
"What we observed from our past social media campaigns is that Weibo users are very responsive and are particularly attracted to sweepstakes," Fung said.
"You will be surprised to see the increment of number of fan overnight with only one contest. So we will definitely take advantage on this readily available and powerful platform to market the green rooms to these users."
Using big data to fine-tune future marketing strategy for green rooms
The hotel reservation system will automatically record which of the three colors - orange, yellow and green - of green room a guest checks into and preferences for the room such as their preferred essential oils and pillow types.
Hotel staff will give guests a courtesy call during their stay to collect feedback about the green rooms.
"We will review all the data collected and the data will help us to fine-tune our marketing strategy in terms of what we plan to do next," Fung said.