"Conversational Commerce" was a term first coined by Chris Messina in 2015, when he noticed a new trend in the communications and messaging space – Facebook's acquisition of WhatsApp, real-time translations in Google, Fetch's texting shopping assistants, and Uber's planned integration into Facebook Messenger.
He defined the term as:
…utilising chat, messaging, or other natural language interfaces (i.e. voice) to interact with people, brands, or services and bots that heretofore have had no real place in the bidirectional, asynchronous messaging context. The net result is that you and I will be talking to brands and companies over Facebook Messenger, WhatsApp, Telegram, Slack, and elsewhere before year's end, and will find it normal.
Conversational Commerce fuses technologies consumers are accustomed to using – chat, messaging, and other natural language interfaces – with artificial intelligence, so that people can interact with brands and services and be offered solutions, without the intervention of human agents.
While social media remains a fantastic avenue to connect and engage with consumers, there is a quantum shift in the way consumers are using these platforms. The number of users on chat and messenger platforms crossed 2.9 billion in 2015, compared to 2.4 billion social media platform users – building the business case for the point of sale for commerce to shift to chat and messaging platforms.
Here are six examples of how brands and platforms are riding this new wave.
Uber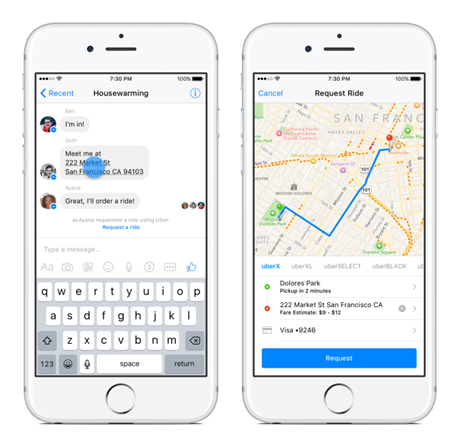 Uber, a pioneer in the ride-sharing industry, leads the way. Late last year, they announced plans to integrate with Facebook Messenger, allowing users to hail an Uber ride without leaving the comfort of the Messenger app. Apart from booking rides, users are able to chat with drivers and pay for their rides directly through the platform. To drive usage in the initial stages, Uber offered $20 credits for those who tried out the service.
The integration is an intriguing strategy, both in terms of growing the company's consumer base and allowing consumers to engage with their services all in one place, with so much ease.
WeChat
In less than 4 years, WeChat has exploded into a major global social media platform, reaching over 700 million monthly active users. One of the major draws of WeChat in China has been going in the opposite direction of global platform / app players. Instead of "un-bundling" their offerings into several use-case applications, WeChat crams a host of features into their app, including:
Hailing a taxi
Ordering food
Buying movie tickets
Browsing the latest Nikes
Tracking fitness goals
Paying utilities bills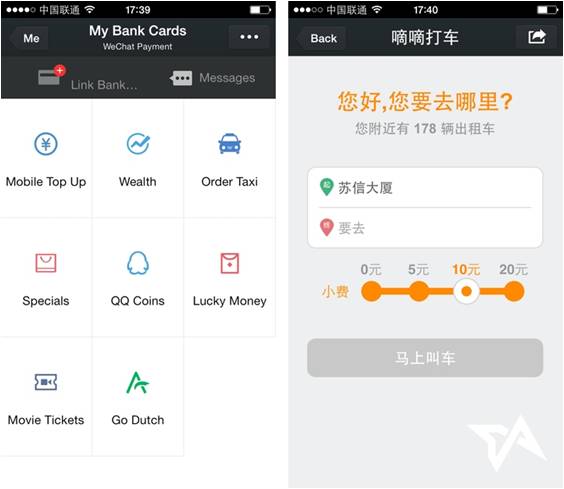 Over 10 million businesses in China have WeChat accounts, and it is becoming increasingly popular for small businesses to set up a WeChat account in place of developing their own website or mobile app. US technology firms, in particular Facebook, are taking note. From introducing the option to hail rides, to its recent integration with PayPal as a payment option within the Messenger app, we continue to see attempts by Facebook to emulate WeChat's success.
Amazon Echo – Alexa
Amazon's Echo has been a surprise hit, befuddling pundits and industry watchers alike as it raced to over 3 million units sold in less than 18 months. While the most commonly known uses of the device include playing music, getting answers to questions, and controlling smart home devices, Alexa can also connect to Amazon's product catalog and the user's order history. It can even carry out commands to buy items, as well as recommend products and purchases.
Slack
Slack has created an internal "help bot" @slackbot, which users can interact with using text-based commands within the productivity app. In addition to being a natural language help function, by developing an external API that allows 3rd party app developers to build bots for Slack, users can now connect Uber, Skype, Trello, Concur and a variety of other applications listed on the Slack App Directory, to Slack.
One of the most talked about integrations was Taco Bell's announcement around TacoBot, a Siri-like bot on Slack that enables consumers to order their favorite items from right within Slack. It remains to be seen whether there is consumer demand around the bot, but the integration demonstrates the potential for brands to leverage the platform and its audience.
Magic
Magic, launched in early 2015, was a first of its kind intelligent virtual assistant service that leveraged functions on the good old fashion SMS rather than complex features available on a mobile application. Magic promises to be able to handle virtually any task you send it — almost like a human executive assistant.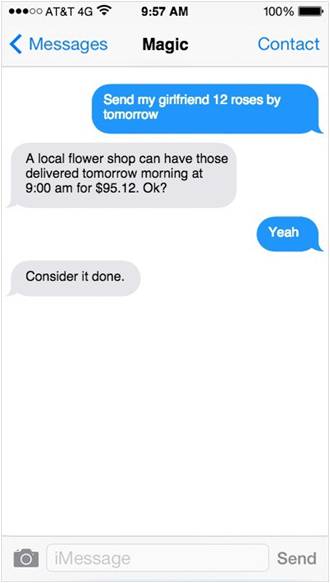 Based on reviews online, Magic possesses the capability to carry out a wide variety of odd tasks – ranging from setting up flight reservations, to ordering last minute roses for your girlfriend.
Apple – Siri
With iOS10, Mac OS Sierra and 2015's refresh of AppleTV, Apple is integrating its voice assistant platform Siri into more and more devices and platforms. While the functionality still remains limited to being little more than voice activated commands, by opening up the ecosystem to partners such as Spotify, Uber and WhatsApp, Apple clearly sees great potential in developing this ecosystem further.
As chatbots and Conversational Commerce continue to develop, I'm certain we'll see newer and more innovative ways of brand–consumer communication and interaction emerge. Will the trend of Conversational Commerce pass like a ship in the night, much in the way of the much vaunted Path and Foursquare, or does it have the potential to become the next big thing to shift consumer behaviour?
I can't wait to find out.
The writer is Ishan Chatterjee, client solutions director, VML Southeast Asia & India