The Star has suspended two of its top editors, pending investigations and inquiry into the paper's May 27 front page, which has stirred up a controversy. The front page (pictured below) showed a photo of Muslims performing terawih prayer with the headline "Malaysian terrorist leader" and above a spa advertisement featuring the back of a half naked lady.
"Editor-in-chief Datuk Leanne Goh Lee Yen and executive editor Dorairaj Nadason will cease to function in their respective roles until further notice. They have been suspended from their duties and an investigation into the matter will be conducted soon," reported The Star Online on 30 May.
During this period, Star Media's group managing director and CEO Datuk Seri Wong Chun Wai will oversee editorial operations.
"The editors involved and the Star Media Group will cooperate fully with the relevant authorities in investigating the issue, especially the Home Ministry and the police," the report added.
In fact, a day after the front page was published, The Star quickly issued an apology on its website, saying "It has been the practice of The Star to respect the first day of Ramadan every year and to place the picture of Muslims at the first terawih prayers (a special prayer at night during Ramadan) on the front page of the paper." This has been done over the last decade or so.
It added that this year, there was an unfortunate coincidence of the lead story being of a terrorist leader that led to many linking the headline and the picture, which was never the intention of the newspaper.
"On hindsight, The Star should have been more discerning and sensitive to the feelings of our Muslim readers. We sincerely apologise for the error of judgment on our part," the post read.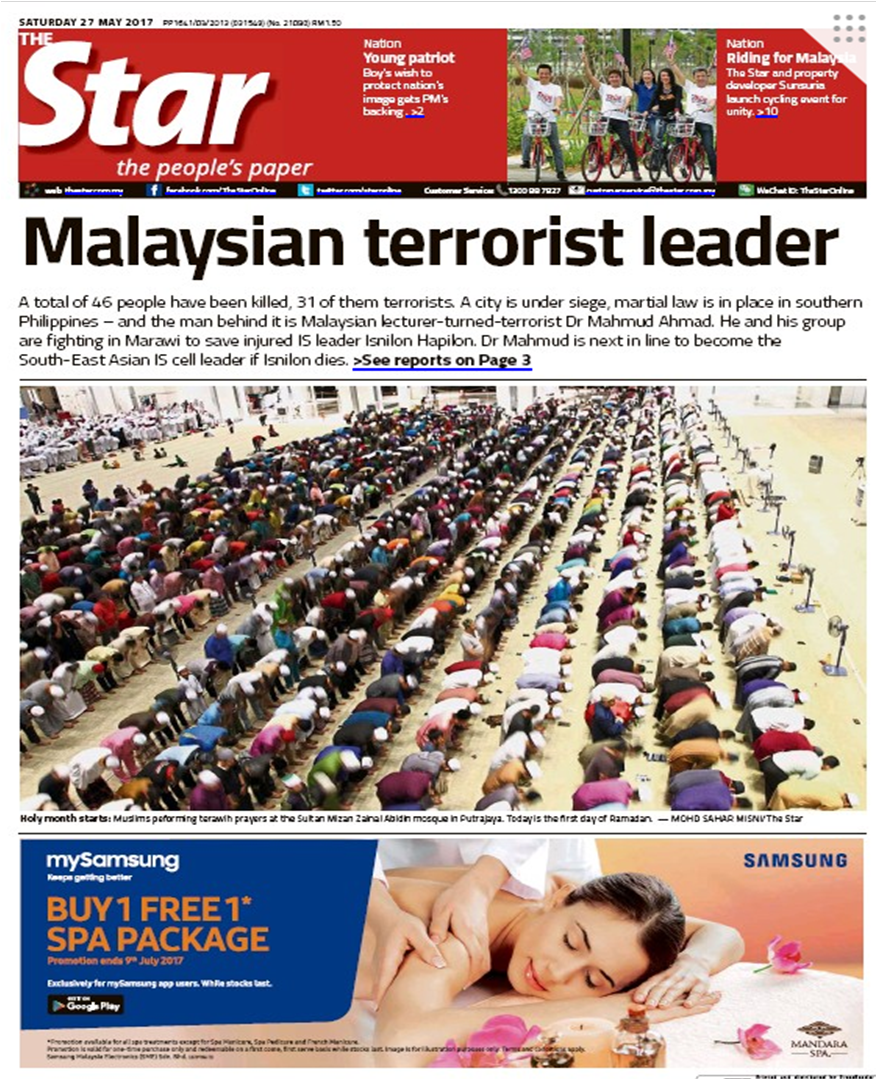 On 29 May (Monday), the Home Ministry was reportedly saying it'll give the newspaper seven days to respond to a show cause letter over its front page on Saturday. Ministry secretary general Datuk Seri Alwi Ibrahim was quoted by several local media, expressing that the Ministry was disappointed that the newspaper published the said front page, and it is seen as insensitive to the feelings of Muslims.
According to NST, Police chief Khalid Abu Bakar said on 30 May (Tuesday), that two investigation papers have been opened under the Sedition Act and the Penal Code following numerous police reports received over the issue. Abu Bakar added it will investigate further and call in those who were responsible for the controversial front page.
The Star declined to comment on related questions asked by A+M.