The year 2016 was a year when consulting firms got serious about expanding into marketing communications. According to a recent report by pitch consultants R3, IBM invested more than US$240million into Resource Ammirati, Aperto and ecx.io. Accenture spent US$175million acquiring Karmarama in the UK and another agency. Deloitte invested into one of the US's smartest boutique agencies, Heat.
Greg Paull, principal and co-founder of R3 said now, more buyers seeking out the best digital and analytic talent from around the world. He added:
The only thing that's clear is that CMOs have never had a less clear choice in seeking out partners in this space.
The coming year, R3 predicts a new group of players will emerge through this year.
"We expect companies such as Facebook, Google, Amazon and Salesforce to be more active investors in the sector this year.  They have the cash, and they are continuing to take leadership roles on content creation – so the need for talent will only increase," Paull added.
Last year, the traditional buyers in this space, the six global holding groups, represented just 22% of all transactions, with Japan's Dentsu leading the way. Dentsu bought one of the largest independent agencies in the US (Merkle), bringing in significant data and analytics talent and also invested in Gyro, a global B2B agency. WPP (36 transactions, down from 45 in 205) was also active this year, investing in Triad Retail Group in the US – with over 80% of their investments in digital agencies and technology. The other four holding groups made just 19 deals between them and represented just 3% of total M&A for the year.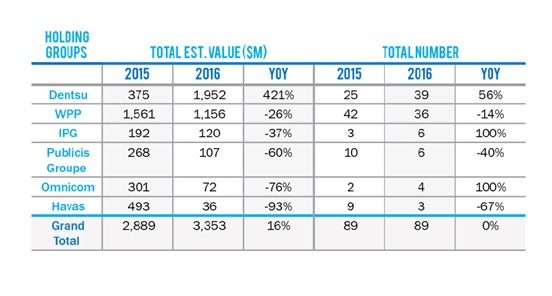 New buyers, new challenges
This year also brought a number of new investors into the marketing services space – from P/E players, to Vice and Snapchat to new investors from India and China. Amongst the ten largest deals of 2016 were investments from Salesforce, Telenor, Nielsen, India's Miteno Group, and China's Nantong Metals and Keda. "There's a number of asynchronous buyers out there, many looking to make a major statement, to impact their business and share growth," added Paull.
This year also saw a number of major deals by P/E firms in the sector, looking to build assets for future returns and sales. "With the growth of programmatic, analytics and mobile, the space has become a more dynamic sector for investors," said Paull.

US leads the way
Despite extensive past activity in developing markets, 2016 saw the US market lead 50% of value as well as 41% of all deals. Asia Pacific (US$3.6billion in deal value) was the second ranked region, ahead of Europe and Latin America.
"More buyers are trying to build a strong foundation first in the world's largest marketing base," said Paull. "We expect more growth from Asia Pacific next year in terms of number of deals, but transaction size will be smaller than in the US" he added.