Does vanilla ice cream taste better after you've brushed your teeth with a certain type of toothpaste?
That's exactly what Colgate is asking prospective customers to test out in its latest campaign.
Until June 5, the brand will hit the streets with an ice cream truck.  Those willing to pay for a HK$9 ice cream are given a free tube of the brand's Sensitive Pro-Relief tooth paste as a sample.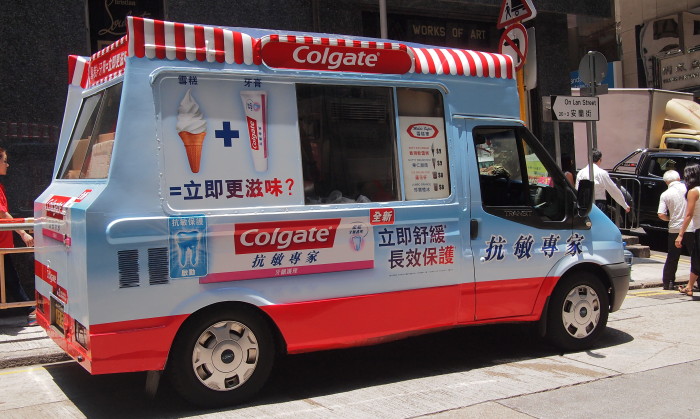 At selected time slots and locations in Kowloon and Hong Kong Island, the brand has organised free ice cream and toothpaste giveaways.
The target audience of the campaign are people with sensitive teeth who experience pain when eating cold foods such as ice cream.
On the streets, promoters would encourage people to rub toothpaste into their teeth with a finger before savoring the ice cream.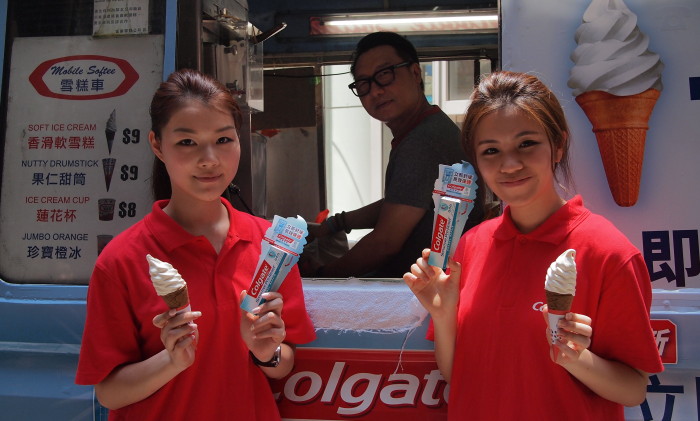 "Our campaign is about the moment of truth - the experience you have in the moment," said Judy Chan, associate director of marketing at Colgate-Palmolive.
"We hope that people passing by who may or may not have sensitive teeth would walk by the truck and spark their interest."
The campaign helps make the smaller product line under the mega brand of Colgate stand out with an ice cream truck's inviting songs bringing back familiar childhood memories.
Chan says it's not too much to ask people to pay HK$9 for an ice cream rather than simply organising a full-blown free ice cream giveaway.
"HK$9 is not expensive for Hong Kongers and ice cream is something that the masses enjoy.  Even after the giveaways come to an end, people continued to line up to buy ice cream," she said.
[gallery link="file" ids="51178,51179,51180"]
Prior to launching the ice cream truck campaign, Colgate launched a TVC, which was first aired in April, as well as print and online ads that will run until early June.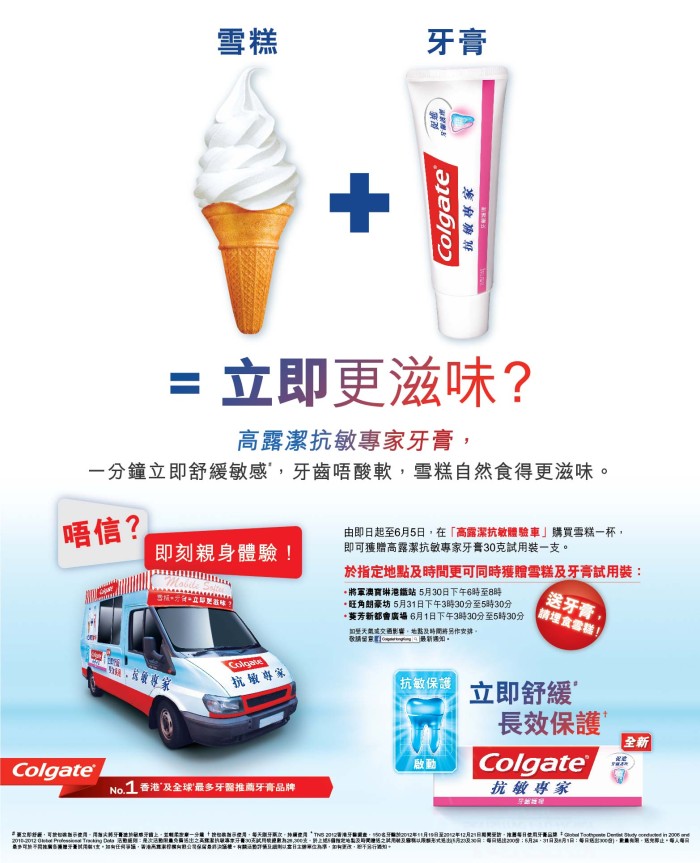 "We have done similar campaigns by working with ice cream companies such that if you buy our toothpaste, you will get an ice cream voucher.  In the past, we also did roadshows where people can play games.  This year, we wanted to make more of an impact on the market," said Chan.
And the campaign is an example of a time where a social media photography contest is not an appropriate form of marketing.
Unlike many on-the-street truck campaigns where people are asked to submit photographs for a hashtag feed or contest, the campaign shies away from this because some people with sensitive teeth may have gum recession.
Instead, the brand's Facebook page is reserved for announcing events and discussing user experiences of trying the toothpaste and then eating ice cream.
TVC Credits:
Executive Creative Director: Tan Shen Guan
Creative Director: Pierre Loo
Art Director: Enid Tse
Senior Copywriter: Ada Chan
Copywriter: Ritta Deng
General Manager: Eric Choi
Senior Account Manager: Ericsson Tang
Senior Account Executive: Antony Lam
Media agency: MEC
Digital agency: AGENDA Hong Kong