Coca-Cola has unveiled a complete overhaul of its packaging, furthering its new 'one brand' global marketing strategy that seeks to unite Coca-Cola, Coca-Cola Light, Coca-Cola Zero and Coca-Cola Life under one the iconic Coca-Cola brand.
Coke last night unveiled a series of new graphics, which put a contemporary spin on a classic icon by prominently featuring the Coca-Cola Red Disc on bottles and cans of all four Trademark Coke brands – Coca-Cola, Coke Zero, Diet Coke/Coca-Cola Light and Coca-Cola Life.
"Packaging is our most visible and valuable asset," said chief marketing officer Marcos de Quinto.
"By applying the Coca-Cola Red Disc to our packaging in such a bold way, we are taking the next step towards full adoption of the 'One-Brand' strategy, uniting the Coca-Cola family under one visual identity."
Coke said the new designs will help consumers make informed choices, by identifying each Coca-Cola product with its signature color – black for Coke Zero, silver for Coca-Cola Light and green for Coca-Cola Life.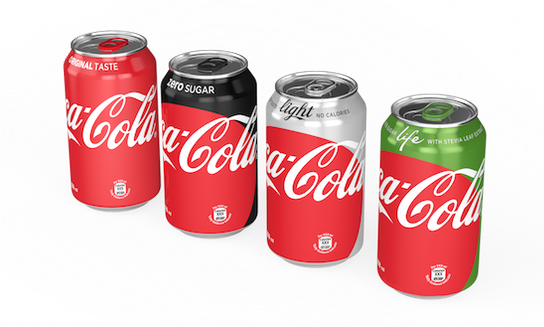 The new packaging will be available in Mexico the first week of May. Like the staggered rollout of the "Taste the Feeling" campaign, similar versions of the Red Disc graphics will reach additional countries throughout 2016 and into 2017.