In conjunction with the Thadingyut festival, an annual event that observes the end of Buddhist Lent, Coca-Cola has specially designed an exclusive gift pack.
Coca-Cola Myanmar, with the help of its agency TODAY Ogilvy & Mather,designed the gift pack which is said to be inspired by a famous local poem. The gift pack captures the visual of the moon and rabbit in a Myanmar setting, intended to reflect the loving respect with which Burmese treat their elders.
In addition, Coca-Cola is promoting the Thadingyut gift pack with a media campaign across television and print channels as well as on its Facebook page.
"Myanmar has a rich tradition of presenting gifts to elders out of respect and love for them during the Thadingyut Festival and we wanted to introduce a gift pack that people can resonate with on a personal level and that is befitting to this special celebration. We invite everyone to share this gift pack which is the first that Coca-Cola has introduced in Myanmar," said Rommel P. Fuentebella, marketing director of Coca-Cola Myanmar.
[caption id="attachment_68712" align="aligncenter" width="129"]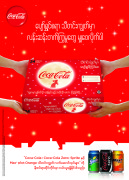 The Thadingyut packaging by Coca-Cola Myanmar[/caption]
The festival itself falls on 8 October this year and is traditionally celebrated by visits to pagodas alongside paying respect to elders with food and other gifts. Now with Coca-Cola's initiative, the Thadingyut packaging - that extends across six and 24-can packs of Coca-Cola, Coca-Cola Zero, Sprite and Max+ Orange - is available at all major supermarkets, consumer goods outlets and provision stores all across Myanmar from the first week of October till stocks run out.