Coca-Cola and Pepsi might be arch rivals in all things marketing but they might have found a common struggle – gaining the love of Millennials.  This is according to new data from e-commerce and consumer analytics provider Connexity.
According to an infographic shared with Adweek, the company said Coke's largest audience is 35 to 44. Meanwhile Pepsi's is 65 and over. However, both underindexed in the age groups of  18 to 24.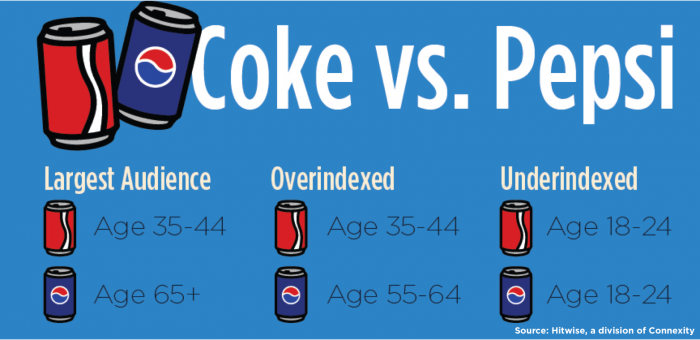 We know the youths of the world are a bunch highly skeptical of marketing, and of course, all things harmful to the body and environment. As such the report doesn't come as a surprise. But it is safe to say both brands have over the years upped their game in trying to diversify their product portfolios to encourage more "healthy living".
With this new statistic in hand, we ask several players in the branding and marketing space if this will impact the brands' ability to safeguard their futures.
According to Joseph Baladi, managing partner at BrandAsian, to say this is a major challenge to both brands is to "significantly understate the problem" – for at least two reasons.
The first being that it will be immensely difficult to turn around the attitudes of the generation – especially given the fact that these people probably grew up understanding that the carbonated drinks are harmful.
He added that the struggle has probably risen because Millennials are "the children of a (probably the first) generation of more obesity aware and responsible parents", who instead of passing on the tradition of introducing them to their first "Coke moment", consciously discouraged them from drinking all carbonated drinks in favor of water.
"So many, possibly most Millennials, have grown up in the absence of the habit. To compound Coca Cola and Pepsi's problems, instead of rebelling as adolescents, they simply opted for less sugary, less carbonated and more caffeinated beverages, most notably energy drinks that additionally offer a hipper cache," he said.
He added that the perception to Millennials is probably that, Coke and Pepsi are not only less than healthy drinks but they also fail to deliver on taste and lifestyle relevance. The second problem, he added, is that:
These same people will hold on to their anti-carbonated preferences as they age, and begin to replace the older segments that today, contribute largely to the profitability of both brands.
Nick Foley, SEA president of Landor said the challenges the brand faces are not dissimilar to other mainstream ones, especially when it comes to gaining the loyalty of twenty-something consumers.
He adds that mainstream brands with a long-standing presence on the global stage are having to adapt like never before.  On the one-hand, brands need to remain true to what they've always been but yet  increased transparency also means brand custodians need to act with responsibility at every touch point.
Mending fences for the future?
Baladi said going forward, there needs to be a separation between the parent companies and brands under them. For both parent companies to do better with these consumers, they will need to continue their efforts to increase "share of throat" and the key way to do this will be by introducing more non-cola and non-carbonated beverages to their portfolios.
"Millennials will, after all, continue to drink something. To increase the shares of brands consumed, the companies will need to combine new product development to new positioning," he said. Baladi added that in terms of new product development, the parent companies need to walk a fine line that straddles the introduction of innovative new variants, while not compromising the core image of their core cola products.
As for the latter, all variants (existing and new) will likely benefit from storytelling approaches that reflect a purpose that is "more aligned with the more socially aware and health-conscious mindset" of these younger consumers, he explained.
Foley added that the brands that are gaining the trust and loyalty of younger consumers are doing so by putting their efforts into three key behaviours: Adaptive, multi-channel and open.
Foley added that Coke was "on to something" with its personalised cans and drinks and if both of the brands can adapt their respective cola ranges to make their products feel personalised, their chances of snaring a younger consumer will increase exponentially.
"Successful brands delivering growth in the 21st century are adaptive – Think Netflix.  They're also multichannel – look no further than Uniqlo. And they're open – very open – to feedback from a generation that are used to manipulating social media platforms to amplify their point of view," he added.
Meanwhile, Dragon Rouge has also highlighted three trends that will change the beverage sector.
(Photo courtesy: 123RF)