CNN's Twitter feed was briefly hacked last night, with the Syrian Electronic Army taking credit for the breach.
A series of unauthorised posts briefly appeared on CNN's Twitter feed claiming the CIA were backers of Al-Qaeda and dismissed the network's coverage of the Syrian civil war as "fake."
"Syrian Electronic Army Was here... Stop lying... All your reports are fake!"
CNN has a huge Twitter audience of 11.6 million users, but the takeover was brief and CNN's feed is now back to regular reporting.
Some of our organization's social media accounts were compromised. We have secured those accounts and deleted unauthorized tweets.

— CNN (@CNN) January 24, 2014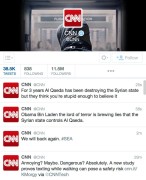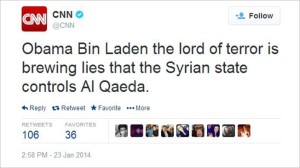 Earlier this week the Syrian Electronic Army hacked Microsoft Office blogs site Monday after two weeks of targeting its Twitter accounts and official blog.