Two-thirds of global chief marketing officers (CMOs) say the single greatest business challenge they currently face is industry convergence.
In the face of this challenge, where disruptive technologies are breaking down barriers to entry that once existed between distinct industries, two kinds of CMOs have emerged – The Torchbearers and the Market Followers.
The differences between the two groups are distinct.
The Torchbearers, as IBM's Redefining Markets study claims, are those who come from enterprises with strong financial track records and equally strong reputations. Meanwhile, the Market Followers are  those who come from businesses that are less successful financially and have lower market profiles.  Comparing the two groups reveals pronounced variations in the way Torchbearer CMOs and Market Follower CMOs behave.
Creative disruption:
Torchbearer CMOs are actively embracing "creative destruction" and enriching the arc of engagement with customers. Much like the Market Follower CMO, they too are striving to make their organisations more digitally literate.
The only difference is that they are far better prepared to manage the data explosion and an increasingly complex marketing mandate. The Torchbearer CMOs feel they have made far greater progress when it comes to managing the data explosion — 47% versus 27% of Market Followers.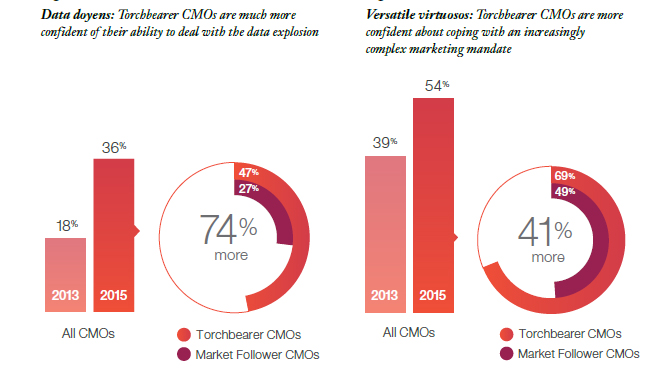 Strategic choices:
There are also significant differences in the strategies pursued by Torchbearer CMOs and Market Follower CMOs.  Torchbearer CMOs are more likely to be reviewing the way they go to market. Two-thirds of them are exploring new revenue models, such as licensing and subscriptions, compared to just 50% of all Market Follower CMOs.
Torchbearer CMOs are also more likely to be experimenting with – or already using – more collaborative business models, such as open and platform variants.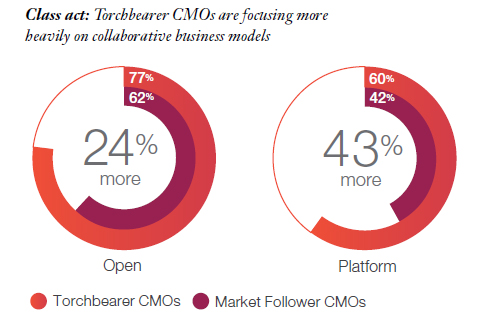 They realise that participating in an ecosystem enables all the members to extend their reach and range, and produce more value collectively than they can individually. Moreover, whether they're developing new business models or new offerings, Torchbearer CMOs are far more focused on reaching the market first.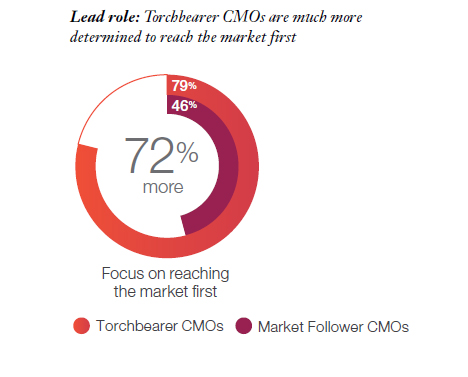 Torchbearer CMOs know there are compelling reasons to make the effort.
"First movers have always enjoyed certain advantages, such as the buzz they generate and the ability to charge premium prices," said the study.
Customer love
Torchbearer CMOs are also more focused on mapping out the customer journey — 82%, compared to 65% of Market Follower CMOs. As the emphasis on the total, integrated customer relationship continues to intensify, CMOs are responding accordingly.
Nearly two-thirds of our respondents regard developing deeper, richer customer experiences as their top marketing priority. Today the CMO is the custodian of the customer experience and hence expect to interact with customers on an even more individual and digital basis than they did just three years ago.
Torchbearer CMOs are working harder to understand the customer's journey through the enterprise.
Mapping the entire path, as well as the technologies, people and processes involved, enables marketers to pinpoint any weaknesses and rectify them. Torchbearer CMOs are better at using customer feedback to explore new trends and collaborating with customers to co-create new products and services.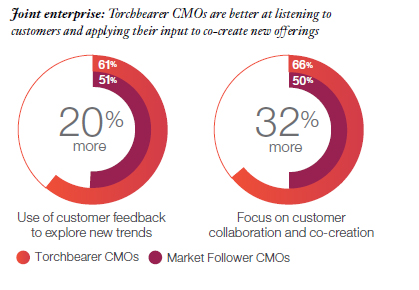 While, it is evident that today plotting the customer journey is now harder because of the non-liner nature, Torchbearer CMOs are focused on delivering holistic, multi-faceted customer journeys is also reflected in their enthusiasm for physical and digital opportunities to engage customers.
Evolution from Market Follower to Torchbearer
So how do you go from a Market Follower to a Torchbearer?
Well first and foremost, all CMOs need to prepare for a future in which disruption is pervasive.
This is a future in which technological advances are increasingly blurring the distinctions between different industries.
CMOs need to infuse digital DNA into the team and grow the digital expertise that's essential to create differentiated experiences for your customers. They need to rethink processes and view the organisation through the lens of customer experience.
CMOs need to also form ecosystems and devote more energy and resources to developing unique products, services and experiences that are truly better the lives of customers– and simulatenously make sure they are first to market.They also need to challenge people in every function to demolish internal organisational silos and provide a consistent, authentic face to the customer.
"Set up digital "boot camps" to train your existing staff, and fill critical skill gaps with a mix of new hires and talent from partners in your ecosystem. And don't forget to tap customers as a great source of expertise. Incorporate customer feedback and invite customers to participate as co-creators and innovators," said the study.
Photo: Shutterstock