Chow Tai Fook Jewellery has launched an electronic stamp campaign and a wedding club to build customer loyalty among young customers in their twenties and thirties.
Until 29 September, customers purchasing engagement rings, marriage rings and gold jewellery above certain price points for traditional Chinese weddings will receive an electronic stamp. Three types of stamps are on offer for these three respective product categories.
The first 100 customers to accumulate six stamps, including at least one of each type of stamp, will receive a HK$1,000 cash voucher.
"Our research has shown that couples planning to get married need this basic product mix, so if we ask them to collect six stamps, this will encourage them to shop for all the bridal jewellery they need from us in a bundle," said Sam Choy, deputy head of branding at Chow Tai Fook Jewellery.
The electronic stamp campaign also allows customers to share their wedding jewellery wish lists and number of stamps collected on social media.
It takes into account the fact that some of the three types of jewellery are purchased by friends and families who may want to pool their purchases together through the electronic stamp scheme.
Choy added that stamp collection schemes weren't just limited to 7-Eleven and FMCG, but could also be applied to wedding jewellery.
The company relies on front-line sales staff to encourage customers to participate in the electronic stamp campaign and to help them open an account. Static adverts in the form of display banners have been placed on online news and magazines sites and on Facebook.
Online channels advertising the mini-site received a total of 12 million impressions.
To appeal to mainland Chinese customers, which make up about 60 to 70% of the company's customers, and Hong Kongers, Chow Tai Fook ran the electronic stamp campaign from a mobile-friendly mini-site rather than social media sites.
"From our experience of running digital campaigns, we noticed that Mainland Chinese and Hong Kong customers use different social media sites. So instead of running the campaign from, say, Facebook, we created a website so that both types of customers have an equal chance to participate," Choy said.
Roughly 40% of the registered users come from Hong Kong, and around 60% are from Mainland China.
In the second part of the electronic stamp campaign, couples who have collected stamps can submit their photo and a wedding promise for a chance to win a five-day-four-night trip to Korea for their wedding, which includes photography services.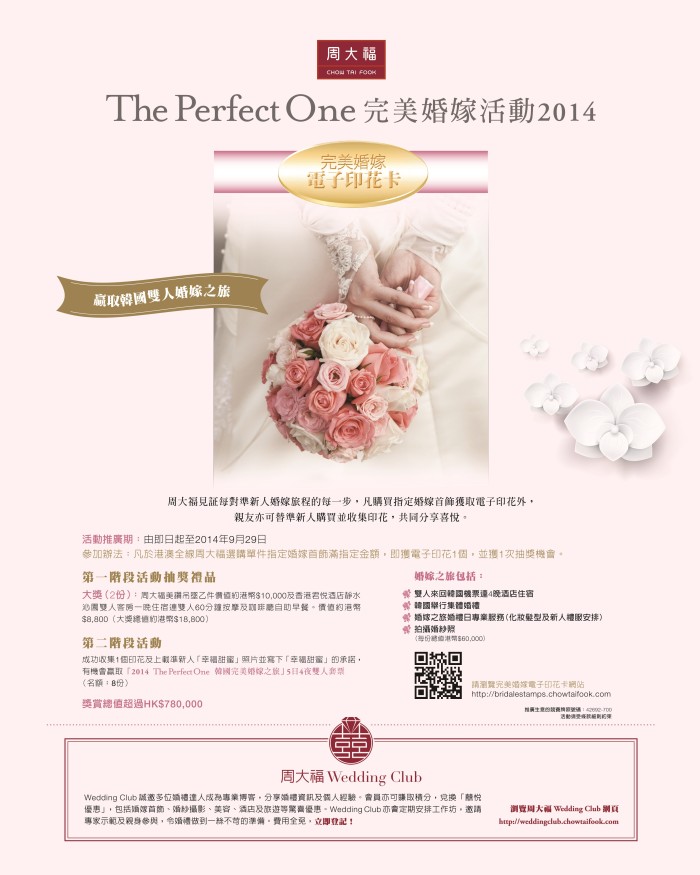 In May, Chow Tai Fook launched its digital Wedding Club which is open to couples who will soon be getting married where they will receive information about wedding planning and discounts. For access to free workshops, members are asked to upload a photograph or share the club's news on social media for bonus points, which can then be exchanged for workshops.
While customers get automatic offers to join the club, it's also open to others who haven't made purchases.
"The average age of our core VIP is over 40, but these people may not be our target for wedding jewellery if it's their children who are the ones getting married. To get young people to buy from us, we need to offer extra services to get customers to come to us.
"Through the fan club, we hope to gradually cultivate confidence and goodwill for our brand, and build a relationship with young people and their emotional attachment to our brand."
She says she is not worried that members will become inactive in the club after they get married and no longer need wedding planning workshops, discounts or information.
"Marriage is a very long life journey. We hope to lock in members ever since they get engaged and leading up to the wedding ceremonies. After that, anniversaries will be a concept that we want to promote later on, and celebrations for newborn babies. I believe the club is something we can sustain in the long run.
"But we are patient – right now, we want to focus on engagements and weddings."