Asia Pacific continues to be the largest region for online retail sales, containing both the largest market, China, and the fastest-growing market, India, new Forrester Data revealed.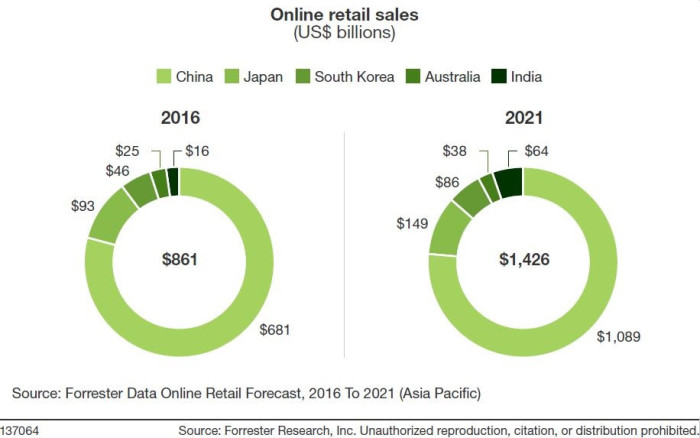 Approximately one-fifth of total retail sales will take place online by 2021 in Asia Pacific, with 78% of that coming from mobile. Online retail via mobile is expected to grow at CAGR of 15.6% to reach $1 trillion in 2020, up from $539 billion in 2016.
With $681 billion in online retail sales in 2016, China is the largest online retail market globally, followed by the US. China accounts for nearly 80% of APAC online retail sales.
Forrester expects it to become the first market to reach $1 trillion in online retail sales in 2020.
India remains the fastest-growing market in the world, expected to reach $64 billion by 2021, growing at a five-year CAGR of 31.2%.
However, government actions, a slowdown in venture capital funding, logistics challenges, and slow growth in the number of online buyers are holding back India's online retail market.
Findings also reveal that apparel is the largest category for online retail, followed by consumer electronics and computer hardware.
On the other hand, grocery, beauty and cosmetics, and homeware and furniture are the fastest-growing categories, show the increasing maturity of online shopping in Asia Pacific.