With so many offers and privileges being thrown at customers every day, truly understanding your customer is vital in engaging with them. Whether in-store or through a loyalty programme, data is vital to getting to know your customers.
"Loyalty is different from CRM. Loyalty is an exchange of customer data for rewards and incentives," said Hywel Evans, VP of analytics and professional services for AIMIA.
Since it is an exchange, it is vital to offer your customers the right deal and create an ideal programme for them that will keep them in for the long run.
Evans was speaking during the recent Analytics 2015 Singapore conference at the Suntec Singapore Convention & Exhibition Centre. Also speaking at the conference was Sandeep Mittal (pictured), MD of Cartesian Consulting, who said that despite knowing this, many retailers and companies today still did not capture their customer information well.
"Understanding your customer's experience with your brand is the third most important piece of information out of possibly 40 different variables. This piece of crucial information when made obvious to everyone in the organisation can work very well. To get your company switched on to analytics, sometimes it just takes one quick win or one obvious fact," he said.
However, the challenges to truly understanding your customers through data are many.
Skills and tools
One hurdle almost all organisations face when first making a move into the data world is having the right skills and tools in place. Most organisations that delve in often do not have the right business-minded framework. They lack a disciplined structure in which they approach data.
Mittal explained that while data analysts are often used to just looking at facts and ignoring customers sentiments, marketers sit on the opposite end of the spectrum where they are more in tune with customer feedback. The two departments need to, hence, find a middle ground. Cross industry learning and collaborations are vital. Simply having tools is not enough. Human interaction and analysis is vital.
Evans said that with the right tools and skills in place, companies are able to reduce the repetitive tasks analytics teams carry out.
"It is such a shame to see talented statisticians sitting around doing data cleansing. Those are tasks that take energy out of the team and doesn't inspire your staff members," he said.
Support and faith
Mittal added that when integrating analytics into your company, patience is vital. Companies need to be able to visualise and have a long-term plan in mind.
"Changes happen over three to four-year periods. Not overnight. People often initiate analytics in an organisation and want results in a month. It doesn't happen that way," he said.
However, he added, quick wins are sometimes just as vital to inspiring a team and convincing the management of the possible changes analytics can allow for the brand.
Evans also added that with adequate resources in place, companies can stop "re-inventing the wheel" and starting from scratch every time.
"While the buzz of figuring out something new about your brand is great, it doesn't translate to value for the organisation. With the right framework, companies can speed up the 'time to impact' of analysis," he said.
Data insights
Data mining is also necessary. Companies need to look beyond just the transaction and behaviour to come up with customised customer profiles. According to Mittal, when mining for insights, companies should look at clustering, segmentation, profiling, predictive models for repeat, response or churn. Companies should also explore possible product adoption models.
Evans also added that businesses need to also be empowered in such a way that every member of the company can all start using data in their processes and not run to the analyst team with requests at every turn.
"There needs to be a balance because companies can't simply just depend on the data analytics team, but at the same time, they can't just shut them off completely. The two need to find a balance point," Evans said.
Evans added that if data understanding was shared, companies could reduce the "walk out" risk. This means that if someone on the data analytics team were to leave, all the investment and understanding of the company and consumer portfolio would not be lost with them.
Taking action
With so much data at hand, companies should ideally have a customised marketing plan for each individual customer. An ideal customised marketing plan varies in messaging intensity, medium, offer, imagery, product and timing based on what companies know about their customers. However, this is not an easy task. Having so much data at hand can cause analysis paralysis for companies.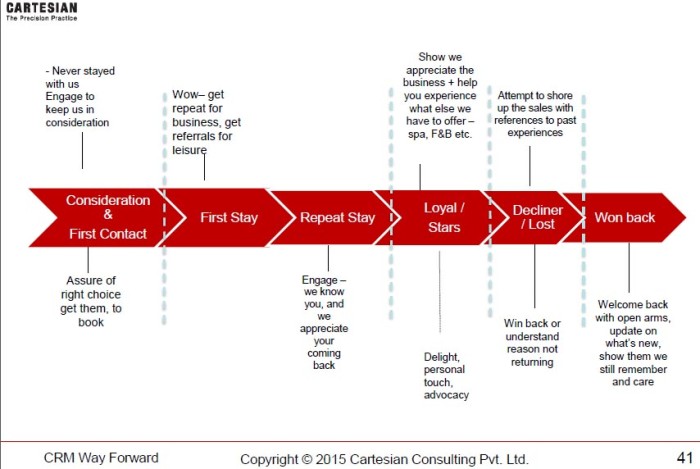 "Today the complexity lies in figuring out what offer and what trigger point works for the customers. Often who you deselect from your target group is more vital than selecting. It takes more analysing," Mittal said.
Companies should also track the ROI for every campaign and see how it leads to incremental sales tracking, while monitoring dashboards and reports.
"The most vital question to ask is: what did you add to your top line? That is extremely powerful in knowing the success of your analytics implementation," he added.
Meanwhile, Evans shares six ways to make analytics work for your marketing.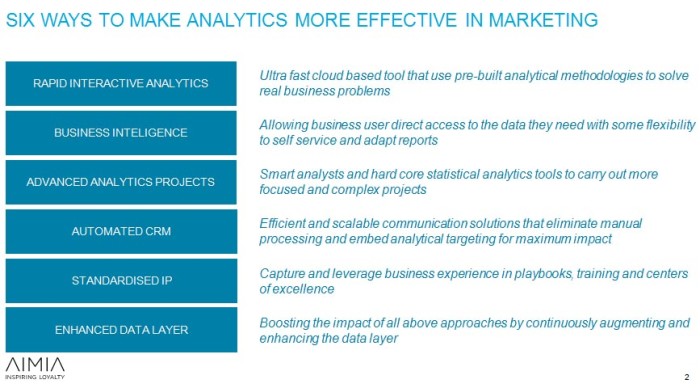 Read also:
Mondelez on setting up an integrated analytics function in-house
The 10 commandments of analytics