They say CEOs are the face of a brand, but this seems to be changing.
According to a recent study by Edelman, the trust one puts in CEOs is waning, with CEO credibility dropping to an all time low of 37%. Compared to last year's study, the difference is at a staggering 12%. The decline was seen across 28 countries, with 23 countries deeming CEOs as not credible sources. In Singapore, distrust of CEOs is at 36%, with a 14% difference compared to 2016. Meanwhile in Malaysia, distrust is marked at 40%, with a 10% difference compared to 2016.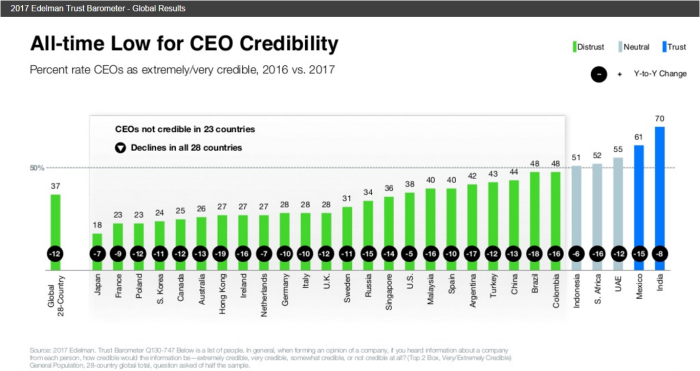 CEOs only fared slightly better than government officials, which only 29% of respondents said they viewed as credible.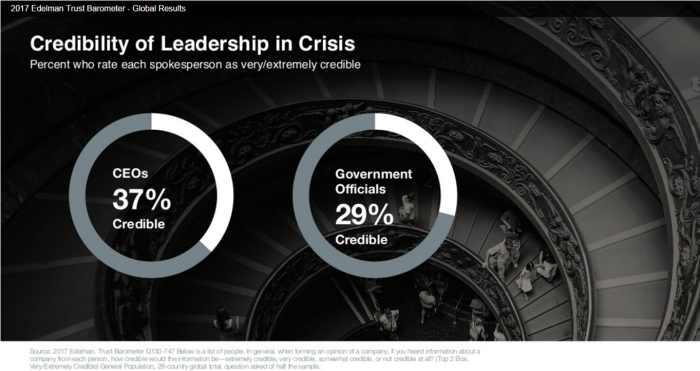 Meanwhile, the study added that employees on average are trusted more than CEOs on messaging when it comes to employee/customer relations, financial earnings, crises, innovation, industry issues or programs which address societal issues.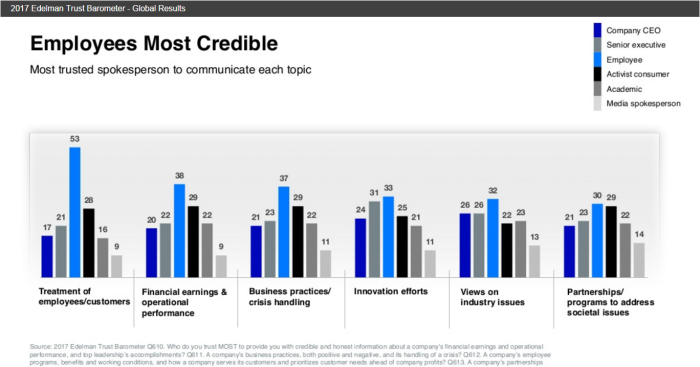 Commenting on the trend, Marcus Loh, vice president of marketing and corporate communication of PSB Academy, said, "The world has been experiencing a trust deficit for decades." He explained that this situation was further exacerbated by the sub-prime mortgage crisis in the mid-to-late 2000s, which triggered a near world-wide meltdown of financial systems and collaterally, the lives of many around the world. What followed was rampant government intervention to restore normalcy and confidence in the financial system.
"From the pangs of crisis, a narrative of corruption and corporate greed emerged, painting the big government to be in cahoots with big business, for mutual gains, enabling honchos directly responsible for the mess to profit generously with golden parachutes at the expense of tax payers," Loh said.
Hence, Loh is of the view that the 2017 Trust Barometer reflects a continuation of this 'deficit' which symptoms had sent ripples around the world.
Agreeing with him is Lars Voedisch, managing director of PRecious Communications, who said that these findings are not surprising when placed in that context and it is time for trust in the existing systems to be rebuilt.
People are starting to realise that CEOs are trained to give the polished, on-message perspective. Unfortunately, too many sound like a holding statement.
He explained that authenticity should be a focus when it comes to communicating with consumers. This is because consumers are looking for 'real' stories from real people as opposed to corporate answers which are seen as "too hygienic".
So how can brands better communicate to change this perception? Voedisch explained that brands need to start looking into humanising their image through authentic stories and people beyond the CEO.
You build relationships by also letting your guard down at times, admitting that you don't have an answer for everything or you were even wrong at times. It's about connecting on an emotional level with key audiences through different media channels.
Other points of distrust
The study also found the largest-ever drop in trust across institutions of government, business, media and NGOs, with trust in the media falling the most coming in at 43%.
The cycle of distrust in the media is said to be magnified by the emergence of a media echo chamber that reinforces personal beliefs while shutting out opposing points of view. According to the trust barometer, 59% of respondents favour search engines over human editors (41%) and are nearly four times more like to ignore information that supports a position they do not believe in.
"People now view media as part of the elite. The result is a proclivity for self-referential media and reliance on peers. The lack of trust in media has also given rise to the fake news phenomenon and politicians speaking directly to the masses. Media outlets must take a more local and social approach," Richard Edelman, president and CEO of Edelman, said.
Businesses on the other hand are viewed as the only entities which can make a difference, with three out of four respondents agreeing a company can take actions to both increase profits and improve economic and social conditions in the community where it operates.
Moreover, among those who are uncertain about whether the system is working for them, 58% said that it is business that they trust most. Yet business finds itself on the brink of distrust, and perhaps most concerning for business is the perceived role the public sees it playing in stoking their fears.
"Business is the last retaining wall for trust. Its leaders must step up on the issues that matter for society. It has done a masterful job of illustrating the benefits of innovation but has done little to discuss the impact those advances will have on people's jobs. Business must also focus on paying employees fairly, while providing better benefits and job training," Kathryn Beiser, global chair of Edelman's corporate practice, said.