With more attention coming upon unhealthy food advertising globally, the focus is now falling on the celebrities that endorse them as well.
A recent Pepsi campaign by Katy Perry has come under fire from health group, The Center for Science in the Public Interest (CSPI) who accuse the singer of putting her young fans at greater risk of obesity and other illnesses by promoting the brand.
In an open letter, the CSPI said: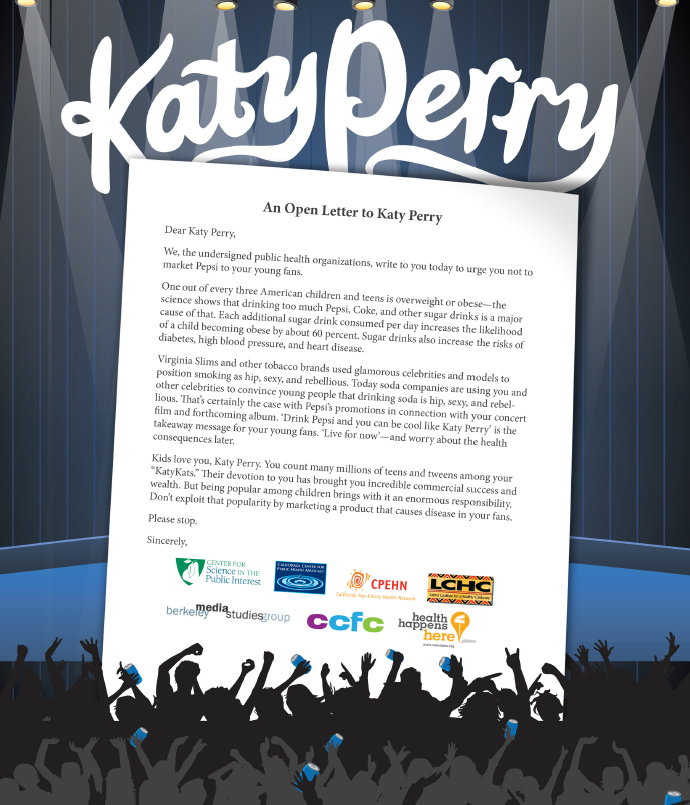 The CSPI also purchased full-page ads on Variety yesterday where the letter was published.
Recently, Perry let the beverage giant create an online election to determine which song the singer would perform at the Video Music Awards.
Pepsi has over the years had top celebrities ranging from Michael Jackson, Britney Spears, Madonna and others endorsing its product.
CSPI executive director Michael F. Jacobson said: "Despite the pearl-clutching over Miley Cyrus sticking out her tongue and twerking at the Video Music Awards, the real scandal at the VMAs was the elaborate multimedia campaign designed to exploit Katy Perry's young fans and to link her artistic achievement to sugar water. Katy Perry's work for Pepsi threatens to reverse years of progress public health officials have made reducing sugar drink consumption among children."
While Pepsi did not respond to queries made by Marketing, on USA Today, Pepsi spokeswoman Andrea Foote said: "We have a long history of responsible advertising and marketing practices, including a commitment to not direct our advertising to audiences comprised predominantly of children under 12."
However Perry isn't the only celebrity to be slammed for endorsing the brand. Last year singer, Beyonce also felt the heat. As part of her deal, Beyoncé was roped in for starring role in a new TVC and perform at the "Pepsi Halftime Show" during the February 3 Super Bowl amongst others.
Jacobson in a letter to Beyoncé said: "Your image is one of success, health, talent, fitness, and glamour. But by lending your name and image to PepsiCo, you are associating those positive attributes with a product that is quite literally sickening Americans."
Just last week, CSPI also created a two and a half minute video titled "The Sellouts" with clips of celebrity endorsement for soda drinks. The video ends with: "Children love celebrities […] Celebrities shouldn't use their influence to market a product that sickens their fans. Tell them to stop."
http://youtu.be/0zP3NOs_xOQ