Background:
Tesco has over 660 million customers that pull in over US$500 billion worth of retail spending. As an international retailer, it has half a million employees working in 12 countries, serving about 75 million customers each week.
In Malaysia there are currently 50 Tesco retail stores and seven stores on the grocery home-shopping front and 1.2 million customers each week. In 2006, Tesco also launched the Club card in Malaysia. With Club card, it has 1.7 million customers who are active and swiping the card each day.
Online shopping is also a new arena the company ventured into last year for seven of its stores.
Aim/Objective:
When it first started its online grocery store, Tesco used mass-mailing as a key strategy for marketing. But after a year, the retailer was faced with issues such as bouncing of emails and invalid addresses. Meanwhile, on its loyalty front, it also saw a decline in shoppers.
"We know that one loyal customer is worth five times a newly acquired customer. Unfortunately, we had a problem where loyalty was in decline and we felt that we needed to find a way to thank our important, loyal customers," said Vivian Yap, marketing director of Tesco Malaysia.
Tesco also wanted to go further and understand how consumers' minds worked and how to be a priority brand in their purchase choices.
Strategy:
Tesco used data from Nielsen and other researchers focusing on customer satisfaction studies to receive information on about marketer trends, consumer behavior and combined it with the data from the Club card. This helped the retailer to put the customer into the center of its decisions.
"When customers shopped, we started to fill information as we tried to prove our understanding of the consumers as individuals. We started to look at how we catered our approach, personalised our offers and enablde Tesco to make viable business decisions. If we can speak to you as individuals, ultimately we can win your loyalty," said Ben Smith, head of retail and media at Dunnhumby Malaysia which worked with Tesco on its loyalty initiative.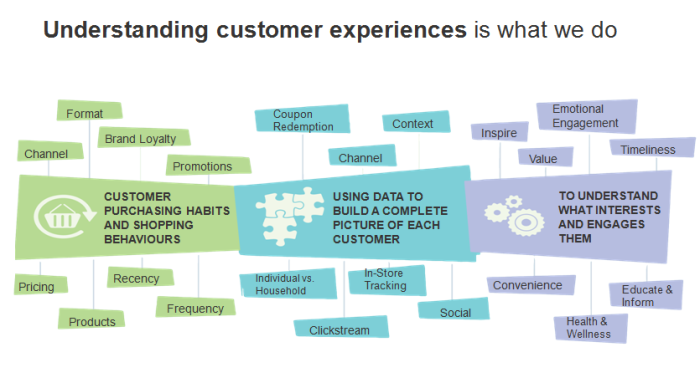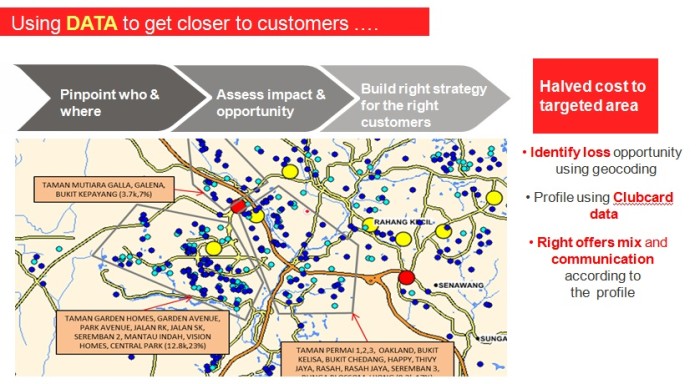 Simply understanding purchasing habits is important – but it is just one channel. Understanding customers and how they shop is just the start, he added.
Execution:
Tesco took a snapshot from the information it had from the Club card to see how consumers act as individuals and how they shop. This information was then further segmented into how often the consumer shops and how much they spend.
These segments then were further categorised into 'existing loyal', 'previously loyal that has lapsed' and 'an opportunity customer'.
Tesco also designed a personalised promotion that came in the form of coupons. For example, if a family likes a particular brand of ice cream, they will be sent a promotion coupon on that particular brand of ice cream. And the customer will know that it is personalised to them.
"Data integrity is important. It will be quite a disaster if I sent someone who liked pasta, shampoo instead," said Yap.
In each of its mailing lists, Tesco had almost a million customers that it mailed. This resulted in one customer receiving up to six personalised promotions. So the retailer went out to hunt for six million products that can be tailored to each individual.
"It's just amazing how different people are – there are some commonalities – but there are interesting product choices that people make. We then drill into the data and match it to the customer. So that is what we did in this instance to reward loyal customers," said Yap.
Meanwhile, to address the issue of mail bounces, Tesco launched a targeted CRM approach. This allowed the retailer to know the customer purchase history and their emailing habits.
For example, Tesco had a group of customers who registered with it but never shopped with the brand. It hence had to re-introduce itself to them. Another group of customers shopped only once but never came back – so a separate programme was designed just for them with incentives so that they could come back and shop.
Result:
The CRM email strategy resulted in about 3000 customers being re-activated. Loyalty retention was also on the rise with about 30% increase in customer loyalty.
"We still do mass-mailing – I'm not saying it's wrong – but there is a combination you need to find for the best results," said Yap. However the combination of coding data and Club card data and overlaying helps half Tesco's marketing spend and bring back in store 700 customers in the period of four weeks.
Tesco Malaysia was part of the speaking line-up at last Friday's Big Data 2014 conference at The Westin Kuala Lumpur, which also includes speakers from Citibank, Genting, F&N Dairies and more.

Here are some snapshots from the conference:
[gallery link="file" ids="70430,70429,70428,70427,70426,70421,70423,70422,70424,70425,70420,70419,70418,70417,70416,70415,70414,70413,70412,70411,70410,70409,70408,70407,70406,70405,70403,70401,70398,70396,70394,70393,70392,70391,70389,70384,70387,70385"]